Punjab polls: It pays to be the Badals' damaad. Ask Adesh Partap Kairon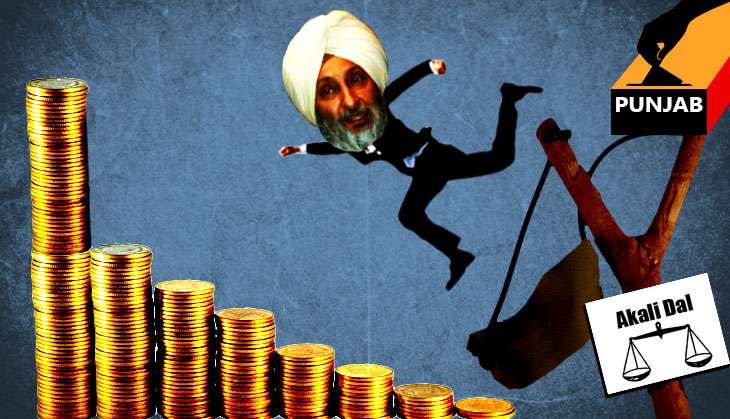 Damaads (sons-in-law) have always had a special place in politics and Punjab Chief Minister Parkash Singh Badal's son-in-law Adesh Partap Singh Kairon is no different. A minister in the Shiromani Akali Dal-Bharatiya Janata Party government, Kairon has held several important portfolios such as food and civil supplies, excise, taxation and IT.
Few politicians embody Punjab politics' essentially oligarchic nature more than Kairon. He is the grandson of former Punjab Chief Minister Partap Singh Kairon, who is widely acknowledged as the architect of post-Independence Punjab. In 1982, he married Parneet Kaur, the daughter of Parkash Singh Badal, changing the politics of his staunchly Congress family. Besides, of course, being Badal's son-in-law and Sukhbir Badal's brother in law, he is also the nephew of former Punjab chief minister Harcharan Singh Brar.
This makes Kairon directly linked to three of the handful of families that have dominated Punjab politics. It is hardly surprising therefore that the 58 year old is said to be the longest serving minister in the history of Punjab.
But ministerial portfolios aren't the only manner in which Adesh Partap Singh Kairon has benefitted from being part of Punjab's ruling elite.
Much like the Badals and the Majithias, the Kairon family has a thriving business empire that cuts across various sectors such as agricultural products, telecom, electronic goods, food processing, hospitality, real estate and so on.
Business empire and state patronage
There are a number of companies in which Adesh Kairon or his mother Kusum Kumari, brother Udai Partap Singh Kairon and wife Parneet Kaur are listed are directors. These companies are:
Shivalik Farmchems Ltd
Shivalik Electric Equipment Pvt Ltd
Swadeshi Solvents and Extraction Company Pvt Ltd
Parkash Shopping Complex and Hospitality Pvt Ltd
Shivalik Telecom Pvt Ltd
It has been alleged that the Parkash Singh Badal government has actively promoted Kairon's business interests. Shivalik Telecom, in which Kairon's mother and wife are listed as directors and Adesh Partap himself is allegedly a shareholder, is said to have benefitted from the works allotted by the government in the power sector. An investigation by Tribune further alleges that both Shivalik Farmchems and Shivalik Electric Equipment have done business with the state government.
It further says that the Punjab government has allotted works amounting to "over Rs 400 crore to companies either owned by the Kairons or run in collaboration with other consortiums".
The majority of work had been allotted by Punjab State Power Corporation Limited (PSPCL) and its earlier avatar - the Punjab State Electricity Board (PSEB). Incidentally, both these entitities fell under the power ministry that has been held by CM Parkash Singh Badal, Kairon's father-in-law.
The Kairons' and their allied companies were also given a variety of contracts ranging clearing waterlogged areas to providing transformers near tubewells.
The Tribune's report alleges that in the agriculture sector, the Punjab government purchased pesticides and weedicides from Shivalik Agro Limited, a Kairon company, worth Rs 5.67 crore under the Rashtriya Krishi Vikas Yojana in March 2013.
Home ground
Matrimonial alliances have helped Badals expand their footprint politically as well as geographically. Both the Kairons and Majithias were Congress families, which changed sides after Adesh Partap Singh Kairon and Harsimrat Kaur respectively married into the Badal family.
Also Badals are from the southern Malwa region but the Kairons and Majithias hail from Tarn Taran and Amritsar district, which are in the Majha region in the north.
Adesh Partap Singh is the MLA from Patti, his family's pocket borough in Tarn Taran district. His grandfather Partap Singh Kairon won from the seat in 1951 and father Surinder Singh Kairon won in 1969 and 1972. Adesh Partap Singh has won the seat continuously since 1997.
Catch spoke to voters in Patti, most of whom were largely supportive of the leader.
"The Kairon family is integral to this seat. We can't vote for anyone else," says Gurdeep Singh, a shopkeeper.
Gursimran Singh, who owns an insecticide and pesticide shop echoes a similar viewpoint.
"Panth, family and personal contacts matter in this (Majha) region. We respect these things. We will not vote against Adesh Partap Singh Kairon in this election," he says.
Brushing aside allegations of corruption and nepotism, Gursimran says "who isn't corrupt? If a politician says he will not take bribes or favour his kin and associates, he is lying."
The poorer voters in Patti were less impressed with Kairon, though none of them openly spoke against him.
"Our plight hasn't changed much so how does it matter if Kairon wins or someone else," says a ragpicker, who refused to disclose his name.
Most voters in Patti feel that the main challenge for Kairon will be from his family's erstwhile party - the Congress.
"I think the Congress has a good chance this time. We want a change and in this region, the Congress is the best option," says Sukhdev Singh, a tea stall owner.
While Parkash Singh Badal and Sukhbir Badal are facing a tough fight in their respective seats, Adesh Partap might just have an easier ride.