Punjab polls: How Bhagwant Mann has become the Badals' worst nightmare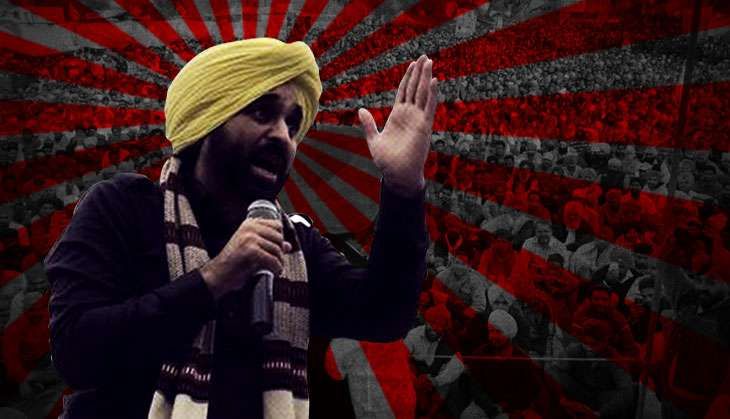 The Badal family has dominated Punjab politics for decades now. For the people of Punjab, they have been objects of admiration, fear and, for some, even hatred. But the 2017 Assembly election is the first time the mighty Badals have become objects of ridicule. And the man singularly responsible for putting them in that position is the Aam Aadmi Party MP from Sangrur Bhagwant Mann.
Mann's rallies are attracting huge crowds across Punjab, perhaps second only to AAP convenor Arvind Kejriwal. Addressing at least three rallies a day, Mann is emerging as AAP's star campaigner.
Mann deploys all his skills as a former stand-up comic to lampoon the Badals, breaking the aura of might and invincibility they have created around themselves.
He spares Chief Minister Parkash Singh Badal as insulting the 89-year-old Akali patriarch could prove counterproductive. His real targets are Deputy Chief Minister Sukhbir Singh Badal, his wife and Union Minister Harsimrat Kaur Badal and her brother Bikram Singh Majithia.
The most popular part of his speeches, which invariably has the crowd cheering, is when he uses Punjab's popular "Kikli kaleer di" to poke fun at the Badals. Kikli is usually sung by girls while swinging around in circles holding each others' hands.
Pretending to be Harsimrat Kaur Badal, Mann chants:
"Kikli kaleer di,
gapp Sukhbir di,
chitta mere bhai da,
border ton mangayi da,
khula wartayi daa,
dasso kinna chahida?
Mange koi naukari,
danga naal kutwayi da.
Chitta gali gali hai,
sarkar naal mili hai,
chitta sada lahu ve
main Badalaan di bahu ve."
(Kikli Kaleer di,
Sukhbir's lies,
my brother's [Majithia's] chitta,
which he got from the border,
and is distributing it freely,
tell me how much do you want?
If someone asks for a job,
they'll get beaten with sticks.
Chitta is in every street,
courtesy the government,
chitta is my blood,
I am the daughter-in-law of the Badals.)
Chitta literally means white in Punjabi but it's the popular term for Punjab's indigenously manufactured synthetic drug, whose addiction has destroyed lakhs of lives in the state.
Bikram Singh Majithia, a senior Cabinet minister in the Badal government and Sukhbir Badal's brother-in-law, is alleged to be involved in Punjab's rampant drug trafficking racket.
In his speeches, Mann effectively captures the anger and misery that drugs have caused in Punjab.
"What is the biggest burden in the world? It's if a father's shoulders have to carry his son's corpse...thousands of fathers in Punjab have had to carry that unbearable burden...and it's all because of the Badals," Mann says.
Punjab's anger
AAP has fielded Mann from Jalalabad against Sukhbir Badal and the Akalis already seem rattled. They have accused Mann of instigating violence against them.
A few days back, some people pelted stones at Sukhbir Badal's convoy in Jalalabad. The Akalis have accused Mann of being behind the attack.
They attribute it to a comment Mann made earlier that "people in villages are waiting with stones to throw at the Akalis. If someone has less stones and an Akali leader is about to visit, he goes to his neighbour to borrow stones," Mann had said at a rally in Mansa.
CM Parkash Singh Badal has even gone to the extent of saying that Mann and AAP should be suspended from contesting in the elections.
On his part, Mann condemned the attack but added that it only reflected the anger of Punjab's people.
Mann, in some ways, is trying to be the main spokesperson of the anger against the Akalis.
"In a village 3 km from Faridkot, a farmer told his three children - a 12 year old girl, a 10 year-old girl and a 7 year-old boy - that he'll take them to the city for a trip. He takes them on a motorcycle, stops near a canal on the way and kills his children. The 12 year-old girl protests and says 'father, don't kill me' and runs away...the farmer tried to drag her back...two dead bodies were found. The farmer was under a debt of Rs 8 lakh. Our farmers are being forced to kill their children. Just think what their plight must be. But the Badals just don't care," he said on Wednesday evening at a rally in Balachaur in Nawanshahr district.
The dominant narrative that Mann is trying to weave is "the rich corrupt Badals versus to poor, suffering people of Punjab".
"10th pass, educated men and women are unemployed, standing in long lines for work...Some of our Punjabi sisters are homeless and have to sleep on top of water tanks while the Badals sleep with heaters in their soft quilts," he said at Balachaur.
But it's not just the Badals he targets. In almost every speech he makes fun of the Badal-owned PTC news channel for being obsessed with the family. "Tune into PTC and all they say Badal, Badal, Badal..older Badal, younger Badal, standing Badal, sitting Badal... Do they ever care about the suffering of the people?" he says.
The CM question
The sudden spurt in Mann's popularity has sparked speculation whether he would be the chief minister in case AAP wins a majority in Punjab.
Mann's own comments have contributed to this in some way.
At another rally, Mann asked the public "do you want me to be CM?" when the crowd replied in the affirmative, Mann said "then give us over 100 seats, you'll rule Punjab and it won't matter who becomes CM".
He has also been saying that AAP will win on 11 March, the day of the results, and Majithia will be in jail by 16 March.
Mann's rise is said to have caused some discomfort in the AAP's Punjab leadership and the party has had to clarify by saying that "MLAs will decide who the CM will be".
Some say that even Delhi Deputy Chief Minister Manish Sisodia's comment asking people to vote in Kejriwal's name, was a way to prevent bickering on the leadership question.
Of course to become CM, Mann will first have to defeat Sukhbir Badal in Jalalabad, which won't be an easy task given the Akalis' dominance there.
On his part, Mann has taken battle right to the Badals' doorstep. Even amidst his busy rally schedule across Punjab, Mann has said that he will "spend his Lohri (13 January) with the people of Jalalabad".
Mann may or may not win Jalalabad. But his speeches are causing immense damage to the Badals.