Punjab: Kejriwal gets down to planning, even as AAP faces flak over funding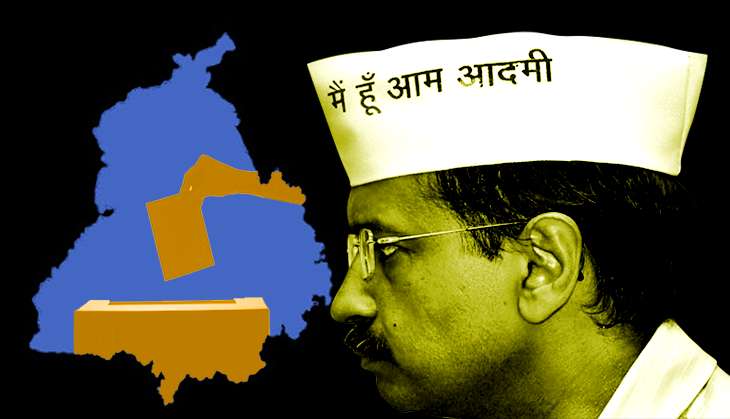 With just a month to go for voting day in Punjab, Aam Aadmi Party's (AAP) national convener and Delhi chief minister Arvind Kejriwal has got down to micro-management.
Over the last 3 days, he was in Chandigarh planning AAP's strategy in what promises to be an extremely aggressive electoral battle in Punjab.
This was perhaps his first visit to the region in which he didn't go for any public functions or programmes in Punjab and instead restricted himself to Chandigarh.
Containing dissidence
Sources said that most of his time went in mollifying party volunteers and leaders who had raised the banner of revolt over the distribution of tickets.
Until a few days back, there were reports of a rebellion within AAP almost on a daily basis.
Apparently, Kejriwal has been trying to convince party dissidents to come together to ensure AAP's victory and has been promising to address their grievances once the party forms the government.
It is known that a large number of volunteers who were instrumental in AAP's impressive debut in Punjab in the Lok Sabha elections, have deserted it.
The biggest blow that triggered dissidence was the sacking of former state convener Succha Singh Chhotepur. Chhotepur has gone on to launch a new political party Aapna Punjab Party (APP) and has been announcing candidates at various Assembly constituencies.
Sources further informed that during the last three days, Kejriwal keenly studied the strategy adopted by his rivals - the SAD-BJP combine and the Congress and discussed it with his party leaders.
He is expected to spend a major part of his time in the next one month in Punjab and also Goa, the two states where AAP fancies its chances.
He came out briefly over the last two days to talk to the media while calling upon the Election Commission of India (ECI) to ensure free and fair elections and deploy more paramilitary forces since law and order is an important issue in Punjab.
Kejriwal has made it clear that his party is going into the battle without a chief ministerial face. "The main competitor of AAP in Punjab is corruption, drugs, unemployment, atrocities etc., Congress and SAD will fight for the second and third spot," he said, while claiming that his party will win more that 100 seats.
AAP has been playing up the demonetisation issue in a big way, knowing that it will play a role in rural Punjab. Kejriwal also chose to attack Prime Minister Narendra Modi, saying, "PM Modi has lowered the significance of constitutional institutions and it is unhealthy for the future of the world's largest democracy."
Claiming that demonetisation is a "Rs 8 lakh crore scam", he said, "People of country were harassed to appease the Modi ji's friends, the loans of big industrial houses will be waived off with the money of common people."
Referring to his stay in Punjab, he said, "I will now personally stay here and look after the election process in the state. The common people of Punjab are going to win this time".
Charges over funding
But his troubles might not end so soon. Former co-convener of AAP's NRI cell Dr Munish Raizada who is a Chicago based neo-natalogist and is presently a suspended member of the party along with another suspended member Virinder Singh Parihar will be launching a movement across Punjab against the party, criticising it for not being transparent regarding its political funding.
They started a 'Chanda Bandh Satyagraha' in Delhi recently and are now going to start it in Punjab from Jalandhar and later extend it to Goa. The move aims at requesting the people not to donate money to AAP till it furnishes the details of its donations.
"The party has taken down the list of donations from its website since June 2016. It has also not been sharing its annual balance sheets for the last two years," said Raizada. He claims to have met Anna Hazare, the anchor of the India Against Corruption movement on the issue, following which the latter wrote an open letter to Kejriwal recently.
The demands being made by Raizada and Parihar along with their supporters include putting all AAP donations in public domain, making the donations searchable by name, making the balance sheets public and a probe into the 'dubious' donations that the party received in 2014.
They will be launching a signature campaign for these demands. "Millions of dollars have been sent from abroad to the party. I myself donated around Rs 8 lakh in phases and there are many more such donors. The party needs to be transparent," Raizada said.
Both Parihar and Raizada have shot off a letter to the American Ambassador in India alleging that AAP illegally transferred funds collected in the US.
AAP has been under attack for its foreign funding, mainly from US and Canada from both the SAD and the Congress. The party has categorically denied that there has been any illegal transaction.
Raizada's allegations are set to provide enough ammunition to AAP detractors for the days to come.