Punjab cheers for Captain: SAD-BJP down to quarter. Patiala peg rules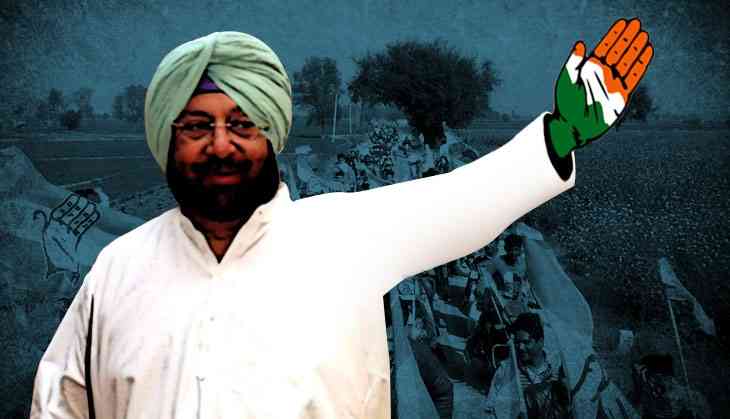 If there is one Congress leader who refuses to bow before Narendra Modi's mission of a Congress Mukt Bharat, it is Captain Amarinder Singh.
In the 2014 Lok Sabha polls, the Maharaja of Patiala not only dared to take on the Modi wave, he even inflicted a defeat on Modi's key lieutenant
Arun Jaitley
. That too in the spiritual capital of the Sikh community - Amritsar.
He has now spearheaded the Congress to a near 2/3rd majority in Punjab, decimating the SAD-
BJP
alliance and warding off a spirited challenge from the Aam Aadmi Party. For the Congress, this holds tremendous national significance as this is the first state the party has won since it's debacle in 2014.
Leadership
Though the Congress benefited immensely from an anti-Akali wave in Punjab, it was Captain's leadership that eventually took it past the majority mark.
Punjab was reeling under the multiple evils of drugs, corruption, debt and unemployment - all of which were associated with the SAD-BJP regime.
Through clever messaging and branding, partly courtesy Prashant Kishore and team, Captain was showcased as a man with solutions to Punjab's problems.
The "Captain de nau nukte" concept captured Amarinder Singh's blueprint for Punjab. His promise of providing employment was perhaps the single biggest issue behind the Congress' success.
Though a representative of the old political order in Punjab, Captain managed to rebrand himself as an agent of change. Two decisions contributed to this significantly. First was his firm stand that there should be only one ticket per family. As a result popular anger against Punjab's oligarchic politics, remained directed towards the Akalis alone.
Second was his ability to take along several other leaders and contain rebellion within the Congress. Fortunately for Captain, senior leaders who could have been parallel power centres have suffered suprising defeats - Rajinder Kaur Bhattal lost in Lehragaga, Sunil Jakhar lost in Abohar and Mohinder Kaypee lost in Adampur.
On the other hand, talent from outside the party bolstered the Congress ranks, most particularly Navjot Singh Sidhu. Formerly with the BJP and engaged in protracted negotiations with
AAP
, Sidhu joined Congress just a month before the polls. He proved to be a major crowd puller and ensured a clean sweep for the party in Amritsar. Manpreet Badal, Parkash Singh Badal's nephew, has also won from Bathinda urban and is likely to be a key part of Captain's team.
Checking AAP's rise
Besides of course bringing Congress back to winning ways, Captain's most important contribution for the party is that he has effectively contained AAP's rise. Winning Punjab would have emboldened AAP to try and capture the Congress' space in other states like Gujarat, Himachal Pradesh and Rajasthan.
At one point it did seem that AAP would sweep Punjab, pushing both the SAD-BJP and Congress to the margins. AAP's aggressive targetting of Akali leaders struck a chord with the people and for some time it seemed that the Congress was at a loss. But Captain's decision to contest against CM Parkash Singh Badal in Lambi re-established the Congress as the main alternative to the Akalis. Even though he lost the seat, it was an important symbolic message.
The AAP's structural weakness in Majha and Doaba also helped the Congress, which almost swept the two regions as did the absence of a strong state level leader in the party.
Captain, therefore, understood and exploited AAP's weaknesses and turned the tables on the party. However, even this Congress landslide wouldn't have been possible had it not been for the AAP's spirited campaign against the Akalis for the past two years. This campaign played a major role in uprooting the Akalis from the political landscape in Punjab.
With Captain all set to become chief minister of Punjab for the second time, he will have his task cut out with a tough Opposition like AAP.