Patna punch-up: Modi & Nitish inaugurate Bihar's fight club
Catch Team
| Updated on: 13 February 2017, 3:24 IST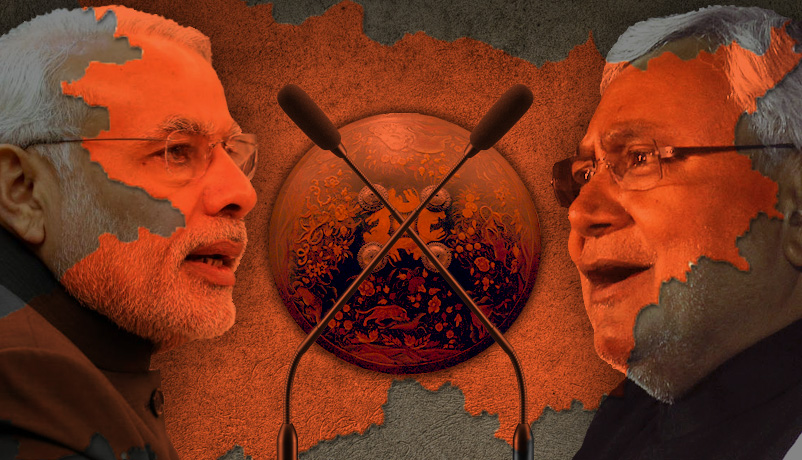 Sparring match
At a government function in Patna, Narendra Modi and Nitish Kumar traded charges on Bihar\'s development
We\'re grateful after 14 months Modiji finds time to visit Bihar: Nitish tweeted sarcastically
Modi on said he would soon fulfill his promise of an over Rs 50,000 crore package for Bihar
Counter-punches
Addressing a rally in Muzaffarpur, Modi said there is a problem with Nitish\'s DNA
If Nitish has a problem with me, he should have strangled me instead of throttling Bihar\'s progress: Modi
The people of Bihar are in my DNA, they will give Modi an answer: Nitish\'s response
The gloves are off and the duel between Narendra Modi and Nitish Kumar has begun. The Prime Minister and the Bihar chief minister engaged in heated exchanges all through Saturday.
The warm-up
Interestingly, the duo began their day together as they jointly inaugurated the incubation centre at IIT-Patna. The inauguration, which was supposed to be just a mundane official event, ended up becoming a one-to-one debate between Modi and Nitish.
Though the exchanges largely focussed on the progress on various projects, the real narrative was the rivalry between the two leaders.
Nitish cast the first stone by tweeting, "We're grateful after 14 months Modiji finds time to visit Bihar. As we get ready to hear more promises what about his old ones?"
Even at the event, the Bihar chief minister spoke first, due to protocol.
During his speech, he made it a point to remind Modi that 53% of the funds for the incubation centre Modi had come to inaugurate, were given by the state government.
Modi and Nitish also inaugurated the Daniyawan-Bihar Sharif railway line, which became a bone of contention between the two. Nitish said that the railway line isn't a new project, it would have been inaugurated during Atal Bihari Vajpayee's tenure, in which he was the railway minister. But it couldn't be done as Vajpayee advanced the elections.
Modi aimed his counter-punch at Nitish's new ally Lalu Prasad: "yes it would have been inaugurated much earlier, but then a netaji from Bihar became the railway minister".
Nitish then took a dig at Union minister for Food Processing, Ram Vilas Paswan, a key BJP ally, who was also present at the function. "When he (Paswan) was minister for chemicals and fertilisers, he promised to revive the Barauni Fertiliser Plant. The state government had even waived off the electricity bill to the tune of Rs 300 crore, for the plant. The plant is still not operational," he said.
Modi retorted by saying, "(BJP leader) Sushil Modi had to work very hard to secure the Rs 300 crore waiver".
If Nitish had a personal problem with me, he should have come and slapped me, Modi said in Muzaffarpur
Highlighting a grouse held by many state governments, Nitish claimed that the Centre doesn't cooperate with state governments and ends up harming development. Taking a dig at Modi, he said that the PM conducts video-conferences with state secretaries on central schemes, he should do the same for state schemes that are being delayed by central departments.
Modi on his part said that he would soon fulfill his promise of an over Rs 50,000 crore package for Bihar.
But these exchanges proved to be a mere warm-up compared to the war of words that took place later in the day.
All out war
Addressing a rally in Muzaffarpur, Modi upped the ante against the Bihar chief minister. He began by retaliating against Kumar's jibe on Twitter that he is visiting Bihar for the first time in 14 months.
"For 10 years, UPA's PM only did an aerial survey of the state but my 14 month gap has become such a virah (pain of separation) for him," he said.
Further poking fun at Nitish, he said: "They made fun of twitter and now they are tweeting," Modi, one of the first politicians in India to take to the microblogging site, said.
The prime minister was unsparing in his attacks on Nitish and the intensity of their long-standing was reflected in his speech.
"If he has a personal problem with me, he should have come and slapped me. He should have strangled me. Why did he throttle the state's progress?" Modi said.
Modi also shrewdly played the caste card. "He (Nitish) snatched the plate from me, a poor tea-seller. But when he did this to Jitan Ram Manjhi, a Mahadalit, it was unbearable for me. There is problem in his (Nitish) DNA."
Nitish retaliated against Modi at a press conference in the evening as well as on Twitter.
"He (Modi) says my DNA has a problem. I am a son of Bihar. Now the people of Bihar will give him the answer," he said.
During his speech, Modi asked the people of Muzaffarpur in his rhetorical style, "you were promised 24 hours electricity, did you get it?"
However, many say that the jibe might have more effective in some other parts of the state but not Muzaffarpur, where the supply of electricity is known to be better. At the press conference, Nitish made it a point to assert that Modi's charge on power supply fell flat.
But Nitish wasn't Modi's only target. He devoted a significant portion of his speech to attacking Lalu Prasad as well.
"RJD stands for Rozana Jungleraj ka Dar," he said. But he tried to appease the Yadav community by invoking Lord Krishna's Gujarat connection. He said that instead of working for Yaduvanshis, Lalu Prasad only furthered the interests of his own family. It is debatable how well this personal jibe will go down in the Yadav community, who form 14% of Bihar's electorate.
With Modi and Nitish producing such action in one day, the Bihar elections are promising to be as exciting as a Bollywood potboiler. We can only expect more fireworks in the days to come, with leaders like the inimitable Lalu Prasad, the rabble-rousing Giriraj Singh and Nitish-baiter former CM Jitan Ram Manjhi, all set to jump into action. The battle for Bihar has just begun.