Priyanka Gandhi shifts focus to Punjab. Has Congress given up on UP?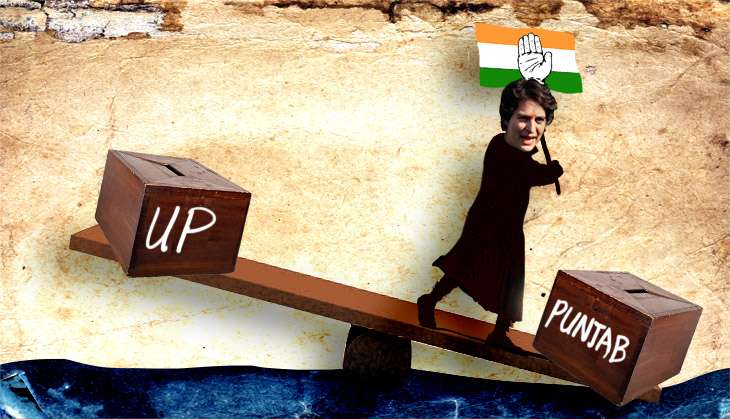 The Congress's election campaign in Uttar Pradesh has come to a grinding halt. For the time being, all attention has shifted to Punjab, where poll strategist Prashant Kishor and his team are working overtime to ensure the party's revival in the poll-bound state.
Even Priyanka Gandhi, who was expected to play an active role in the Congress's UP campaign, is actively working behind the scenes to ensure the party does well in Punjab. In fact, she is being credited for convincing cricketer-turned-politician Navjot Singh Sidhu to join hands with the Congress.
Sidhu's wife Navjot Kaur and former hockey captain Pargat Singh formally joined the Congress on Monday, in the presence of state Congress president Captain Amarinder Singh and general secretary in-charge Asha Kumari.
However, there is still confusion over whether Sidhu has officially joined the Congress.
And amid all this, with Kishor's team aggressively reaching out to the media on a daily basis, the party is absolutely mum about the Uttar Pradesh campaign, which began with a bang but has now lost momentum.
Internal strife
The Congress was the first party to kick off its campaign in the state, with its national president Sonia Gandhi holding a massive rally in Prime Minister Narendra Modi's Lok Sabha constituency Varanasi. Sonia's brief visit was followed by Congress vice-president Rahul Gandhi's 3,500-kilometre Kisan Yatra, which lasted 26 days and touched 48 districts and 141 Assembly seats.
Rahul's tour did create some buzz about the party, which has been out of power in the state for the last 27 years. But, the momentum was soon lost after multiple reports of differences between the Congress leadership and Kishor.
Apparently, many senior leaders in the party were miffed with Kishor's independent style of functioning, and the equation worsened after the star strategist held several meetings with the Samajwadi Party, trying to stitch together an alliance.
"He was unilaterally meeting SP leaders, despite us raising concerns. We have no dearth of senior leaders in the party, and Kishor is no one to discuss these trivial issues," said a Congress functionary.
Earlier, Catch had reported how the team had stopped all work after the Congress had delayed a payment to Kishor's firm IPAC.
A senior member of Kishor's team pointed out that they were engaged in "lots of quantitative and qualitative research" in UP, and not much was happening as far as the party's campaign on the ground was concerned.
"It could resume in the first week of December," he said, suggesting that there was still ambiguity over the campaign's progress.
Why Cong needs an alliance