Ambedkar's greatest 'bhakt': Modi moves to appropriate Babasaheb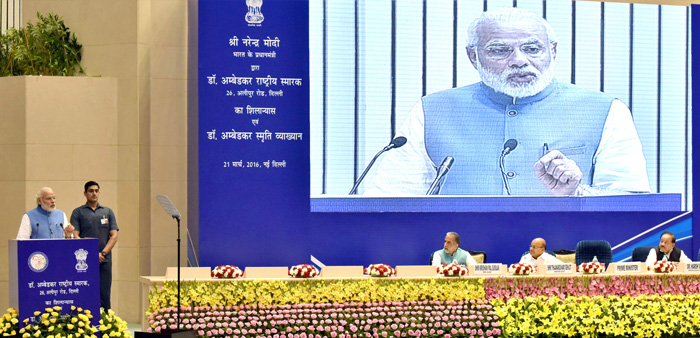 The comparison
PM Modi delivered the Ambedkar Memorial Lecture and compared the Indian leader to American icon Martin Luther King
He said it was unfair to restrict Ambedkar\'s legacy to Dalits - he stood against inhumanity of all kinds
The insistence
Modi said his govt wouldn\'t take any step that would harm reservation for Dalits and backward classes
This comes after the RSS reiterated its anti-reservation stance at a recent top-level meet
More in the story
The PM\'s speech, its meaning and its significance
How the ghost of Rohith Vemula is still haunting Modi
Prime Minister Narendra Modi delivered the Ambedkar Memorial Lecture on Monday, 21 March. It was an opportunity for him to justify the actions of his government on various fronts, attack the Opposition, and take the opportunity to appropriate Ambedkar - in short, a typical day as the man in charge of the country.
Modi said in the last 60 years, nothing has been done to bring Dr BR Ambedkar's dreams to fruition, and claimed to be a true 'bhakt' (worshipper) of the great leader, who is taking his vision and ideas forward.
The PM's choice of clothing and the stage decor was a strong bit of symbolism - a blue jacket and a white half-sleeved kurta matching the blue podium, signifying the Ambedkarite movement and Dalit politics.
Also read - Why Mayawati will never let BJP appropriate BR Ambedkar
The lecture began after Modi laid the foundation stone for the Ambedkar National Memorial, and announced the date for its inauguration - 14 April 2018. He even told the assembled members of the bureaucracy: "Officials should note the date. I am announcing it. I will inaugurate the memorial. Har kaam samay tay karke hoga (everything will have to be done in a time-bound manner)."
Ambedkar for all
It's obvious that Modi is attempting to claim Ambedkar's legacy, in a bid to appease Dalits and tribal people. There is also a deliberate attempt to pit the Opposition as enemies of Ambedkar, as well as to draw the curtain over numerous slips of tongue by Sangh Parivar members.
The key line of Modi's speech was - Ambedkar for all. He said: "Calling Ambedkar the leader of the Dalits is injustice to him. Calling him the messiah of Dalits is utter injustice. Don't limit him. Ambedkar was against all kind of inhuman things."
Modi insisted that Ambedkar never discriminated among people on the basis of caste. For him, the upper castes and Dalits were equal.
He also said that "if we limit Ambedkar only to the Dalits, what will happen to 50% of the population - women - for whom Ambedkar fought?"
PM Narendra Modi delivered the Ambedkar Memorial Lecture at Vigyan Bhavan on Monday, 21 March
He called Ambedkar a 'world leader', and said that he was no less than American icon Martin Luther King.
In independent India, Ambedkar is the biggest icon for the Dalits and the marginalised, for whose rights he fought right till the end. Modi's speech gave the impression that he was taking Ambedkar's work forward.
However, it seems to be more of an attempt to take away the hero of these communities, and make him stand in a queue with others.
The ghost of Rohith Vemula
It's clear from Modi's recent speeches that the ghost of Dalit scholar Rohith Vemula is haunting him. From his speech at Lucknow's Ambedkar University to Monday's lecture, the PM's reflections are indicative of just how much damage Rohith's suicide has done to him.
Modi said: "Ambedkar suffered discrimination. He was not given water in his own hands. He faced harassment, but all this didn't stop him. He stood up against all odds. It was Ambedkar who never thought about revenge."
If one were to read between the lines, it seems the PM is hinting that the step that Rohith took was wrong, giving Ambedkar's own example to show the way. The reason for this statement is probably to minimise the damage the suicide has caused him and his government.
Also read - #RohithSuicide: did RSS veto Modi's decision to sack Bandaru Dattatreya?
Modi also pointed out that Ambedkar's first slogan was 'shikshit bano' (be literate), as education is the solution to all problems. The second slogan was 'sangathit bano' (unite). He said people bypass the first two and jump straight to the third - 'sangharsh karo' (fight for your rights). "If we follow the first two slogans, there will be no need to fight," he said.
Forget Gandhi, it's Patel and Ambedkar
In his address, Modi talked about Ambedkar's role and said "for me, the two most important persons in India's history are Vallabhbhai Patel and BR Ambedkar".
"Patel ne rashtriya ekikaran kiya aur Ambedkar ne samajik ekikaran kiya (Patel united the nation, while Ambedkar united society)," he said.
Modi called Ambedkar a 'world leader' and compared him to American icon Martin Luther King
Modi and the BJP both know that there isn't much to gain from claiming Mahatma Gandhi's legacy. Though they did their best to appropriate it, the apparition of Nathuram Godse keeps popping up and thwarting them. But there's nothing like that stopping them from claiming Ambedkar and Patel for their own.
The Congress has largely forgotten these two leaders in the intervening decades, and both represent backward/Dalit sections of society. Claiming their legacy is what's best for politics.
On reservations
On the contentious issue of reservations, Modi said: "When Atal Bihari Vajpayee came into power, rumour had it that the BJP government would take away reservations. Nothing of the sort happened. Our government then and now is doing everything as per the reservation policy. We are for reservation. Not even a scratch has been made on the reservation for the poor, Dalits and marginalised people.".
There are reasons why Modi has to insist on this. A few months ago, RSS chief Mohan Bhagwat said in an interview that it was time to review the reservation policy. This created a big problem for Modi and the BJP in the Bihar Assembly elections. The party lost badly, and the RSS's 'anti-reservation stance' was seen as one of the biggest reasons for it.
Recently, some similar comments came from the RSS's top annual meet in Rajasthan. With five states going in for Assembly elections over the next two months, the PM has to make sure there's no further impact on the BJP's poll fortunes.
Also read - Action alert: a 17.1 % increase in crimes against Dalits
'Bharat Mata ki Jai'
Modi was welcomed at Vigyan Bhavan with slogans of 'Bharat mata ki jai'. When he finished his speech, the same slogan was chanted again in the auditorium.
'Bharat mata ki jai' is obviously not an objectionable slogan - anyone is free to chant it anywhere. But the question is, this was unquestionably a celebration of Ambedkar, the Dalit icon. So why wasn't there a single voice raising 'Jai Bheem' slogans?
Modi was greeted by chants of 'Bharat mata ki jai'. The famous Dalit slogan 'Jai Bheem' was absent
It's one thing to talk about inclusiveness and having a bigger heart. But one should not ignore the sentiments of others. 'Jai Bheem' does not come from the RSS camp; it has been the soul strength of the Dalit movement for decades. It has given millions of people hope in the face of struggles against atrocities, and for justice and equality.
Leaving out Ambedkarite slogans from a programme celebrating him wasn't a very inclusive gesture. It's clear that Modi must keep his supporters in check. Ambedkar didn't like one bunch of people overdoing things and excluding others. His followers will not appreciate this imposition of slogans either.
More in Catch - 'Pained' PM bypasses real issues behind Rohith's suicide
What Dalit leaders think about RSS and Ambedkar
Why Modi is so desperate to own the constitution, and Ambedkar
4 things Ambedkar said that Modi or his ministers would never quote