Presidential poll is about the battle of ideologies: Meira Kumar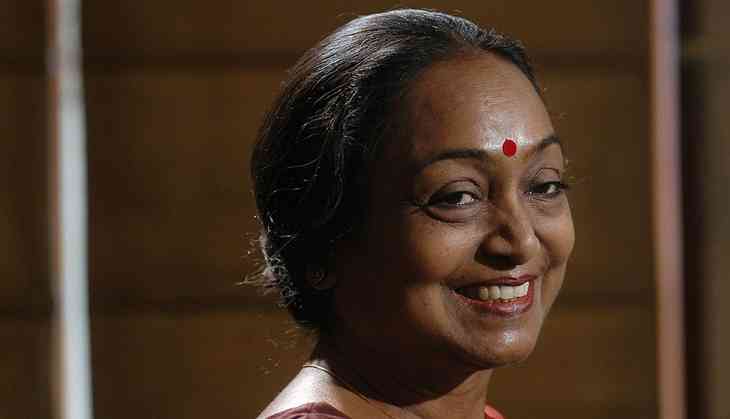 (Sumeet Inder Singh/The India Today Group/ Getty Images)
Fighting a losing battle, former Lok Sabha speaker and Opposition's candidate for the upcoming Presidential elections, Meira Kumar, presented a brave face while addressing the media in Delhi on Tuesday.
After being snubbed by Bihar Chief Minister Nitish Kumar, who has extended support to NDA's candidate and Bihar governor Ram Nath Kovind, the senior Congress leader claimed that she will fight it out irrespective of the results.
Soon after the NDA declared Kovind as its presidential candidate, the Bihar CM hurriedly called an all-party meet and announced support for the NDA's candidate.
Shiv Sena, which has not supported two of NDA's previous candidates, too backed Kovind ruining the Opposition's chance of making these elections a close contest. Their support has sealed the deal for Kovind who in all set to take over from Pranab Mukherjee.
The elections would be held on 20 July while Mukherjee will retire on 27 July.
With the support of several regional parties, NDA has already crossed the majority mark and these elections are being seen as a mere formality.
However, the 17 parties that form the united Opposition are hopeful that Kumar's candidature could lead to a close contest, which seems unlikely until and unless some of these regional parties change their mind at the last minute.
On being asked whether she will reach out to Nitish for his support, Meira Kumar said that the decision on what needs to be done will be decided in the near future.
"These things happen in politics. However, I have written letters to every member of the electoral college for their support and let's see what happens," she added.
Most importantly at the press conference, Kumar stressed on how the upcoming presidential election is more of a battle between two ideologies and said, "It is the highest position of the land for which the election is being held. You mean to say that ideology will not have a role in the highest post? How can you make an election free of ideology which is for the post of the President?"
Claiming that in politics there are always different ideologies – some care for the weaker and suppressed sections while the others don't. "I am for the first one and that is why it becomes imperative that I should appeal to the voice of the conscience," she added.
Meira Kumar, who is set to file her nomination papers on Wednesday, mentioned – "Democratic values, social justice, transparency, freedom of speech, inclusiveness, destruction of the caste system, end of poverty — these are part of the ideology which is close to my heart. For this very reason, on the plank of this ideology, I will compete."
Dismayed at repeatedly being reminded that it is a contest between two Dalits, she pointed out that she was happy that this is being continually being discussed. This, according to her, reflects the true face of the society and how it thinks.
"In the past whenever these elections took place, the two sides fielded candidates of the so-called upper castes, but their castes were never discussed. Their qualities, capabilities, eligibility and achievements were discussed. But when Dalits become contestants, the discussion is about them being Dalits. All other aspects of their personalities become irrelevant. This makes me think that caste should be buried deep in the ground and society should move forward," Meira Kumar added.
The former Lok Sabha Speaker went on to add that her contest with Kovind is about the battle of the ideologies rather than that of caste.
The Dalit card
Commenting on the recent increase in violence against Dalits and other marginalised groups, Meira Kumar said that the society should hang its head in shame even if there is one act of violence against them and appealed for the destruction of the caste system.
The five-time MP also highlighted how several schemes initiated by the previous UPA government for the Dalits, Adivasis and marginalised sections have been shelved by the ruling dispensation.
"I have been witnessing how the schemes and laws for these sections are being casually ended. These schemes were the spirit of our constitution which intended to uplift and provide a life of dignity to these sections. Such acts are hurting our constitution," she added.
Anti-campaigns
Meanwhile, ever since the Opposition has declared Kumar as its candidate, the ruling combine has launched a campaign against her with foreign minister Sushma Swaraj tweeting a video wherein the former speaker can be seen interrupting her six-minute speech 60 times.
Even Meira Kumar's role in allotting 6, Krishna Menon Marg in Delhi for a memorial to her father Jagjivan Ram is also being raised.
In 2000, the NDA government had passed a rule wherein no memorials could be set up in Lutyens' Delhi but the ruling combine is now alleging that rules were twisted by the previous government to facilitate setting up of the memorial.
Responding to these allegations, Meira Kumar called them baseless and said they were being raised to tarnish her image.
In other developments, 35 Congress MLAs from Gujarat turned up for a meeting in Gandhinagar to subscribe for Meira Kumar's nomination.
Any candidate contesting these polls needs the support of 20 legislators to subscribe a nomination.
Armed with the letter of support, senior leaders from Gujarat will be in Delhi on Wednesday when she will file her nomination.