Prashant Kishor faces a Patiala peg of a challenge in Punjab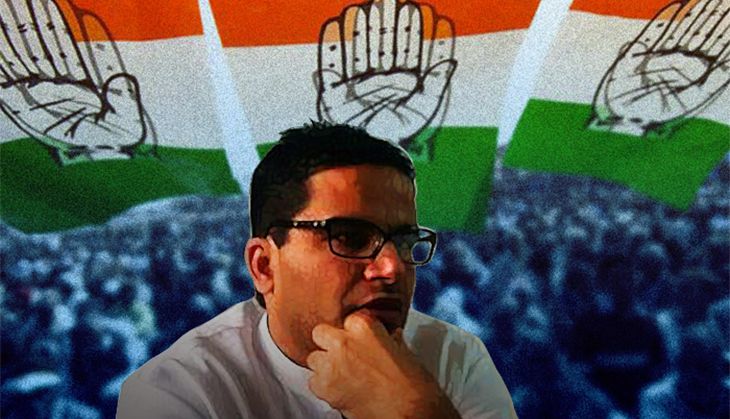 Congress' ace strategist Prashant Kishor seems to be having a tough time in Punjab: On the one hand, Congress leaders and cadres are finding it difficult to deal with the new style of election management; on the other, Kishor has had to come to terms with party infighting.
Kishor got a taste of this phenomenon recently when he accompanied Punjab Congress chief Captain Amarinder Singh for interactions with Congress workers in the Majha area of the state.
For instance, party sources reveal that in a meeting in the Amritsar Rural district, Kishor had advised Singh to "give due importance" to an ex-district president of the Congress. This incensed supporters of the incumbent district president and they began protesting. As a result of the commotion, the meeting had to be called off and Kishor had to leave.
Observers point out that the biggest challenge before Kishor is putting the Congress house in order before he can take on the AAP and the SAD-BJP combine.
Also read: Prashant Kishor can't solve Congress' problems. That's Rahul Gandhi's job
He was given the role of the fire fighter and was expected to placate two of Amarinder's biggest critics and senior leaders within the party - Bir Devinder and Jagmeet Brar. However the two did not stop attacking Amarinder and had to be sacked from the party despite Kishor having talks with them.
Political commentator Baljit Balli however thinks that their sacking has been to Amarinder's advantage. "He now has a free hand in the party. It is good that the party has a single command," he said.
Kishor has come to Punjab carrying the heavy baggage of his reputation as a poll winner after he had drawn strategies for the victory of Prime Minister Narendra Modi in 2014 Lok Sabha polls and Nitish Kumar in Bihar last year. "Sometimes reputation can also be one's undoing," said an observer.
Also read: Congress in crisis: Grand Old Party, same old problems
Distant from ground realities
Kishor has also come in for criticism for his first image-building campaign for Amarinder called 'Coffee with Captain' wherein he has been interacting with the youth. "It became controversial as coffee was never the preferred drink of Punjabis. However, the positive aspect is that Amarinder has been able to reach out to youngsters," said Balli.
There are many who criticise the initiative as being a replica of 'Chai pe Charcha' that Kishor had done for Modi. A large section of the party workers in semi-rural and rural Punjab claim that the initiative has no traction in their respective areas.
Observers further point out that Kishor's biggest drawback in context of Punjab is that while he has a good understanding of how the BJP functions in electoral politics as he has worked both for and against it in the past, this is for the first time that he is taking on forces like SAD and AAP both of which have a totally different and attacking style of politics.
While the SAD never shies from taking refuge in religion by raising Panthic issues which are complicated to understand, the AAP has been running a highly localised campaign across the state.
"He still has to understand Punjabi traits. The issues vary from district to district here. Take the example of the Congress show at Talwandi Sabo on Baisakhi. The show was good but Amarinder's speech was not up to the mark. He (Kishor) needs to understand the Punjabi idiom," said Balli.
A large number of Congress workers are also peeved at Kishor's 'secretive' style of functioning. "Has he started working in Punjab? Is he interacting with the Congress leaders ? At least I am not aware of it," one Congress leader from the Malwa region said sarcastically. Very few of the party leaders claim to have had interactions with the strategist.
"He is working with his own team in a parallel manner. We are not yet aware of what he is up to. The difference between us and other parties at this point of time is that our workers are yet to be brought into poll mode," said a Congress worker from Patiala.
Also read: Cong crisis: Uttarakhand & Arunachal are symptoms. Rot begins at the top
PK and the King
There is also resentment among Congress leaders on Amarinder's announcement that only one member from a family will be given party ticket to contest. This is said to be an advise from Kishor, which has not gone down well with senior leaders who have been trying to promote their sons and daughters in the state politics.
Observers feel that these leaders are now refraining from playing an active role in party activities. However, the lower rung cadres are happy with this announcement and also with the promise that winning MLAs will not be made chairmen and office bearers of boards and corporations. Amarinder has announced that party workers will be adjusted against these posts if Congress forms the government in the state.
Kishor also faces the herculean task of making Amarinder accessible to the common workers and people. Over the last several years Amarinder has always come under criticism for being unapproachable.
His opponents have often taken jibes at him calling him 'Maharaja' who does not care for common people. Initiatives like 'Coffee with Captain' and 'Punjab da Captain', an interactive page on social media that will be followed by live interactions, are a step to dispel such notions about Amarinder.
Also read: How Prashant Kishor plans to deliver UP for Congress in 2019
"What needs to be understood is that Prashant Kishor does not have a magic wand that can turn things around overnight. In case of Bihar he was quick to capture the opportunity of the 'Bihari vs Bahari' debate.
He is good at capturing nuances and this is good for us. He needs to be given time and there are still several months to go for the polls. The good show at Talwandi Sabo has been a morale-booster for party cadres," said a senior Congress leader.
He further pointed that a major achievement of Kishor is that he has managed to isolate Amarinder from the coterie -- referred to as the 'palace coterie' - that always surrounded him and did not allow access to outsiders.
"These people are nowhere to be seen now. Otherwise they were always dictating terms. It is no small achievement if you understand the Congress in Punjab," the Congress leader added.
"It is true that nothing concrete can be attributed to Kishor right now but it is too early to draw conclusions," said Balli.
Referring to a recent poll survey that gave the AAP around 100 seats out of the total 117 while pointing that Amarinder is the first choice as CM, a senior media person remarked, "How can he be a chief minister without his party MLAs?"
Even Amarinder has been quoted as saying that it is only the Congress party itself that can prevent its own victory in Punjab.
Also read: Sister's act in UP? Clamour for Priyanka Gandhi grows in Congress
Also read: Prashant Kishor's biggest obstacle isn't Amit Shah. It's the Congress old guard