Prashant Kishor can't solve Congress' problems. That's Rahul Gandhi's job
Ashutosh
| Updated on: 10 February 2017, 1:50 IST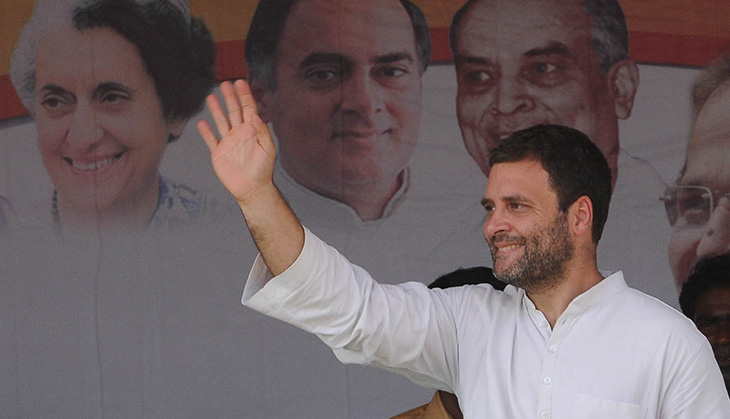 These days I hear a lot about a gentleman called Prashant Kishor. Apparently, some people believe that Narendra Modi's magnificent victory in the 2014 elections was his contribution to Indian history. Then he has another contribution - defeating Modi, his own creation, in Bihar.
Now he has turned his attention towards Punjab and Uttar Pradesh to make Rahul Gandhi victorious. At least that is what media reports and political observers seem to suggest.
Read- Congress in crisis: Grand Old Party, same old problems
I am also told that he is holding meetings of party leaders and workers to re-energise the Congress party and restore its past glory. Apparently, he has emerged as the beacon of hope for Rahul Gandhi.
Right now he has been entrusted with the task of winning back Punjab from the Akalis, a target the Congress narrowly missed in 2012.
I have nothing against Prashant Kishor. I have never met him. But I have been thinking that if he indeed has a magic wand, then why does the Congress party need a Rahul Gandhi? Kishor should immediately be made party president and asked to lead the Congress resurgence. But I know it won't happen.
Reviving the Congress
Frankly, Prashant Kishor is a communication strategist, not a political person. That Congress has given him both roles reflects its own bankruptcy. Narendra Modi and Nitish Kumar are masters of their own political strategies and Kishor's role was to accordingly communicate the political message to the voters.
He used modern technology and innovative concepts like Chai Pe Charcha. Since the wind was blowing in the right direction, his communication strategies worked. But the Congress has overestimated his talent and this reflects the poverty in the party's thinking and the vacuum in its leadership. 
Unfortunately, today the Congress is led by Rahul Gandhi and other leaders who seem to have lost the ability to assess political realities and influence them. So the responsibility has been thrust upon Prashant Kishor.
Any leader in Rahul's place, would have begun by analysing the events leading up to 2014 elections and assessed his party's performance before moving forward.
The first thing that would have struck him, was the failure of the Congress to weave a dream for the future which Modi and Arvind Kejriwal successfully did. Modi promised an India which would be a global leader without corruption, an efficient India, vocal India, determined India and decisive India.
Also read- Cong crisis: Uttarakhand & Arunachal are symptoms. Rot begins at the top
He made people realise that India was at the cusp of a civilisational change but was stuck due to the lack of leadership of the Congress government and in-built corruption in the Congress structure. As a result, Modi was able to triumph in the polls.
Kejriwal challenged the establishment and called his movement India's second freedom struggle. He declared the freedom at midnight in 1947 incomplete without the eradication of corruption. In his view, corruption is the main cause behind India's poverty and backwardness. It struck the right chord in Delhi and AAP won an unimaginable 67 seats out of 70. These are the two glorious political success stories in recent times. Their success hints that Rahul not only failed to read the writing on the wall but also failed to peep into the future.
The onus is on Rahul
The Congress will not improve unless Rahul decides to re-invent the party. The Congress can no longer live on its past laurels of the freedom struggle and post-Independence nation-building. The Congress which came into existence in 1885 as a British club, was re-invented by Mahatma Gandhi in 1915 and converted into a mass movement.
Bapu made it militant and confronted the British empire in every possible way. His experiments with Satya and Ahimsa were unique in those days. Nehru continued more or less in similar fashion as Prime Minister.
Read more: How Prashant Kishor plans to deliver UP for Congress in 2019
But it was Indira Gandhi who understood that politics is all about power. She used power like a painter uses his brush. She replaced Nehruvian idealism with realism and ideals with power politics. Nehru was a dreamer but Indira was ruthless. Rajiv Gandhi did not live long enough to make any substantial contribution and other leaders did not have the vision to transform Congress for the new millennium. At best, they were managers and this includes Sonia Gandhi.
Now Congress is going through an existential crisis. AAP has replaced it in Delhi and is on the verge of repeating the same thing in Punjab. Punjab can be AAP's gateway for a bigger national role. Rahul has to wake up. He should realise that his party is suffering from a crisis of credibility.
The people will not buy the same Congress in a new bottle. The Congress has to change. It has to change the bottle. It has to change its brand image. The party has to realise that it lost the 2014 elections due to a serious loss of brand power caused by rampant corruption and extreme minorityism.
It should throw out all corrupt elements from the party and make the people believe that it will not compromise with corruption.
Mere words will not work. It has to bring a lot more new faces. Leaders like Capt. Amarinder Singh will only spell doom for the party.
Congress has also played the politics of Nehruvian secularism for too long. It has degenerated into extreme minorityism, doing more damage to minorities and giving a boost to BJP/RSS to discredit secular ethos of the country.
Nehruvian secularism was devised to deal with the wounds of the Partition. When the country got more assimilated over a a period in time, there should have been efforts to make a clear distinction between religion and politics. Secularism should have accordingly been redefined.
Rahul will achieve nothing by simply hopping from one university to another, visiting Rohit Vemula's family, criticising Modi and RSS on minority issues and on nationalism. Prashant Kishor is not the answer, he is the symptom of the disease. Prashant can't be the doctor, Rahul has to do the surgery.
Edited by Aditya Menon
More in Catch:
#HandwaraKillings: north Kashmir is burning, but what lit the fire?
Odd-even 2.0: All you need to know about PoochhO, the Delhi government's carpooling app
Emerging contours of the Naga settlement
Just when you think you've seen everything, along comes spreadable beer. Inside the insane food trend biz