Power struggle: why electricity is now the liveliest campaign issue in Punjab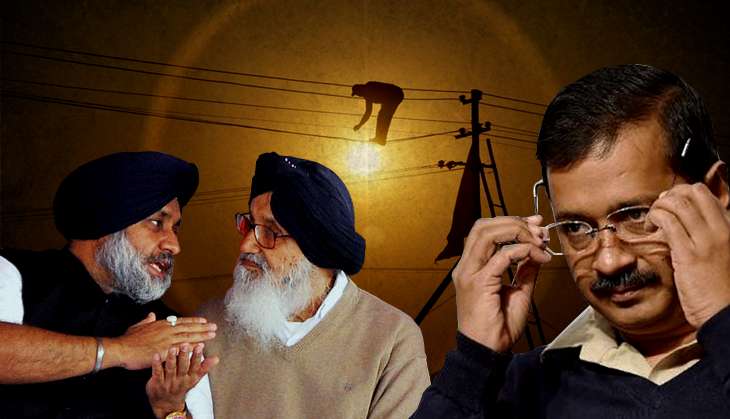 Poll bound Punjab is all set for a round of 'power politics'. Days after Deputy Chief Minister Sukhbir Badal announced electricity sops for the industry amid claims of reduction in transmission and distribution losses, the Aam Aadmi Party has released a white paper tearing into the claims of Sukhbir and his father, Chief Minister Parkash Singh Badal.
AAP has also listed a series of scams in the power sector that have allegedly taken place during the Akali-BJP rule. The Congress, too, has been attacking the Akalis over their claims.
It was on 27 July that the Badal regime claimed Punjab had achieved the distinction of offering the lowest power tariffs in the country to small-scale industry while giving major concessions to heavy industry by waiving off peak load restrictions. Sukhbir claimed his government had lowed power tariffs for small industries even more than that recommended by the state regulatory commission.
As far the T&D losses, he hoped they would be reduced from 14% currently to 10%, the lowest in India, over the next five five years. This, he added, will save the state Rs 1,000 crore.
Also Read: AAP on a roll in Punjab but don't write off Congress and Akalis
Sukhbir further claimed that during the Akali-BJP rule since 2007, Punjab's problems of inadequate generation capacity leading to power cuts and weekly off days for the industry, inadequate power supply, high T&D losses, absence of IT-enabled consumer services, and the power sector's financial crunch had been eliminated.
In this campaign season, the Akalis have been playing up their initiative to give free power to the farmers. Sukhbir claimed all farmers holding less than 2.5 acres of land are being given tube-well power connections and the target is to release 1.50 lakh more connections. He added that free power up to 200 units every month is being provided to every Scheduled Caste and BPL households along with free electricity to all tube wells and subsidized tariff for fishery, goat rearing, piggery and mushroom growers to encourage crop diversification.
The Congress was the first to hit back, terming the Akalis claims in advertisements as "half-truth". The party's vice president Sunil Jakhar promised to scrutinise the setting up of private power plants at Rajpura, Talwandi Sabo and Goindwal by the Badal government. He compared Punjab's tariffs with those of the neighbourig states and said the figures "belie" Sukhbir's claims.
"Sukhbir allowed private players just to take credit for making Punjab power surplus," Jakhar said, adding that the government ended up paying an excess of Rs 930 crore for the Rajpura plant and Rs 880 crore for the Talwandi Sabo plant.
He also claimed that while the private players are making profits, production at state-run plants had been brought down from 17,000 million units to 7,200 MU. Countering the government's claims of reducing D&T losses, Jakhar cited the high losses in the constituencies of the ministers, particularly the family members of the Badal family.
Taken to task
But the most damaging counter has come from the AAP, in its white paper. Alleging that consumers are being forced to pay for expensive electricity from the private plants, party leader Chander Suta Dogra alleged that the government has failed to utilise the capacity of its own plants, which can produce cheap power. She said the Badal government had rushed to set up power plants without making an assessment of the requirements for the next 25 years as per norms. She said, "The burden of surplus power is now being borne by the consumers as the state government surrenders some 18,000 MU annually."
She further charged that while Punjab's power policy was ostensibly designed on the lines of Gujarat's policy, it was twisted and distorted to make the draft more favourable to developers and disadvantageous to Punjab. "As per the Gujarat policy, the developer has to supply 20% power to Gujarat at variable costs depending on whether the coal is arranged by the developer or on the Gujarat government. It implies that fixed charges of this power are not payable by the state government. By contrast, there is no concession or advantage to Punjab by way of 20% fixed charge," she explained.
AAP has promised that if voted to power, it will probe why Punjab's power policy heavily favours private developers. It has promised to review the policy as well as the power purchase agreements with private plants.
Claiming to bust the myth of agricultural subsidy in Punjab, Chander said, "It is an open secret in the state's power sector bureaucracy that more than 80% of this amount is being recovered from domestic, industrial and commercial consumers, among others. The government is committed to pay Rs 5,196 crore as subsidy in 2016-17."
Also Read: Campaign season: how AAP is trying to win over Punjab's voters
She added that while Punjab had abolished octroi tax in 2006, it remains the only state that levies a 10 paise per unit as octroi on power usage in urban areas. "Is it fair to make other consumers pay for free electricity to farmers? Why is the government shirking its responsibility?" Chander asked.
AAP has promised to honour its own commitment to farmers of free power without transferring the burden to other consumers.
Cloud of corruption
It has also accused the state government of non recovery of liquidated damages worth Rs 1,230 crore from private power plants for not being commissioned as per schedule.
Chander, meanwhile, alleged that there had been a "scam" in a power distribution scheme in the state. "In July 2009, the Government of India loaned Rs 1,717 crore under Restructured Accelerated Power Development Reforms Programme to strengthen distribution system in Punjab. Fifty per cent of this loan was to be converted into a grant if the work was completed within three years. Contracts were awarded to firms at much higher than the market rates. Among the three firms to which the work was awarded was A2Z, owned by the family of the chief minister's son-in-law Adesh Pratap Kairon. The work was delayed and is not complete even now," she alleged, adding that that happened while Badal himself was the power minister.
AAP also raised questions about the government purchasing expensive coal from Adani Enterprises while making no effort to douse the raging fire at its own captive coal block in Pacchwara in Pakur district of Jharkhand.
Lastly, it alleged that high T&D losses being reported from the constituencies of ministers were the result of power theft being allowed to insulate Akali supporters and workers from high tariffs. Chander said, "While the overall T&D losses are pegged at 16.16%, they are 30-40% in the constituencies of the Badal family. The same are as low as 3-4% in parts of Ludhiana and Mandi Gobindgarh. Are Akali supporters more equal than others in Punjab today?"
In the coming days, this "power struggle" is expected to get only more charged.
Also Read: Farmer suicides: Punjab agrarian crisis deepens, Badal tries to wriggle out