Politics pays: At Rs. 4 lakh p.m. Telangana MLAs will rake in more than IIT grads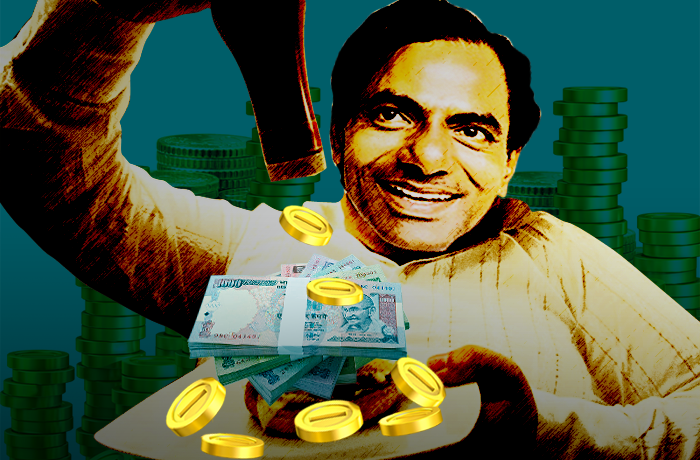 If the Telangana government led by K Chandrasekhar Rao gives its nod, soon every legislator in Telangana will be envied by grads of premier B-schools or IITs.
Each legislator will get a fat pay check - almost half a crore rupees every year. That will reduce the state exchequer by an estimated Rs 100 crore per annum.
Currently, members of the Telangana Legislative Assembly and Legislative Council draw Rs 95,000 a month towards salary and Rs 25,000 towards house rent allowance. That would skyrocket by 400% to Rs 4 lakh each, if the government accepts their request.
Is this, the largesse the Telangana Rahstra Samithi (TRS) government doling out to the MLAs and MLCs from other parties who crossed over into the ruling party and fortified its political positioning? Maybe.
The Amenities Committee headed by Assembly Speaker S Madhusudhanachary, discussed the proposal to increase the remuneration of legislators last Monday. No legislator opposed the move.
State Legislative Council Chairman Swamy Goud, Ministers Etela Rajender, T Harish Rao, Tummala Nageswara Rao, The ruling party's Chief Whip Koppula Eswar, Telugu Desham Party's Sandra Venakata Veeraiah, TRS's Errabelli Dayakar Rao, All-India Majlis-e-Ittehadul Muslimeen's Akbaruddin Owaisi, Congress's G Chinna Reddy, BJP's Chintala Ramachandra Reddy were among those who participated.
They took a strong view that the day-to-day expenditure of legislators were spiralling and demanded the following:
Salary: Rs 3.5 lakh / month
Rent allowance: Rs 50,000 / month

Allowance for personal assistant: Rs 25,000 / month (from Rs 10,000 now)

Car loan: Rs 40 lakh at an interest of 2% (the government may restrict that to Rs 30 lakh - double the current ceiling)

Pension: Rs 50,000-Rs 65,000
The government will now come up with a Bill after studying the pay structure of the MLAs of various states.
Mallu Bhatti Vikaramarka, the working president of Telangana Congress Committee told Catch though he hadn't looked into the nitty-gritty. But the following should be take into account:
the number of kilometres to be covered by every legislator
the people travelling with him

the need for a legislator to cover at least 2 lakh constituents

the expenses he would incur
Even Rs 4 lakh was paltry, considering the kind of work the legislators have to do day in and day out, said an MLA who didn't wish to be named to avoid criticism.
Debt trap
Lofty salary hikes to MLAs and MLCs will ensnare Telangana's exchequer in a maze of loans and push it into deep financial crisis.
Already, the ballpark estimates of the various dream projects of the chief minister are putting their fate in a limbo:
Rs 60,000 crore - Global city plan (announced after TRS's victory in the Greater Hyderabad Municipal Corporation polls), including skyways and multi-layer flyovers
Rs 35,000 crore - KCR's pet 'Mission Bhageeratha' water grid project

Rs 150 crore - to simply relocate the state secretariat

Rs 35 crore for a mere camp office

Rs 20,000 crore - Scheme for free two-bed-room apartments for the weaker sections - one lakh in Hyderabad and one lakh in the rest of the state. (The cost works out to Rs 900 per square foot for each 700-sqft apartment)

Rs 4,765 crore - Already allotted in the budget to KCR as a special fund for enabling him to meet popular demands during his visits across the state

Rs 25 crore - granted to ministers
These apart, the limited liability of farm loan waiver being released in installment, the purchase of electricity to fulfill the promise of nine-hour power supply to farmers and several other schemes have now become an albatross around the government's neck.
In fact, Telangana is crumbling under the weight of a debt burden of Rs 60,000 crore it inherited during the bifurcation of the state and a public debt of over Rs 83,000 crore accumulated in the last two years.
KCR's budget did not make any attempt to keep the wolf from the door.
Edited by Joyjeet Das