PNB scam: Why didn't PMO act on complaint against Modiji's Mehul 'bhai', asks Congress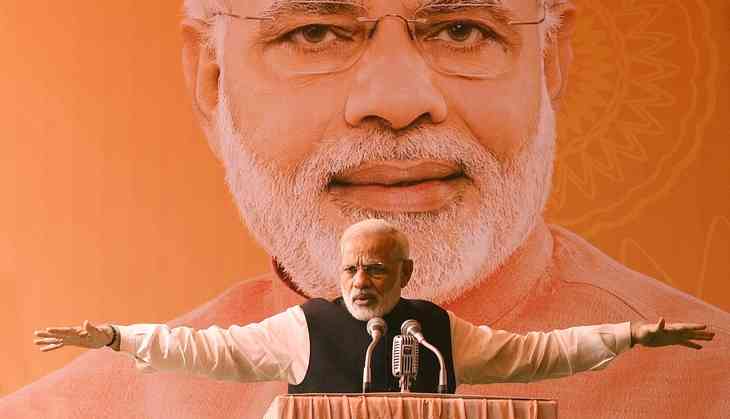 After having revealed that the Prime Minister's Office (PMO) in 2016 was made aware of the fraudulent practices of Mehul Choksi – business partner and maternal uncle of Nirav Modi – the party furnished new documents which clearly suggest that a similar complaint against Choksi was sent to the Prime Minister's Office (PMO) way back in 2015.
The party claimed that the PMO, Enforcement Directorate (ED), Ministry of Corporate Affairs, Serious Fraud Investigation Office (SFIO), SEBI and two BJP state governments – Gujarat and Maharashtra – were aware of the ongoing scam based on a series of complaints filed as early as on 7 May 2015.
These documents revealed that a complaint dated 7 May 2015 was filed to Ministry of Corporate Affairs by one Vaibhav Khuraniya and RM Green Solution Private Limited. The copy of this was also sent to PMO, ED and SFIO. Further, the party revealed that copy of the reply dated 26 May was received by the PMO. Also, a similar complaint was filed with the Deputy Commissioner of Police, Mumbai which was received by the same.
In addition, the Congress also furnished details of an FIR filed in Ahmedabad Economic Offences Wing against Choksi and others for defrauding him. In fact, the matter went to Gujarat High Court wherein the Gujarat government was one of the parties. In a Special Criminal Application No. 4758 of 2015, Digvijaysinh Jadeja filed an affidavit on 20 July 2016 specifically pointing that Choksi owned a debt of Rs 9,872 crore to banks.
In his affidavit, Jadeja wrote, "I would like to draw kind attention of this Hon'ble Court to the fact that the petitioner has a huge debt of Rs 9,872 crores outstanding which is also specified in the website of Ministry of Corporate Affairs... And there are full chances of the petitioner running away like Vijay Malia, as his wife is having an apartment in Burj Khalifa Dubai and as a result many litigations pending against him can get frustrated. (sic)"
Earlier on Thursday, Congress raised questions over Prime Minister Narendra Modi's familiarity with Nirav considering the latter was seen posing in a group photograph of a business delegation at Davos earlier this year. "Nirav Modi was also part of a business delegation to Davos in the year 2016 too, when Finance Minister, Shri Arun Jaitley, had represented India," claimed Congress.
On Friday, the main opposition party levelled another allegation at the Prime Minister claiming he knew to Choksi and had publicly acknowledged him as "our Mehul brother" at an event on Gold Monetization Scheme. The party even released a video to support its claim.
https://twitter.com/INCIndiaLive/status/964453707478945795
Meanwhile, addressing media, Congress' chief spokesperson Randeep Singh Surjewala alleged that the "Bank Loot Scam" has peaked to Rs 21,306 crore and that the total figure can go up to Rs 30,000 crore if all layers of conspiracy get unearthed by the hour.
"Punjab National Bank has already admitted exposure of Rs. 11,400 crore in the 293 'Letters of Understanding' (LoUs). In addition, exposure of 30 Banks in loans extended to four companies i.e. 'Firestar International Private Limited', 'Firestar Diamond Fze', 'Gitanjali Gems Limited' and 'Gitanjali Exports Corporation' is Rs. 9,906 crore. Thus, total exposure comes to Rs. 21,306 crore i.e. Rs. 11,400 crore + Rs.9,906 crore," Surjewala claimed.
He went on to add that since the PNB stock has depreciated eroding Rs.7,000 crore in value. "If you add the erosion of value of 7,000 crores, total exposure comes to Rs.28,306 crore. In addition, exposure of Banks to three more companies i.e. Diamonds RUS, Solar Exports and Stellar Diamonds, is yet to be disclosed by the Banks and Modi Government. Experts estimate this exposure to be in the range of Rs.3,000/Rs.5000 crore. This will further enhance the total figure of the scam," he mentioned. Congress released a list of five questions wherein it sought details of whether the scam has peaked to Rs 21,306 crore. "What is the total loss to the banks? Why is government mum?" asked Congress.
Earlier in the day, Congress President Rahul Gandhi tweeted a formula which seems to show Prime Minister as a catalyst in letting Nirav and Lalit Modi escape India.
https://twitter.com/OfficeOfRG/status/964422238089887744
Taking it forward, Surjewala mentioned that "Udaan" is the buzzword of the government wherein "every scamster can fleece and fly undetected and unchecked". He went on to allege that there is someone in the government who is helping such scamsters flee the nation. The main opposition party also raised doubts over how a fraud of this proportion missed everyone's attention despite banks conducting four stage audit system – statutory, internal, concurrent and RBI inspection. The party alleged that someone was indeed protecting this network of fraud.
Meanwhile, the war of words between the BJP and Congress continued from where it was left on Thursday wherein Union minister Ravi Shankar Prasad claimed that the bank scam happened during the tenure of previous UPA government. Responding to it, Congress' official handle tweeted: "Mr Ravi Shankar Prasad should've done a little bit of homework on the Nirav Modi - Mehul Choksi Scam. The CBI FIR clearly shows LoUs were issued in Feb 2017. Yet, the Modi Govt. prefers to live in denial."
Mr. Ravi Shankar Prasad should've done a little bit of homework on the Nirav Modi - Mehul Choksi Scam. The CBI FIR clearly shows LoUs were issued in Feb 2017. Yet, the Modi Govt. prefers to live in denial. #ModiRobsIndia pic.twitter.com/t3uSUwFaN2

— Congress (@INCIndia) February 16, 2018
On the issue of BJP taking offence to Nirav Modi being referred to as "Chota Modi" by Congress, Surjewala said, "Why are only Modis running away after looting country's wealth? On one hand there is Lalit Modi and on the other Nirav Modi. We spoke only of chota Modi and not bada Modi," he said.
देश का पैसा लूटकर सिर्फ़ मोदी ही क्यों भाग रहे हैं एकतरफ ललित मोदी हैं, डिसरी तरफ़ नीरव मोदी हैं। हमने तो बड़े नहीं 'छोटे मोदी' की बात की @rssurjewala #ModiRobsIndia pic.twitter.com/vN8TigoZq3

— Congress Live (@INCIndiaLive) February 16, 2018
Responding to the allegations made by the Congress, Union minister Prakash Javadekar yet again asserted that the scam started in 2011 and credited his government for bringing it to light. He said, "All the NPAs, the wrongful distribution of loans, amongst others were all passed down to us by the UPA government. This is a scam by the bank and not the government."