Optics politics: Sonia's iftaar sums up Congress' ally problem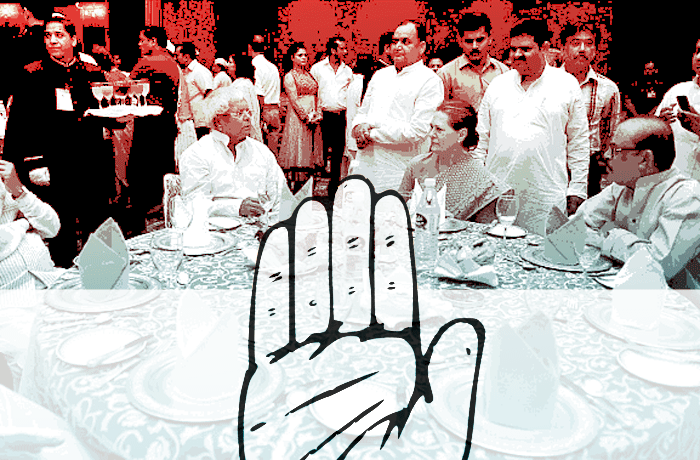 The gathering
Leaders of many Opposition parties attended Congress president Sonia Gandhi\'s Iftar party
This signals a united front ahead of the Monsoon Session of Parliament and the Bihar assembly polls
The dilemma
Forging alliances may help Congress in Parliament, but is it good for the party in the long run?
Congress has always diminished in states where it allied with other parties. Bihar, West Bengal and Tamil Nadu for instance
The party needs to rebuild itself on its own strength
The efforts
Rahul Gandhi has already begun adopting a more pro-active and vocal approach
Congress must invest in energetic state leadership and build its cadre strength
Much is being said and written on the symbolism of Iftar parties. On what Prime Minister Narendra Modi skipping President Pranab Mukherjee's Iftar party stands for, or what the Iftar event of Delhi Chief Minister Arvind Kejriwal signifies.
But the press reactions to the Iftar dinner thrown by Congress president Sonia Gandhi a few days back, on 13 July at Delhi's Ashoka Hotel epitomises a larger conundrum her party has been grappling with of late.
While some reports seemed politically optimistic about the Iftar, others couldn't go on enough about how certain key Congress party allies - Samajwadi Party members, Lalu Prasad Yadav - were missing.
Understandably. For Congress' allies are at the heart of the Gordian knot the party will have to untie, or cut through.
Alliances
Why are allies good for the Congress? Look no further than the party's turnaround this year which came on 17 March when Gandhi took protests against the BJP's politically suicidal Land Bill to another level by leading 100 members of parliament from 11 parties on a march against it.
Allies have helped the Congress form governments at the Centre in 2004, and again in 2009, and, 2014 on, have played a key role in helping it become a formidable opposition in Parliament.
In this upcoming session, attacks seem set to revolve around the Lalit Modi scandal and the Vyapam scam and murders primarily, besides other issues such as a perceived 'U-turn' by Modi on Indo-Pak affairs.
Or, as Congress Vice-President Rahul Gandhi said when asked at the Iftar about whether he would speak on corruption in Parliament, "I will speak, don't know about the PM."
Why are allies bad for the Congress? Because, over and above the instabilities that coalition politics is routinely susceptible to, they have also brought with them tainted ministers (Dravida Munnetra Kazhagam's Kanimozhi was at the Iftar and one couldn't help but think of A Raja and the 2G scam that began Congress' downward spiral) and policy paralysis (Manmohan Singh, the greatest sufferer of this, was at the event too).
But, most importantly, allies are a bad idea politically because the party's reliance on them has been one reason for its ever diminishing presence in the states.
The Bihar polls are coming up. Going by the Vidhan Parishad results - the JD(U)-RJD-INC combine won 10 seats, BJP-LJP won 13 - the Congress and its allies will really have to pull their socks up for the last lap.
But the more telling figure is the number of seats the INC has in the state assembly presently. Five. In 2005, it had 10. In 2000 - 14. 1995 - 29. 1990 was the last time the Congress had a significant number of seats in Bihar - 71. And even this was a massive turnaround from 1985, when it had 196.
Congress allied with regional parties that defeated it to begin with, thus cementing its junior status
Other major states which have seen a similar reversal of fortunes for the Congress, over time, have been UP, Bihar, West Bengal, Tamil Nadu and Odisha. These are major states where the Congress has not just been politically diminished since the last election (as is the case with Maharashtra and Haryana) but for a few terms or more. It has not ceded ground to the BJP in these states, but to regional parties.
"It isn't just a question of whether the BJP will lose in the states," a Congress leader at the Iftar said to me, off the record. "The problem is that even those seats they lose may go to other parties, not us."
Moreover, often, in the case of the above-mentioned states, the INC has allied with the regional parties which defeated it to begin with thus cementing, in the eyes of state poll voters, its junior status.
These alliances have been of a formal nature as well as through informal means, through a public display of camaraderie such as this Iftar. Informal alliances may not have any real commitment attached to them, and they promote bipartisanship - which often comes in handy - but where they do affect a party's chances is voter perception. When a voter sees the Congress and, say, Samajwadi Party leaders sharing a dais, they are seen as the same and, also, the dissatisfaction a voter has with one party is transferred upon the other.
This could mean that Congress votes may go to the SP in a poll. It could also mean that anti-SP votes may not go to the Congress but to another party (in the 2014 national polls this was the BJP).
Put simply, the choice ahead is this: Should the INC aim to ally - formally or informally - with regional parties in the years ahead or should it instead try to increase its seat share in the states by going it alone?
Mission 2019
If it wishes to stand a chance in the 2019 national polls the answer must be the latter.
For, if an Opposition is made up of alliances, a party is made up of cadres. And talking to Congress state cadres across India will tell you a key reason they feel demoralised and therefore uninterested in volunteering for the party, and also a key reason some are breaking away, is that they often don't have an MLA candidate from their own party.
However, there are a few things the party will have to keep in mind before attempting to go solo. Coming back to the example of Bihar, the party had stood in all 243 seats in 2010. It won just four (one seat came to it later in a bypoll). How can similar catastrophes be avoided in the future?
Strategy
Observe how the BJP shook off its alliance with the Shiv Sena at the opportune moment, not before, not after, for the Maharashtra polls. Similarly, when its alliance with JD(U) broke, note how it forged tie-ups with two small parties of significant symbolic value - Lok Janshakti Party, whose supremo Ram Vilas Paswan would be its Dalit face in the state (this has now been amplified by Jitan Ram Manjhi joining the camp), and the Rashtriya Lok Samta Party which would get in the Kushwaha vote (a sizeable chunk).
The Congress needs time to build its cadre base, and to campaign effectively, in the states it wishes to go it alone with.
Therefore, it would be unwise for it to try and break alliances - formal and informal - it has forged for state elections in 2015 or 2016. It may also be unwise to focus all of the party's resources, in these years, on these polls alone.
Instead, the Congress should perhaps also begin working, from this point itself, on 2017. This year, when UP, Gujarat and Punjab go to polls, could be its big year of reckoning. The BJP has already in 2014 busted the myth of UP, India's most politically vital state, being unwinnable by a single national party headquartered of Delhi.
Gujarat too, will be crucial for the Congress as it will be a prestige election for its opposing figureheads: the Prime Minister and the BJP President.
Leadership
Nationally, the signs on this have been encouraging for the Congress of late. The opposition to the government on the Land Bill may have been launched on the plank of an alliance brought together by Mrs. Gandhi, but the mantle has since been taken over by her son and the Congress Vice President.
Rahul Gandhi's 'new post-holiday avatar' or 'Rahul 2.0' is something of a study in perception. May 2014. Congress loses polls and Gandhi is pilloried by media and social media alike. More losses in various states, right up to the Delhi polls in 2015. More derision. Then comes a holiday. The attacks mount to such an extent that news of the actual government is reduced to a side-show.
But the thing with perception is, the more they hate you the more they can't look away.
By the time of his return from a vacation the public condemnation of Gandhi was so great that one solely fed on the media waves could be forgiven for thinking he was actually an extra-terrestrial who would reappear only briefly to say, "ET Go home". When, instead, he arrived in khadi to speak sanely about the Land Act, much hatred melted. Some turned to adulation.
Then he spoke boldly for farmers at parliament. More support. Then on net neutrality. The Real Estate Bill. Meetings with disenfranchised groups. And so it went. And so it goes. When Gandhi took his walk to Kedarnath for "fire-like energy", for instance, some of those who had gone ballistic decrying the timing of his holiday could suddenly just not get enough of 'RG's stamina'.
The formerly reluctant VP seems to finally be in the game of political communication and optics and even some of his critics appear willing to play ball. You may have noticed, for instance, that he's also finally got himself a Twitter account.
This year, when UP, Gujarat and Punjab go to polls, could be the Congress' big year of reckoning
Where the state leadership is concerned, the Congress needs to reflect change. The appointment of new Gujarat Party President Bharatsinh Solanki this May, for instance, indicates a step in that direction. Solanki's father, Madhavsinh, had co-engineered with Indira Gandhi the KHAM (Kshatriya Harijan Adivasi Muslim) alliance that had won the party Gujarat in the eighties.
Other possible new state leaders for the party could be found in the ranks of its young MPs- Gaurav Gogoi and Sushmita Deb from Assam and Jyotiraditya Scindia from Madhya Pradesh, seem as if they may be ready to work their states as Sachin Pilot has been working Rajasthan: with patience and focus.
Yes, all of the names mentioned are those of dynasts, but dynasty is an albatross the Congress will probably not be able to shake off in the next decade. It doesn't have a quick fix.
Cadres
For an eventual fix, lets come to the third and most vital factor which will determine whether the Congress going it alone can work- its cadres. Unseen and shifting membership numbers that the party will have to focus on the most.
Much has been said and written about Gandhi remaining focused on the Youth Congress, instead of the actual party, for a significant portion of his time in politics. Instituting elections in the youth wing has brought forth a generation of possible leaders who do not, as much, come from local political families as their predecessors did.
These youngsters have come to the fore often in the past few months, taking to the streets for protests, raising the possibility of a new wave in the party.
Many of them have joined social media, which they hadn't earlier and now INC manages to get an oppositional trend going on the interwebs as much as the BJP did when INC was in government.
The question of whether these new faces will be given positions of responsibility in the parent party itself, and whether they will be able to prove their mettle, however, remains to be answered.
Let's end with a question. Many view BJP's 'Mission 272+' during the 2014 national elections as a standalone war cry. But it was actually sending out a much wider message: We may have allies but we want to form a government, not a coalition.
Will the Congress, at the right time, be capable of similar gumption?