Opposition leaders get cold feet, unlikely to attend Lalu's Sunday rally in Patna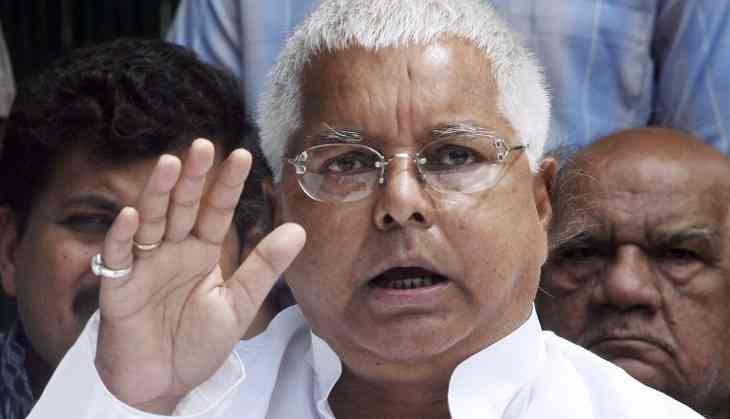 Seen as an attempt to build a larger political alliance to take on the BJP in 2019, Rashtriya Janata Dal chief Lalu Prasad Yadav's much anticipated 'BJP bhagao, desh bachao' rally could turn into damp squib with the absence of senior leaders of Opposition parties who have decided to skip Sunday's gala event in Patna.
Avoiding negative publicity
Congress' top bosses – Sonia and Rahul Gandhi – have decided to miss the event on 27 August. Senior leader Ghulam Nabi Azad and the party's Bihar in-charge CP Joshi will be going in their stead. Congress sources from Bihar say that the decision was taken after holding several rounds of consultations with the state unit and that it was eventually decided that sharing the stage with the RJD chief should be avoided at any cost.
Mired in various controversies, particularly related to multiple cases of corruption against Lalu and his family members, top state leaders believe that a photo-op with the "tainted family" would have brought negative publicity to Congress and its leadership.
According to a senior Bihar leader, the presence of party president or vice president would have given the Narendra Modi-led BJP enough ammunition to attack the Gandhis in the run up to the several upcoming assembly elections.
"Attending such a meeting would provide Modi and BJP a golden opportunity to label Congress as the party that supports corruption. It would have been detrimental for our prospects in poll bound states. It is for this very reason that a decision was taken to avoid sending our top leadership to Patna," said a senior Congress leader on the request of anonymity.
The state leadership is of the view that at a time when Bihar is witnessing one of the worst floods in recent memory, attending a political meeting is not likely to go down well with the local populace. This, they believe, could be exploited by Bihar Chief Minister Nitish Kumar and BJP to corner the Congress in the state.
"Instead of attending Lalu's rally, the party should take up other issues that could ensure its revival in the state. The government's lack of preparedness in handling the floods is one such issue which needs to be raised by the party across the state. Also, Kumar's decision to align with BJP betraying people's mandate should be exposed in every nook and corner of the state," said the senior leader.
According to him, this would free Congress from the "crutches of RJD" and help revive its political fortunes in the state. "Lalu's support is dwindling amidst charges of corruption against him and his family. Moreover, his decision to promote his sons has not gone down well within his own party. So, the time is opportune for Congress to raise these issues and rebuild its support that has shrunk substantially over the years."
However, there is also a view in the party that Lalu is crucial for opposition unity and no attempts should be made to disturb the status quo. It is for this very reason that senior party leaders have been directed to attend the rally on Sunday.
Developing cold feet
Meanwhile, recent developments suggest that many senior leaders of various parties have developed cold feet over sharing stage with Lalu which could rob the event of colour and sheen.
In yet another setback to Lalu, Bahujan Samaj Party supremo Mayawati has decided to miss the rally and will not even send an emissary. Mayawati said that it will only share the stage with any regional or national party only if the seat sharing arrangement of any such secular alliance is decided beforehand to avoid any mutual distrust. According to her, the Opposition needs to have a concrete strategy to defeat BJP and seat sharing is crucial to the life of any alliance that tend to get disintegrated before election if the interests of some parties is not entertained.
Even the Left leadership has not made its intentions clear whether it would be sending any of its leaders to attend the gala event. The Left too is wary of sharing the dais with Lalu and more so with their arch rival and West Bengal chief minister Mamata Banerjee.
The Communist Party of India (Marxist) leadership is of the belief that sharing stage with corrupt leaders will not go down well with its state unit in Bengal. The Left believes that several All India Trinamool Congress leaders have been accused in several scams and it won't be right to share stage with them at a time when the state unit is relentlessly raising these issues in West Bengal. Other Left parties are also unlikely to take part of Lalu's show of strength in Patna.
A fragile unity
National Congress Party (NCP) leader Sharad Pawar too will remain absent from the rally and is likely to send someone else on his behalf. Pawar's absence from several such Opposition meetings have forced Congress leaders to speculate that he too may be oscillating towards BJP.
Recently, the party failed to secure support from two of its Gujarat MLAs for Congress leader Ahmed Patel who managed to win a Rajya Sabha seat with the support of a JD(U) MLA. Since then speculations are rife that NCP could follow JD(U) and join hands with the saffron party.
Meanwhile, unperturbed by threats from Bihar chief minister, rebel JD(U) leader Sharad Yadav would be participating in the rally. Kumar, who is also the party president, warned that if Yadav decides to attend, he could face disciplinary action which could also lead to his disqualification from Rajya Sabha as well. But Yadav remained defiant and claimed he would never be cowed down by such threats.
Interestingly, Lalu had announced his rally several months in advance and no party had raised any objections over their senior leaders attending it back then. These developments go on to show how fragile the opposition unity is which suffered a major setback after Nitish left the opposition camp to join hands with BJP.
Now, it remains to be seen what remains of this unity in the run up to 2019 Lok Sabha polls and whether these parties can shun their differences to present a united front to take on BJP.