Opposition guns for MoS HRD Katheria for his alleged hate speech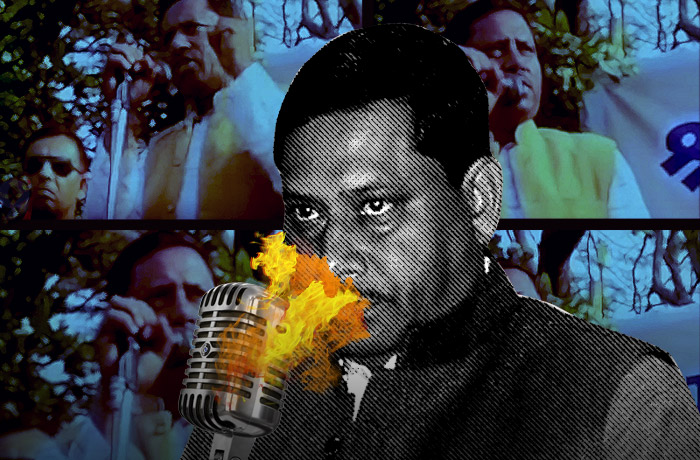 The speech
MoS HRD RS Katheria allegedly made a hate speech in Agra
Many speakers at the event in Agra are reported to have spewed venom at Muslims
The consequence
Opposition parties disrupted Parliament in protest against Katheria
Many have also demanded his dismissal
More in the story
What happened at the event in Agra?
What are the allegations against Katheria and others?
The situation on the ground
As it is HRD minister Smriti Irani is in trouble over her alleged role in Rohith Vemula's suicide and the JNU sedition row. Now her deputy Ram Shankar Katheria has left the government red-faced with an alleged hate speech.
Katheria's speech has given the Opposition added ammunition to target the government in Parliament.
Read: Cong gives adjournment motion against MoS Katheria for his 'anti-Muslim' comments in Agra
As soon as the Houses assembled on Tuesday, Opposition members began shouting slogans against Katheria, who is the minister of state for HRD.
This led to the adjournment of both the houses on two occasions. The Congress has moved an adjournment motion in both the houses to discuss the matter.
On Monday, Samajwadi Party leader Ram Gopal Yadav demanded Katheria's removal from the Union council of ministers.
The speech
According to media reports, Katheria made several inflammatory remarks against minorities during a condolence meeting called by the Sangh Parivar at Agra's Ramlila ground last Sunday. The meeting was held to commemorate local VHP worker Arun Mahaur, who was allegedly killed by a Muslim youth.
Apart from Katheria, who represents Agra in Lok Sabha, the others present at the meeting were BJP MP from Fatehpur Sikri Babu Lal, firebrand leader Sadhvi Prachi, local BJP leader Kundanika Sharma, local BJP MLAs Jagan Prasad Garg and Yogendra Upadhyay, VHP district secretary Ashok Lavania, VHP general secretary Surendra Jain and a number of functionaries from the Bajrang Dal.
A report published by The Indian Express claims that one speaker after another spewed venom at Muslims in Katheria's presence. The report also carries audio clippings of the speech purportedly made by Katheria during the meeting.
Apparently Katheria brazenly said that being a minister won't tie his hands
The minister could be heard lamenting Mahaur's death. "We have to make ourselves strong. We have to launch a struggle. If we don't struggle, then today we have lost an Arun, tomorrow we will lose another. Before another is lost, we must show such strength that these killers themselves disappear," the minister has been quoted as saying.
Katheria also reportedly demanded that Mahaur's killers be hanged and warned that his ministership wouldn't deter him. "The administration might think that "main to mantri ho gaya, hath bandh gaye (that because I'm a minister, my hands are tied)." he is heard as saying in the audio clippings.
Katheria's vitriol was matched by BJP MP Babu Lal.
"Don't try to test us. We will not tolerate any insult to the community. We do not want unrest, but if you want to test Hindus, then let's decide a date and take on Muslims," he reportedly told the audience.
Also read: Sangh leaders warn Muslims of 'final battle'
Comparing Mahaur's death with the sacrifice made by soldiers at the border, VHP leader Ashok Lavania promised revenge.
"Agar hum Hindu naujwan apni maa se paida hue hain, eent ka jawab patthar se, khoon ka jawab khoon se denge (If we Hindus are born of our mother's womb, we will give a fitting reply, with blood). The revenge of the killing of one brother demands killing of ten demons."
"It is certain that revenge will be taken before the 13 days of his death are over. Action will obviously be in Mantola area (where Mahaur was killed), but also across Agra. Wherever Hindus are in a majority, it will happen. We are fully prepared. If they retaliate, then it will be a mahasangram, Mahabharata. The final battle," The Indian Express has quoted him as saying.
Katheria's clarification
Katheria has denied making any controversial remarks. Terming The Indian Express report as completely "untrue", he has decided to file a defamation case against the paper.
"I had only appealed to Hindu society to come together. Neither have I given any hate speech nor taken the name of any community. Although, I had demanded the hanging of Arun's killers. One should see the whole CD of my speech before making allegations, the minister said.
"All I said was that the killers should be hanged before they kill more of our colleagues. The killers might be Hindus or Muslims. I have not blamed any community for the murder," he further added.
Let's decide a date and take on Muslims, BJP MP Babu Lal is reported to have said
However, MP Babu Lal was unapologetic over his speech.
"When Hindus are being murdered in front of everyone, what else can be done? The entire Hindu community will unite to fight such things. Badla nahi lengey toh kya aarti utaarengey aise logon ki? (If we do not take revenge, should be worship them?)," he told ANI.
No senior BJP leader has commented on this controversy as yet.
The Opposition onslaught
Katheria's denial notwithstanding, the Opposition has found a new issue to corner the government during the ongoing Budget Session.
Demanding Katheria's resignation, leader of the Congress party in Lok Sabha Mallikarjun Kharge alleged that BJP and RSS were conspiring to divide the country.
"They speak (such things) whenever elections are approaching. They talk about dividing the country. If they continue to speak like this, there will be repercussions across the country," he said.
The same sentiment was echoed by senior state party leader and former Union Minister PL Punia.
"Katheria ji is not just an MP, but he is a part of the Union council of ministers. He has taken an oath of office. But the kind of communal poison he is spreading, it is unpardonable. He should not be a minister any more. We would like to tell the Prime Minister that such a person should be sacked. There would be discussions on this in both the Houses of Parliament," he told ANI.
BSP leader Mayawati has also demanded immediate action against Katheria. JD(U) leader Ali Anwar has termed Katheria's remarks as "dangerous for the unity and integrity of the country."
Read more: #RohithVemula family, friends call Smriti Irani out on her 'lies'
AIMIM leader Asaduddin Owaisi has also raised objections over the minister's speech.
"A minister should not make such remarks. It is a minister's duty to take along all sections of society. This government talks about 'Sabka Sath, Sabka Vikas' but it has a different agenda," he said.
"This Modi government has been consistent in its obnoxious behaviour. I am sure that no action will be taken (against Katheria)," Owaisi further added.
Delhi Chief Minister Arvind Kejriwal attacked the minister on social media.
"According to BJP, people like Katheria are deshbhakts," he tweeted.
The killing
Meanwhile, the situation remains tense around in Mantola after Arun Mahaur's killing..
The administration fears that there might be a confrontation before the 13th day ritual for the deceased VHP activist. As a result, security has been tightened in the areas around Mantola. Rapid Action Force has been deployed in sensitive areas. Senior officials are keeping a 24-hour vigil.
Mahaur (52) was shot by some unidentified assailants near Mir Hussaini Chauraha on Thursday morning, while he was going to his furniture shop.
The police has arrested 5 people so far. Local police officials claim the murder happened a day after a scuffle between Mahaur and these 5 people.
The state government has announced an ex-gratia compensation of Rs 10 lakh for Mahaur's family while the local administration has given Rs 5 lakh.
Edited by Aditya Menon
More in Catch:
Let's come to the point. Will the Budget revive the economy?
Delhi HC reserving judgement on Kanaihya bail raises troubling questions
View from the ground: Why we may never know truth about Murthal 'rapes'
Leonardo DiCaprio, his Oscar win & his green revolution