O Pannerselvam has spoken..and how! CM revolts against Sasikala's coup
S Murari
| Updated on: 11 February 2017, 5:40 IST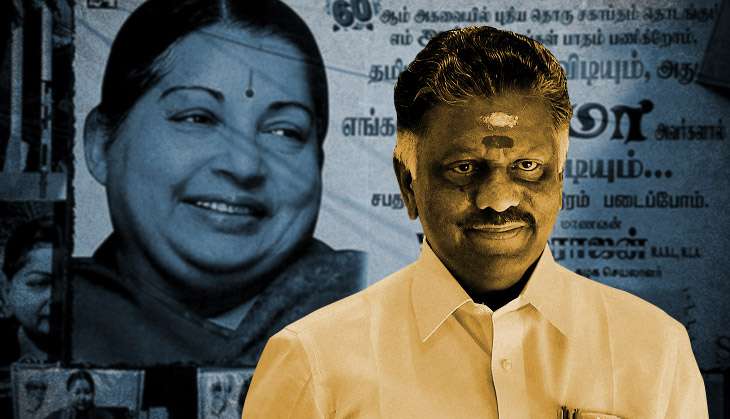 In an open revolt, Tamil Nadu's 'caretaker' Chief Minister O Pannerselvam announced on Tuesday night that was forced out of office by AIADMK general secretary V K Sasikala. He has vowed to fight back, effectively stymieing her efforts to usurp power in the state.
On Tuesday evening, Pannerselvam dramatically landed up at J Jayalalithaa's memorial in Chennai and meditated there for over 45 minutes. Immediately after that, he addressed a press conference claiming that "Amma's soul" has asked him to reveal the truth of what had happened.
He said that ever since he took over as Chief Minister after Jayalalithaa's death two months ago, Sasikala has been trying to capture power, first by taking over as party general secretary and later by undermining his authority in a bid to force him out.
"I will fight even if I become a lone ranger as I want to save the AIADMK which was kept united for 28 years by Jayalalithaa," he asserted.
He said he was not consulted when the legislature party meeting was called by Sasikala, after which she told him that he would face disciplinary action if he refused to go along with her move to take over as Chief Miniser.
Pannerselvam's bombshell was followed by a sudden upsurge of support for him, revealing the undercurrent of anger against Sasikala.
Rise of #OPS , #IsupportOPS , New transformation,Support of people @opaneerselvam pic.twitter.com/g2IetIeNru

— Sanjeevee sadagopan (@sanjusadagopan) February 7, 2017
Governor Ch Vidyasagar Rao refused to be hustled into a decision after Sasikala's apparently unanimous election as leader of the AIADMK legislative party.
Now the Governor will ascertain the wishes of the 134 MLAs whether they acted on their volition or were coerced as Pannerselvam has alleged he was.
When the Governor returns to Chennai on Wednesday, Pannerselvam is expected to call on him and apprise him of the attempts made to undermine his authority by Sasikala and her supporters, including junior Ministers and Lok Sabha Deputy Speaker M Thambidurai.
In the changed situation, the Governor can call both Pannerselvam and Sasikala and assess the situation.
If Pannerselvam offers to face a floor test, he may be given time - perhaps a week to ten days - by which time the Supreme Court will pronounce its verdict in the disproportionate assets case in which Sasikala is a co-accused along with Jayalalithaa.
Even so-called loyalists may hesitate to throw their lot behind a leader who may end up in jail if the Supreme Court upholds the Bengaluru special court's verdict and overturns the subsequent acquittal by the Karnataka High Court .
The DMK which has 90 members could support Pannerselvam even if he gets the support of a mere 30 out of 143 AIADMK MLAs, as is being speculated. The half way mark is 117 in the 234-member Tamil Nadu Assembly.
Pannerselvam has become the rallying point of revolt within the party against Sasikala.
In a counter-attack, Sasikala, CM-in-waiting called an emergency of senior ministers at her Poes Garden residence and expelled Pannerselvam as AIADMK treasurer.
Situation tense outside Poes Garden. Crowd gathering https://t.co/WgthRGiAja

— Dhanya Rajendran (@dhanyarajendran) February 7, 2017
Even if she expels Pannerselvam, it will not have any material effect when the Governor is behind him and the party is heading for a split, like the one it suffered after founder MG Ramachandran's passing in December 1987.