NRI factor in Punjab: AAP miles ahead but Congress has some support as well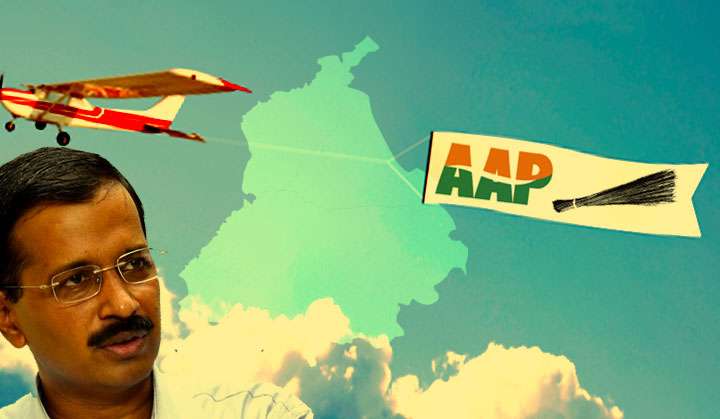 The Aam Aadmi Party (AAP) has started unleashing its NRI volunteers and supporters on Punjab's political turf to garner support for the party. These NRIs have started arriving in planeloads from across the globe help the AAP campaign. According to estimates, no less than 50,000 NRIs have landed back home to campaign for the different parties but the lion's share have come for AAP.
The Congress too is countering the move with its supporters from abroad also making a beeline to the state to campaign for the party.
On Wednesday night, a plane from Toronto landed carrying 180 Punjabi NRIs ready to hit the campaign trail and another would be coming on 24 January from United Kingdom.
Where are NRIs coming from?
According to AAP's overseas cell secretary Preeti Sharma Menon, "The party's NRI support base has been active for the last two years across 20 countries. Punjabis always stay rooted to their homeland and monitor the politics, policies and reforms in their home state no matter where they are. They are convinced that Punjab needs a revolution - a second struggle for freedom."
She informed that NRIs who have been coming to Punjab are from Canada, United States of America, United Kingdom, France, Germany, Finland, Belgium, Australia, New Zealand, the Middle East and even from countries as small as Cyprus.
Talking to Catch, Dalip Singh Multani who has come to campaign for AAP from Brantford in Ontario, Canada said, " We have tried both the traditional parties the Shiromani Akali Dal (SAD) and the Congress for decades hoping that they will do something better for the people. But things have gone from bad to worse. From being the top state in India in terms of development and other social matters Punjab has witnessed a massive down slide. What has gone up is corruption, lawlessness, drug abuse and unemployment. We see a hope in this new party."
Multani hails from Mehmudpur village of Kapurthala and has been abroad for the last 45 years. He further said, "The most attractive thing about AAP is that it is not controlled by a family. Punjab has been ruled by five or six families ever since independence. We want a proper system in place in the state just like it is in rest of the world."
A former journalist who is AAP's contestant from Kharar constituency, Kanwar Sandhu, said that there are almost 35 lakh Punjabis living abroad and are concerned about their state. He disclosed that the NRI volunteers who have been active in Punjab are carrying out telephone campaigns in various constituencies. They call their friends, relatives, acquaintances and others to tell them under what circumstances they were compelled to leave their homeland and how their hard work paid off.
"These are the people who were failed by the system in their state and succeeded abroad. There is a campaign being run against AAP that it is the radicals, terrorists and extremists who are supporting the party. You can have a look yourself. Are these people radicals or extremists ? These are the people who love Punjab," he said while pointing that AAP's manifesto will have a separate section dedicated to NRIs and their issues, particularly regarding the security of their properties back home.
Sandhu also disclosed that over the last several months, the AAP leadership has been organizing more than two dozen Google Hangout sessions with the NRIs along with other sessions on Skype.
Another NRI volunteer Surinder Marvi said," The other parties are promising better roads, power and sewerage to the people. We want to say that these are our basic rights. We want better education and health facilities. They are saying that this is a party led by outsiders that will deprive Punjab of its resources. We are asking them that or the last 70 years Punjab was ruled by 'insiders' and what did they do? We are here to help form a government that will have a proper system in place."
Sukhi Pammi, an NRI who has been based in the US for the last 28 years, said, "How come there are no false cases being registered since the Model Code of Conduct came into force. How come drug smuggling has stopped? This shows that all this was happening under the patronage of the government."
The arrival of the NRIs on the ground to campaign for AAP candidates is the culmination of the 'Chalo Punjab' campaign launched by the party some months ago.
SAD's charges and Congress' efforts
AAP has been under fire from its rivals over its NRI support base. On Wednesday, SAD president Sukhbir Badal once again raised the issue saying that AAP's national convener and Delhi chief minister Arvind Kejriwal should tell Punjabis why he is soliciting and getting funds from terrorist front organisations. He said it is clear that Kejriwal is not only courting terrorist front organisations but is also receiving funds from them. "He should tell Punjabi's what deal he has struck with the radical elements who are bent on disturbing the peace in Punjab.
Asking Kejriwal to disclose how much funds he has received from abroad as well as the antecedents of those who had sent the funds, the SAD president said if the AAP leader does not disclose this, it would mean that he is mixed up with separatists.
Sukhbir said the fact of the matter is that Kejriwal has assured radical elements that he would hand over control of the Shiromani Gurudwara Prabandhak Committee to them in return for their support. He said immediately after this deal was struck attempts were made to incite violence in the state.
AAP's in charge for Punjab Sanjay Singh has shot back saying that such allegations from a frustrated Sukhbir cannot be taken seriously.
On the other hand the more than 400 NRIs from the United Kingdom and Canada have come out in support of the Congress in Punjab and are preparing to join the party's election campaign. A `jatha' is likely to be flagged off by Congress vice-president Rahul Gandhi from New Delhi over the weekend.
While around 250 NRIs under the aegis of the Indian Overseas Congress in the United Kingdom UK, are arriving over the next two days, more than 150 NRIs will be coming from coming from various parts of Canada to be a part of the Congress campaign.
Amanpreet Aulakh, a leader of Indian Overseas Congress (Canada), is among those who has already reached India. He said the NRIs from Canada will help take the campaign party agenda forward on the ground across the state.
Daljit Singh Sahota who is the president of Indian Overseas Congress (United Kingdom) has in a letter to Dr. Karan Singh who is the chairman of the Congress' foreign affairs cell, said the NRIs would be traveling to India to participate in the elections in Punjab and to campaign vigorously for Congress candidates. Sahota said the NRIs will move from one constituency to another in a hired bus .
The NRIs also plan to meet people across constituencies to communicate the party's message and make the voters aware of the Congress agenda of development and progress for Punjab.