No Grand Alliance in Assam: Congress & AIUDF fail to strike a deal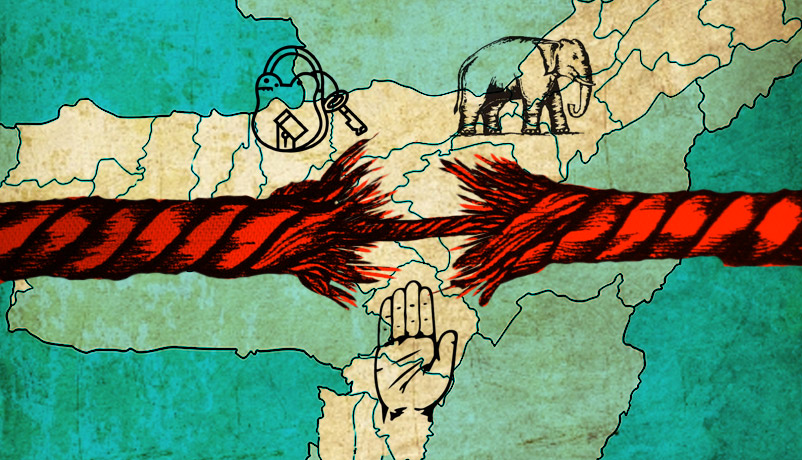 The alliance
Efforts to form a Bihar style Grand Alliance in Assam seem to have failed
The reason is the Congress and AIUDF\'s inability to agree on seat sharing
The effort
Apparently the alliance was the initiative of Bihar CM Nitish Kumar
The larger plans seems to be present Kumar as the main anti-BJP face nationally
More in the story
What were the negotiations?
What was the deal breaker?
What does this mean for the BJP?
The first attempt to emulate Bihar's grand alliance model to counter the BJP in other assembly elections appears to have come a cropper. Developments in Assam late last year had indicated that Congress, All India United Democratic Front (AIUDF) and Asom Gana Parishad (AGP) could enter into an alliance to prevent division of non-BJP votes. Assembly elections are set to take place in the north-eastern state in March-April 2016.
However, that process seems to have failed as the Congress' Assam unit has announced that there will be no such alliance with perfume baron Badruddin Ajmal-led AIUDF. Assam Congress chief Anjan Dutta announced this recently and Chief Minister Tarun Gogoi also gave a statement confirming the same.
Read- Gogoi does a Nitish: Decoding the Assam CM's tirade against outsiders
The alliance move was believed to have been initiated by Bihar Chief Minister Nitish Kumar and his chief strategist in the Bihar polls, Prashant Kishore. In the last few months Ajmal met and held talks with Kumar in Patna and New Delhi on several occasions. AGP chief Atul Bora and senior leader Prafulla Kumar Mahanta also met Kumar and Kishore.
Ajmal also attended Kumar's swearing-in ceremony in Patna in November 2015. Recently, he met the Bihar CM again in Patna on 3 January. In these meetings, Kumar is understood to have urged the AIUDF chief to consider the Bihar victory as a lesson to all anti-BJP parties to come together.
AIUDF and Congress have been adversaries in Assam. On one hand, both parties have competed for the minority vote. On the other hand, Tarun Gogoi has time and again played the Ahom card, something that Ajmal has criticised.
However, JD(U)'s push had made him willing to join hands with the Congress.
For a while, even the Congress appeared inclined towards this alliance, but has now pulled out. Dutta said, "An alliance with AIUDF would be suicidal for us as that would erode our minority support base. We don't want to repeat the bitter experience of the alliance we had with Bodoland People's Front (BPF) in 2006 and 2011. We lost our base in the Bodo heartland."
AIUDF's demand
A source close to AIUDF leadership told Catch that even though Ajmal himself is yet to make any announcement, the alliance does seem impossible now. The source said could be the reason the large number of seats AIUDF was asking for.
AIUDF had sought 53 seats for itself as a part of the alliance. The Assam legislative assembly has 126 seats, which makes 64 the magic number required to form the government. With AGP as a third pole, the Congress would have been forced to fight on substantially lesser number of seats.
Nitish Kumar and Prashant Kishore held talks with the AIUDF and AGP. But their efforts have failed
In the last assembly elections in 2011, AIUDF had contested on 78 seats, winning on 18 and becoming the second largest party in the state. This was only the party's second electoral test in the state, after its formation in 2005.
The Congress had contested on all 126 seats, winning on 78. This wide difference between their numbers may be why Congress just couldn't accept AIUDF's demand of 53 seats.
Bitter relationship
The AIUDF is yet to officially announce that the alliance has been called off. Party leader Haider Bora told Catch, "We feel that being the second largest party in the state and also having three MPs in the Lok Sabha, we deserve to fight on at least these many seats."
Also read- Assam: 9 rebel Congress MLAs join BJP, Gogoi left with wafer-thin majority
Bora added, "The Congress could have laid out its reservations and suggestions and then negotiations could have taken place. However, it did nothing to that effect and just backed out."
Much bitterness appears to have crept into the Congress-AIUDF relationship. Gogoi has alleged that AIUDF and AGP are forming an alliance with the BJP, which Ajmal has termed a "malicious allegation". In a series of tweets on 5 January, the AIUDF chief said, "Baseless allegations from Chief Minister of state does not suit his stature. If Gogoi has any evidence, he should hold it before public."
Tarun Gogoi alleges that AIUDF, BJP and AGP is forming an alliance. Does Tarun Gogoi has any proof to support his allegations? 1/4

- M Badruddin Ajmal (@BadruddinAjmal) January 5, 2016
We have clarified it many times that AIUDF will never come in any understanding with BJP. We Even filed a defamation suit against Cong. 2/4

- M Badruddin Ajmal (@BadruddinAjmal) January 5, 2016
But still Congress is labeling malicious allegation against us without any documentary evidence whatsoever. Is Congress blackmailing us?3/4

- M Badruddin Ajmal (@BadruddinAjmal) January 5, 2016
Baseless allegations from Chief Minister of state does not suit his stature. If Gogoi has any evidence, he should hold it before public.4/4

- M Badruddin Ajmal (@BadruddinAjmal) January 5, 2016
If this alliance indeed doesn't fructify it would be a major relief for the BJP, which is hoping for a much better performance in Assam than in the other three states that will go to polls around the same time - West Bengal, Kerala, and Tamil Nadu.
JD(U)'s gamble
This development will be a disappointment for the JD(U). After trouncing the BJP in Bihar, the party has become confident of playing a leading role in similar ventures against the BJP across the country. The party wants to gradually make Nitish Kumar a national leader and the prime challenger to Prime Minister Narendra Modi in the next Lok Sabha elections.
Assam could have been a good start to this campaign, as Kumar would have campaigned in the state for the alliance, even though JD(U) itself is not a serious player there. With these prospects apparently over now, Kumar's national campaign has gotten off to a bad start.
More in Catch:
As Gogoi stares at anti-incumbency, Congress warms up to AIUDF
The good & the bad of Pathankot operation: from a soldier's viewpoint