No end to 'Padmaavat' row; Zealots block Chittorgarh-Udaipur highway in Rajasthan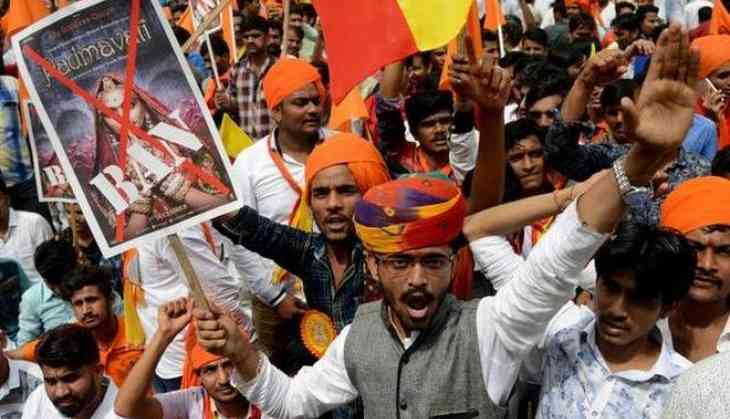 Protesters demand country-wide ban on Padmavaat
Members of the Rajput community on Wednesday held a protest in Rajasthan's Chittorgarh against Sanjay Leela Bhansali's controversial film 'Padmaavat', demanding a complete ban on it.
The Rajputs, along with those from other communities, staged a sit-in protest near Rithola crossing on the Udaipur-Ahmedabad highway blocking it for nearly half-an-hour, police said. Traffic had to be diverted due to long queues of vehicles on the busy highway, they said.
No untoward incident was reported due to the precautionary measures were taken by the administration, the police said. The highway traffic returned to normality after the protesters withdrew to discuss their future course of action on the 'Padmaavat' release issue, they said.
In a social media post, patron of Shree Rajput Karni Sena chief Lokendra Singh Kalvi gave a call for another rally, in Samrau in Jodhpur on January 21, to show solidarity to community.
The film got stuck in the current controversy after various Rajput groups alleged that it distorted history, a claim repeatedly denied by Bhansali. The fact that the governments of Rajasthan, Gujarat, Madhya Pradesh, Himachal Pradesh and Haryana governments have banned the movie has not helped to pacify the anger of certain groups within the Rajput and the communities closely associated with it.
Featuring Deepika Padukone as Rani Padmavati, Shahid Kapoor as Maharawal Ratan Singh and Ranveer Singh as Alauddin Khilji, the film was given a U/A certificate by the Central Board of Film Certification (CBFC) recently after much prevarication.
Last month, during the certification process of the film, Bhansali had appeared before a Parliamentary panel to state that the film was an adaptation of Sufi poet Malik Muhammad Jayasi's "Padmavat".
The film, now slated to be released on January 25, was given a go-ahead signal by the CBFC after making the producers change the title from 'Padmavati' to 'Padmaavat' and carry out some other modifications.
(With Agency Inputs)