Nitish Kumar's Bihar Vikas Mission is a bold experiment: Will it work?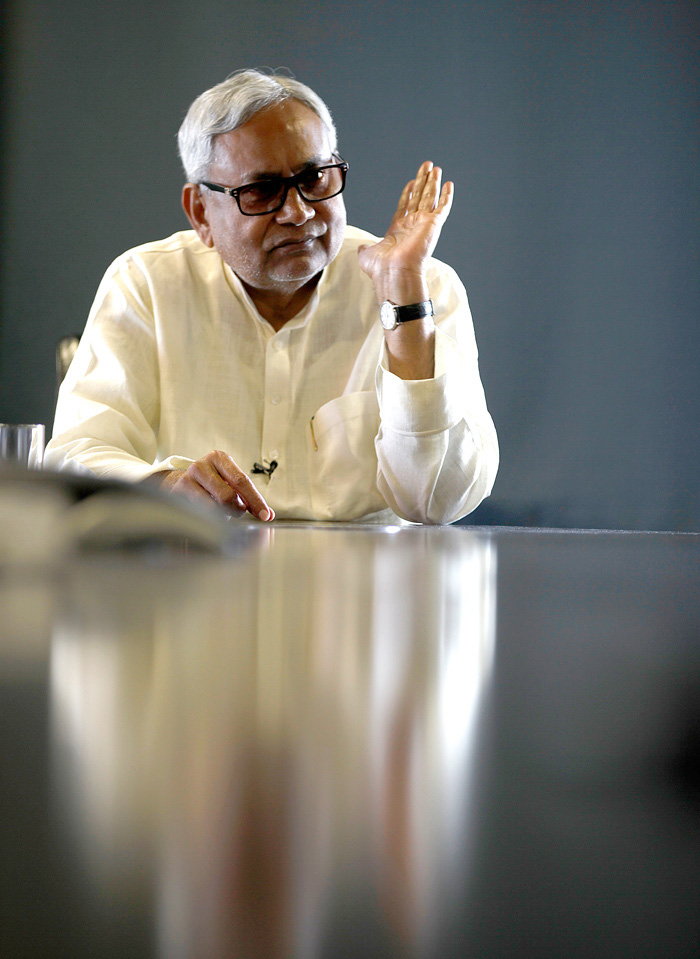 Some describe it as the sort of reward that Narendra Modi did not have the good sense to offer. Nitish Kumar calls it "a leap of faith". What's it? Some say it is a job for poll strategist Prashant Kishor.
It's no ordinary job, of course. The Bihar Vikas Mission - of which Kishor will reportedly be in charge of - promises to be the political development to watch out for in the days to come.
The first evidence is the style in which Nitish chose to announce it on 27 January, even though his cabinet had approved it two days previously. He took to Twitter to announce the BVM as "a pathbreaking initiative" which will "fast-track development & ensure time bound delivery of services in mission mode".
Also read: Prashant Kishor to be advisor to Nitish Kumar, likely to lead
The mission will focus on "helping govt machinery find solutions & technical knowhow" and other "resources for execution", apart from overcoming "procedural difficulties", he explained.
Clearing the air over the body being a parallel administrative set-up, Nitish said it would work "in sync with the existing government machinery" as "a facilitator and force multiplier".
Indicating that outside talent could be hired for the mission, he said the BVM would provide a platform for "young professionals & experts".
Development in mission mode - Bihar Cabinet approves setting up of Bihar Vikas Mission (BVM)

- Nitish Kumar (@NitishKumar) January 26, 2016
BVM is a leap of faith & a pathbreaking initiative to fast track development & ensure time bound delivery of services in mission mode

- Nitish Kumar (@NitishKumar) January 26, 2016
BVM will work in sync with the existing govt machinery and will be a facilitator and force multiplier at all levels of service delivery

- Nitish Kumar (@NitishKumar) January 26, 2016
BVM will focus on helping govt machinery find solutions & technical knowhow, resources for execution & overcome procedural difficulties

- Nitish Kumar (@NitishKumar) January 26, 2016
BVM will provide a structured platform for young professionals & experts to join hands with govt in our endeavour to fast track development

- Nitish Kumar (@NitishKumar) January 26, 2016
Adding a touch of drama to the announcement, Nitish put out a "coming soon" tweet.
Watch this space for more information in coming weeks and months

- Nitish Kumar (@NitishKumar) January 26, 2016
Keeping promises
Bihar's Cabinet Secretariat had announced on 25 January that the BVM's objective would be to ensure "effective implementation and monitoring" of various state schemes.
These include the seven programmes promised by Nitish during his poll campaign, which Kishor had managed:
Educational and entrepreneurial support for youth

35% reservation for women in government jobs

24-hour power supply across the state

Piped water for all households

Roads and drainage networks across Bihar

A toilet in every home

New educational and training institutions across the state
Apart from these, the BVM will look after programmes related to agriculture, industrial promotion, and human resource, skill and infrastructure development.
The BVM will be led by the chief minister and include all ministers, the chief secretary, development commissioner, police chief, principal secretaries of all departments, besides the Mission Director.
Also read: Nitish Kumar imitates Modi, hires his key election architect
The mission will be registered under the Societies Registration Act, 1860, according to Brajesh Mehrotra, Principal Secretary for Cabinet Coordination. This will essentially make it an NGO, unlike the erstwhile Planning Commission that it is being compared to.
Reportedly, BVM will hire 1,200-1,500 professionals from the private sector, making it a mammoth organisation, much larger and different than the UPA's National Advisory Council.
BVM will hire 1,200-1,500 private sector professionals. Another Planning Commission in the making?
It's believed they will largely come from the network of professionals that Kishor has mentored. Interestingly, his political consultancy firm, Indian Political Action Committee, is in the midst of a recruitment drive.
Kishor himself will be the effective commander of this behemoth, reporting to the chief minister. The strategist already serves as advisor to Nitish, with a cabinet minister's rank.
Nitish's cryptic description of the BVM as a "leap of faith" is apt given that it appears to be a unique experiment in governance in India. Not surprisingly, it has drawn mixed responses from observers so far.
Privatising governance?
Former principal of Patna College Prof Naval Kishor Chaudhary described it as outsourcing of governance to an NGO.
He said the move reflected poorly on the quality of governance in Bihar and put a question mark on the bureaucracy.
According to Prof Chaudhary, the BVM represents an "informalisation" of government that would create a large space in governance for private firms and NGOs.
The vigilance department is in any case defunct, Prof Chaudhary claimed, and for this kind of an entity, departmental inquiries too won't be possible. And this is an invitation to corruption, he added.
He pointed out that Nitish has always been fond of creating new structures and mechanisms. For the last 10 years, Nitish has been outsourcing the job of preparing the state's economic survey to an NGO.
Calling the BVM a wastage of public money, Prof Chaudhary asked, "If the government needs a separate mission to implement its programmes, what is its bureaucracy going to do?"
Fast-tracking growth?
On the other side, Shaibal Gupta, Member Secretary of the Asian Development Research Institute, Patna, said he was positive about the mission. It has been established to fast-track Bihar's development.
Gupta quickly added, however, that he was basing his assessment on "whatever has come out in public" so far.
Gupta explained that even though Nitish has narrowed Bihar's development deficit over the last 10 years, at the current growth rate, it will take Bihar 20 years to reach the level of a state like Maharashtra. So, he argued, there was a need to "expedite the development process". This is where the BVM comes in, "as a non-conventional approach".
Bihar must expedite its development. BVM is a non-conventional approach to do it: Shaibal Gupta, ADRI
He noted that although the BVM has no parallels, former prime minister Rajiv Gandhi had set up several missions to carry forward his governance agenda - literacy mission, telecom mission etc - and they worked well, too.
He denied that the BVM reflected poorly on Bihar's bureaucracy since all reforms that Nitish has brought about so far have been achieved with this very bureaucratic set-up .
Responding to criticism of possible largescale hiring from the private sector, Gupta said thousands of people from outside the government were involved with the literacy mission under Rajiv Gandhi. "If talented people are hired, they will give a thrust to governance," he added.
Also read: Here's what you promised Chief Minister Nitish Kumar. We will watch you
He also defending the BVM's constitution as a society on the ground that Rajiv Gandhi's missions too had been registered as societies.
Building bridges?
Gyaneshwar, a senior journalist based out of Patna, believes that there is no harm in setting up an entity that will bring in expertise and reform the state's crippled delivery system. He too recalled that Rajv Gandhi had brought in a technocrat like Sam Pitroda to lead the mission that eventually led to India's telecom revolution.
Additionally, Gyaneshwar gave an insight into another possible objective of the mission. He said given that there are two power centres in Bihar - Nistih and RJD chief Lalu Prasad - somebody has to act as a bridge between them.
And since no leader from the three coalition partners - the Congress is the third - is in this position right now, Kishor could be called on to play this role, he pointed out.
All this, of course, is still only speculation. The real scrutiny of the mission will begin when the details about its funding and the method of functioning emerge. If the framework is within constitutional limits and enables the BVM to fulfill Nitish electoral promises effectively, the people of Bihar won't have much to complain about.
If it isn't? Well, that's another story.
Edited by Mehraj D. Lone
Also read: A new, busier Nitish sets the tone in Bihar. Hope it stays that way