Navjot Sidhu launches Awaaz-e-Punjab, breaks into a Siddhuism-filled rant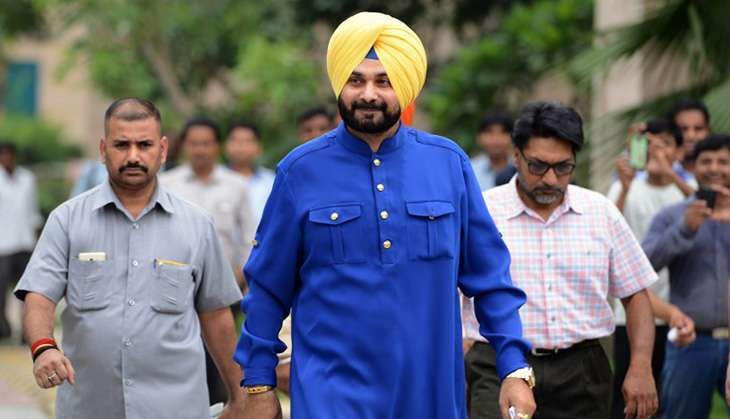 Cricketer-turned-politician Navjot Singh Sidhu has formally launched his political forum named Awaaz-e-Punjab in Punjab.
He also spilt the beans on why he didn't join the Aam Aadmi Party (AAP) or the Congress after he resigned from Rajya Sabha more than a month ago. But he left several questions unanswered, including whether he is still a member of the BJP.
Also read - Navjot Sidhu launches Awaz-e-Punjab. Was it needed?
'Siddhuisms' galore
Sidhu was his usual self while delivering a long monologue in Chandigarh. Accompanied by former Indian hockey captain and suspended Shiromani Akali Dal (SAD) MLA Pargat Singh and the two Bains brothers from Ludhiana - Balwinder Singh and Simarjit Singh who are independent MLAs - he announced the official launch of his political forum.
As per usual, his monologue was laced with poetry and couplets along with his famous one-liners that are popularly known as 'Siddhuisms'.
He also chose the occasion to launch a frontal attack on all his political adversaries including the Akalis, the Congress and AAP while maintaining a soft pitch on the BJP.
On AAP
Referring to how he was expected to join AAP and be its chief ministerial face in Punjab, he said that he had met AAP convener and Delhi chief minister Arvind Kejriwal after his resignation from the Rajya Sabha as a BJP nominee.
"My Rajya Sabha resignation had nothing to do with Kejriwal," he underlined, while saying that the AAP leadership had insisted that he meet Kejriwal. "I asked him please define my role. I went to him for Punjab but he said don't contest. 'Let your wife contest the forthcoming assembly polls and we will make her a minister'. He wanted me to remain a decoration piece that is used for campaigning only to be dumped later. My wife's reaction was to ask why he would pick a first time MLA over a four-time MP (Navjot Singh). Why is he so insecure?" he said.
He further attacked the party and said that it is functioning like an anarchy in a democracy. He also drew parallels between the British East India Company and AAP, terming the latter as the Central India Company that is following the principle of divide and rule with the help of the outsiders that it has sent to Punjab.
He took on the AAP leadership for selective media leaks about his talks with Kejriwal and pointed that ultimately Kejriwal had to make things clear in a series of tweets.
The resignation
Talking about his Rajya Sabha resignation, Navjot Singh said, "The day I was nominated by Prime Minister Narendra Modi, I had said that if this nomination took me towards Punjab it would be like a pilgrimage. But then I was ordered to campaign for Parkash Singh Badal - the two-eyed Dhritrashtra - which I refused. Then on the other pole I was told not to look towards Punjab. Even this was unacceptable."
On the Congress
Navjot Singh took on the Congress president Captain Amarinder Singh saying that he has been playing a friendly match with the Akalis. "They are two sides of a coin. Their posturing is hard during the day while they are hugging each other at farm houses in the evening," he said, pointing out that Amarinder has sent 35 to 40 people to meet him and explore the possibility of his joining the Congress. At the same time, he added that former Congress chief minister Partap Singh Kairon remains his hero.
On the Akalis
He was scathing in his attack on the Akalis saying that they have introduced 'Dandatantra' rule by force in Punjab and ruined the state. "I want to understand this economics where you sell your household utensils to run a state. This has been a people's government not for the people but for one (Badal) family. They are responsible for killing the democracy. They stalled the development of my constituency of Amritsar. They have instilled fear in the minds of the people including the officials," he said. At the same time he pointed at the attempts being made to polarise the people in the name of religion.
The new forum
Referring to the new political forum, he gave a shout out 'all good people' to come join it. "This will be a revolutionary force. Our slogan is Jituga Punjab, Punjabiyat, har Punjabi (It will be a victory of Punjab, Punjabiyat and every Punjabi). We want to shake the system that has ruined Punjab," he said.
"No party is good or bad. It is the people who run the party who are good or bad," Navjot Singh said.
Pargat too attacked the Akalis: "It was a successful model that gave a five time chief minister (Badal). But is son (Sukhbir Badal) and his brother in law (Bikram Singh Majithia) destroyed this model by introducing Dangcracy (rule of force) through money and muscle power. The other side, (AAP), wants to control us genetically which is unacceptable."
Unanswered questions
The Awaaz-e-Punjab leadership has still left several questions unanswered. The first one is about Navjot Singh's status in the BJP. When asked whether he is still a part of the party or not, he said, "You can ask them."
The same ambiguity remains about his wife Navjot Kaur Sidhu who is a sitting BJP MLA from Amritsar (East).
The second question is about when this forum becomes a party. "Give us at least 15 days. After that you will come to know," said Navjot Singh.
There are also questions about who are the people willing to join this forum, whether it will ally with any other political party, what are the plans of the leaders regarding the forthcoming assembly polls, how many seats it wants to contest etc. All these questions remain unanswered for now.
"We are getting an overwhelming response. Things will be made clear to you soon," is all that Navjot Singh had to say for now.
How much impact this new forum will have in Punjab's political matrix once it becomes a party remains to be seen. But as of now churning continues in Punjab's landscape.
Edited by Aleesha Matharu
More in Catch - Akalis attack AAP in Punjab, use Sandeep Kumar & Chhotepur as ammunition
Hard times: AAP is heading for a split in Punjab and it won't be pretty