Narcissist Naidu? Chandrababu under fire for naming schemes after himself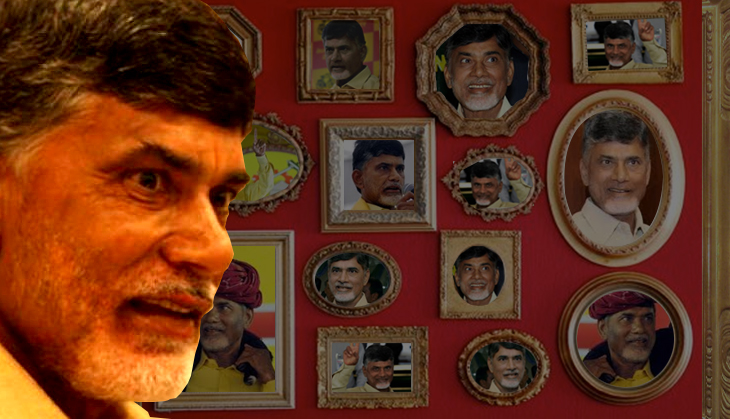 N Chandrababu Naidu, who logged in as the first Chief Minister of the truncated State of Andhra Pradesh two years ago, has allowed his overenthusiastic ministers to name government programmes after him.
However, the sycophancy reached its crescendo with the naming of welfare schemes intended for 'Kapu" community with the prefix "Chandranna" (meaning Chandrababu Naidu. 'Anna' is elder brother - the late NT Rama Rao was popularly called 'Anna').
This resulted in an unexpected backlash. Representatives of the Kapu community voiced their opposition to the naming of schemes meant for the community, after Naidu, who is not a Kapu.
To control the damage, TDP strategist unleashed the party's Kapu leaders to take on the critics. The TDP's Kapus insisted that there is nothing wrong in naming the schemes after Naidu, their "messiah".
Also read - TDP-BJP ties on the rocks over special status for Andhra Pradesh
"Nobody has done as much for the Kapu community as Naidu," insisted Vijayawada MLA Bonda Umamaheswara Rao and Municipal Administration minister P Narayana, both Kapus .
The orchestrated support, however, didn't yield much, forcing the government to make a volte face.
The Chief Minister's Office has instructed all departments not to use the 'Chandranna' prefix in the name of any scheme. But it did not clarify whether this would be with retrospective effect or prospective. Even those in the government are confused.
The CMO's instructions read: "No scheme or programme should be named after Chandranna without prior permission from the CMO". Therefore, the CMO reserves the right to allow or disallow the naming of anything after "Chandranna".
So basically this means that even sycophancy directed at Naidu is subject to his permission.
Though criticism was not unexpected, the TDP didn't realise the extent of the backlash when Kapu Bhavans - welfare buildings, proposed in five districts - were named as Chandranna Bhavans.
Kapu leaders such as former APCC president Botcha Satyanarayana and Ambati Rambabu of YSR Congress lashed out at the government for "insulting Kapu leaders and heroes".
CM Naidu tried to be modest when he said at an official meeting that it wasn't proper to tag his name to every scheme. He also "let the world know" that he gave a piece of his mind to social welfare minister Ravella Kishore Babu.
This all began with the "Chandranna Sankranti Kanuka" (gift for 'sankranti'), a gift hamper given to families below the poverty line (BPL) by the civil supplies department in January this year. Though initially the scheme was to be named after NTR, civil supplies minister Paritala Sunita christened it after "Chandranna". With no objection coming from any quarter, the CMO is said to have been delighted as well. The floodgates were opened with the next scheme, 'Chandranna Xmas Kanuka, a gift hamper for Christian BPL families.
The various other schemes that have the prefix 'Chandranna" are:
Chandranna vyavasaya kshetram (agriculture program)

Chandranna Vidya Deepam (providing coaching for bright students in government schools for admission tests into premier educational institutions.)

Chandranna rythu kshetram

Chandranna sanchara chikitsa (mobile clinics)

Chandranna Bheema (insurance scheme for labourers)

Chandranna dalita baata (welfare schemes for Scheduled Castes)

Chandranna Girijan baata (welfare schemes for Scheduled Tribes)

Chandranna runa mela (social welfare loans)

Chandranna pasu seva (animal husbandry clinics)

Chandranna Videshi Vidya Deevana (loans for foreign education)

Chandranna Padonnathi (promotions for employees)

Chandranna Swayam Upaadhi (self-employment scheme)

Vaada vaadalo Chandranna baata (laying of cement roads in villages)

Chandranna Cheyutha (assistance for women self-help groups)

Chandranna udyoga mela (employment scheme for unemployed youths)
Former agriculture minister in TDP government Vadde Sobhanadreeswara Rao felt that it was a blatant attempt to erase the legacy of NTR from the people's minds and establish a new practice of naming schemes after a serving Chief Minister. But it was impossible for anybody to replace NTR, he pointed out.
The only two schemes the government has named after the founder of the TDP are: NTR Arogya Seva (free treatment to patients) and NTR Bharosa (old-age pensions).
Naidu's opponents say it is difficult to believe that he wasn't aware of schemes being named after him.
Botcha Satyanarayana insists that this was done with the complete knowledge of Naidu and that the latest instructions were only a face-saving exercise.
Even Naidu's ally, the BJP, isn't happy. The Vijayawada city president of BJP, Uma Maheswar Raju, alleged that the state government had even named some centrally sponsored schemes after Naidu.
Former minister and champion of the Kapu agitation Mudragada Padmanabham took strong exception to Naidu naming the schemes, especially those meant for Kapus, after himself. "Why should the schemes be named after him, when they are implemented with public money?" he asked.
Naidu might have issued instructions dissuading various departments from naming schemes after him, but the damage has already been done.
More in Catch - Kapu community calls off protest, Opposition blames CM Naidu for not fulfilling promises