Mulayam, Akhilesh, Shivpal wash dirty laundry in public as Uttar Pradesh watches on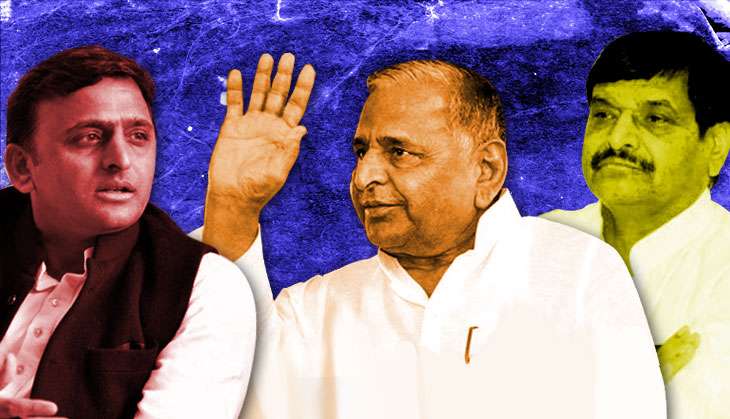 Samajwadi Party president Mulayam Singh Yadav proved that he is no Dhritrashtra - who was blind to the faults of his elder son - but he did turn a blind eye to the conspiracy hatched by Amar Singh and his brother Shivpal Singh Yadav against his son and Uttar Pradesh Chief Minister Akhilesh Yadav.
The SP chief dumped his son in favour of Shivpal and Amar Singh at a meeting of party legislators and MPs in Lucknow on 24 October, a day after Akhilesh had sacked and left his fate hanging in balance.
Also read - Akhilesh is lying, Mulayam says during heated argument at Samajwadi Party meet
The only indication of what the near future may hold is a statement Mulayam made in his speech: "I am not weak. People are still ready to vote for me."
A feeble attempt at reconciliation
In front of all the party leaders, Mulayam first gave his son a dressing down which is bound to rankle the Uttar Pradesh chief minister for a long time, and then asked him to embrace his uncle, Shivpal.
The warmth of that embrace didn't last more than a few minutes. Akhilesh told his father that according to his supporter Ashu Malik, Amar Singh had planted a story in The Times of India which described him as Aurangzeb and Mulayam as Shahjehan.
This led to a minor scuffle between Akhilesh and Shivpal, who tried to snatch the microphone from his nephew, calling him "liar".
The family feud was out in public in all its ugliness.
Endless accusations
Shivpal alleged that Akhilesh planned to break rank with the SP and form a government with the help of the BJP.
As they levelled charges and counter-charges, the two also laid out their demands: Akhilesh said he wanted control over ticket distribution and Shivpal demanded full freedom to run the party.
With no love lost between the two, the three family members had a private meeting immediately afterwards. When they exited Mulayam's residence later, both were reportedly smiling.
A clear stand
Mulayam has made his stand on Shivpal, Amar Singh, Gayatri Prasad Prajapati and Mukhtar Ansari unambiguously clear.
"Shivpal would offer the chair to me and himself sit on the floor. No one can separate us. He is a grassroots leader," he said.
On Amar Singh, Mulayam had this to say, "Had he not saved me I would have been in jail for seven years. He has helped me a lot. What is your standing?"
The jail term which Mulayam referred to is likely to have been the disproportionate assets case which the SP chief faced when he was the chief minister.
Mulayam had a bizarre argument to stoutly defend the merger of Qaumi Ekta Dal, mafia don Mukhtar Ansari's party, with SP. "Mukhtar comes from a respectable family. But for his support, we would have lost 20 seats."
Prajapati, alleged to be the most corrupt minister, was dear to Mulayam because he was poor.
The chief may not have announced his decision to take over the reins as chief minister, but he made it clear to the chief minister that he can continue if he so wishes but with absolutely no say in the party's affairs.
Public chastisement
Mulayam held nothing back when he addressed his son. Here's a sample of what was said:
*"You got out of your mind on getting the position (of chief minister)."
*"It is 100% correct you are helping rapists, gamblers and alcoholics."
*"I have suffered lathi blows. Those (Akhilesh supporters) jumping outside will not be able to withstand even a single blow."
*"Don't scare me with goondaism, won't allow criminals in the party."
*"Those (Akhilesh supporters) raising slogans will be chased out."
*"Amar Singh is my brother and you use swear words against him? I can't hear anything against Amar and Shivpal."
Will the war continue?
Akhilesh, however, was uncompromising on his stand against Amar Singh and his alleged manipulation of the Samajwadi Party. After leaving, he held a meeting with a dozen of his ministers and young supporters.
But now that Mulayam has made it clear as to where he stands, Akhilesh not only stands politically abandoned in many ways, but his position as chief minister of India's largest state has also been undermined.
With the party virtually rejecting all his development work and lowering his esteem in the eyes of party leaders and the public, Akhilesh does not have too many options to choose from.
He can either resign to salvage his pride or continue on as a rubber stamp.
Edited by Aleesha Matharu
More in Catch - SP in meltdown mode: Akhilesh asserts his authority, sacks Shivpal
Expelled MLC Udayveer Singh lays the blame for Yadav feud at Amar Singh's feet