Mulayam, Akhilesh, Shivpal wash dirty laundry in public as Uttar Pradesh watches on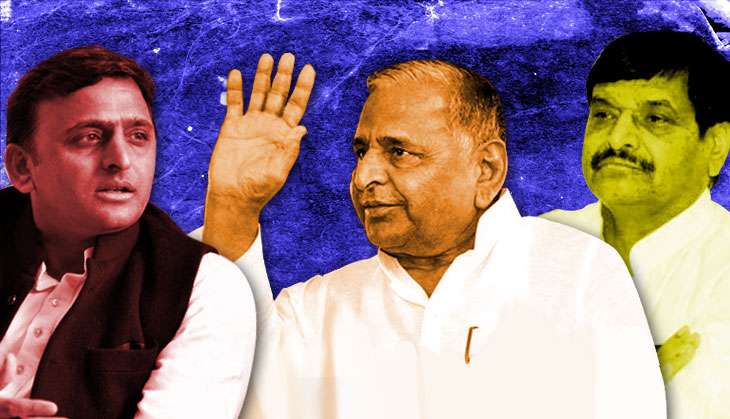 Mulayam, Akhilesh, Shivpal wash dirty laundry in public as Uttar Pradesh (Malik/Catch News)
Samajwadi Party president Mulayam Singh Yadav proved that he is no Dhritrashtra - who was blind to the faults of his elder son - but he did turn a blind eye to the conspiracy hatched by Amar Singh and his brother Shivpal Singh Yadav against his son and Uttar Pradesh Chief Minister Akhilesh Yadav.
The SP chief dumped his son in favour of Shivpal and Amar Singh at a meeting of party legislators and MPs in Lucknow on 24 October, a day after Akhilesh had sacked and left his fate hanging in balance.
Also read - Akhilesh is lying, Mulayam says during heated argument at Samajwadi Party meet
The only indication of what the near future may hold is a statement Mulayam made in his speech: "I am not weak. People are still ready to vote for me."
A feeble attempt at reconciliation
In front of all the party leaders, Mulayam first gave his son a dressing down which is bound to rankle the Uttar Pradesh chief minister for a long time, and then asked him to embrace his uncle, Shivpal.
The warmth of that embrace didn't last more than a few minutes. Akhilesh told his father that according to his supporter Ashu Malik, Amar Singh had planted a story in The Times of India which described him as Aurangzeb and Mulayam as Shahjehan.
This led to a minor scuffle between Akhilesh and Shivpal, who tried to snatch the microphone from his nephew, calling him "liar".
The family feud was out in public in all its ugliness.
Endless accusations
Shivpal alleged that Akhilesh planned to break rank with the SP and form a government with the help of the BJP.
As they levelled charges and counter-charges, the two also laid out their demands: Akhilesh said he wanted control over ticket distribution and Shivpal demanded full freedom to run the party.
With no love lost between the two, the three family members had a private meeting immediately afterwards. When they exited Mulayam's residence later, both were reportedly smiling.