Mr Modi would you pick Manusmriti or the Constitution? Asks Jignesh Mevani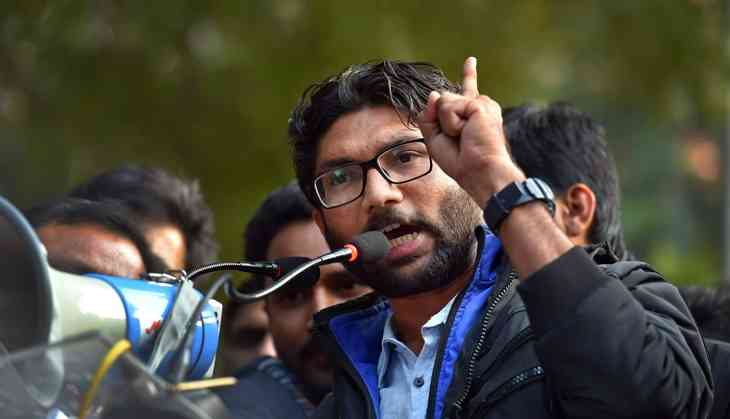 Despite rumours of cancellation of the Yuva Hunkar rally circulating on social media and some news channels, youth leaders from across the country gathered at Parliament Street in the national capital to protest the recent caste-based violence in Maharashtra and the arrest of Bhim Army founder Chandrashekar Azad in Uttar Pradesh.
Azad was arrested last year in connection with the Thakur-Dalit clashes in Uttar Pradesh's Saharanpur district and has since been in judicial custody.
Among the speakers at the rally were Dalit leader and recently elected MLA from Gujarat's Vadgam, Jignesh Mevani, farmers' rights activist from Assam Akhil Gogoi, student leaders Kanhaiya Kumar, Umar Khalid, Shehla Rashid, Richa Singh and Mohit Pandey, Supreme Court lawyer Prashant Bhushan, Delhi University Teachers' Association member Nandita Narain, among others.
Although authorities had maintained till the last minute that the organisers of the rally did not have permission to hold the event, it seems the rally organisers and Delhi Police reached a compromise.
Mevani termed the refusal to grant permission to the 'Yuva Hunkar' rally an example of the "Gujarat model" of politics.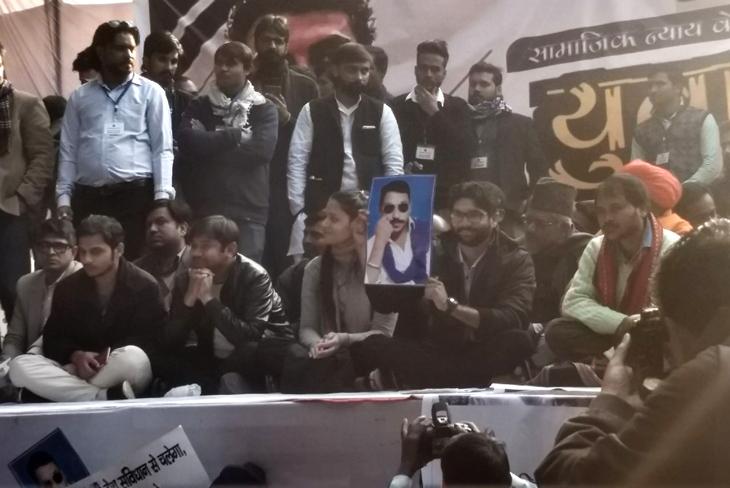 Priyata Brajabasi
The MLA attacked Prime Minister Narendra Modi on various issues, saying, "It is you (PM Modi) who has to answer for the violence on Dalits - in Saharanpur, in Bhima Koregaon and Mumbai. You have to answer why Rohith Vemula was killed. You have to answer why people are not getting the money that rich Indians have illegally parked in foreign accounts. You have to answer why millions of youth are not getting dignified jobs despite promises. Why was Akhil Gogoi charged under the National Security Act?"
"The PM is covering up real issues of corruption, poverty, unemployment, fall of GDP, inflation and increase in taxes and things like ghar wapasi, love jihad, Hindutva, and cows are being given importance We are not love jihad guys. We're pyaar ishq muhabbat type of guys. We will celebrate April 14 (Ambedkar Jayanti) as well as February 14 (Valentine's Day)."
Mevani also explained his election symbol and said, "I am a sewing machine man. I have come to stitch people together." Mevani's election symbol was a sewing machine in the recent Assembly elections in Gujarat's Vadgam seat.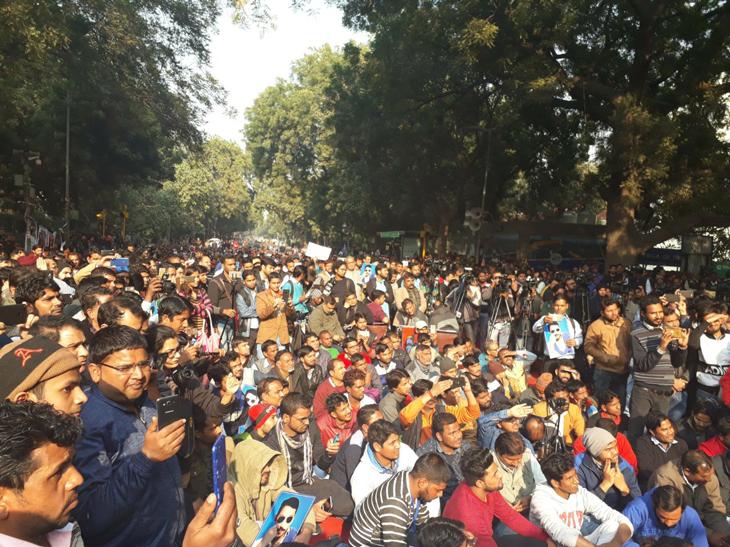 Priyata Brajabasi
Speaking about attacks on Dalits, "I have been charged with instigating violence in Bhima Koregaon. Everybody knows that is not true. I am being targeted because Alpesh Thakor, Hardik Patel and Jignesh Mevani were able to shatter the ruling party arrogance and over-confidence of winning with 150 seats. We brought them down to 99. Since then I am their number one target." The Pune Police filed an FIR against Mevani and Umar Khalid after receiving a written complaint about their allegedly provocative comments at an event in Maharashtra.
Mevani also questioned the PM on caste discrimination across the country saying, "Here I have the Manusmriti in one hand and the Constitution of India in the other. Which one are you going to choose, Mr PM?"
Several other speakers attacked the Modi government on the violence against Dalits in Maharashtra, attack on liberal/ left-leaning educational institutions like Jawaharlal Nehru University, gender injustice, farmer suicides, youth unemployment and the disappearance of JNU student Najeeb Ahmed.
Although many news publications and users took to social media to point out the weak attendance at the rally, there were in fact over 400 people at the rally that started at 1pm.
Former JNU student union president Kanhaiya Kumar even addressed reports of low attendance, saying, "We don't have crowds, I agree. We don't have large hired crowds like the ones at BJP rallies, but we have real, living breathing people seated on chairs here who genuinely believe in our cause."
Kanhaiya also attracted a lot of cheers from the crowd when he took jibes at the ruling party's close association with the Reliance Industries. Kanhaiya said, "When tax evaders like Mukesh Ambani's son Anant Ambani claims Reliance meri jaan hai (Reliance is my life), his mother, Nita Ambani claps in front of Amitabh Bachchan and media portrays it as a great act of nationalism. No one asks him to chant Bharat Mata Ki Jai or sing Vande Matram to prove his patriotism. But when Radhika Vemula demands justice, we are accused of playing caste politics. When Najeeb's mother asks about the whereabouts of his missing son, we are labeled as communal. Can you ask the Ambanis to say 'Vande Mantram' and 'Bharat Mata ki Jai' to prove their nationalism?"
Kanhaiya observed how several media organisations took down articles on Anant Ambani's speech from their websites, saying, "At this point in time in our country people can even mock the Prime Minister but not Ambani's son."
The Yuva Hunkar Rally made it clear that the Left forces have found a posterboy in Jignesh Mevani. It is expected that he will continue addressing gatherings of the youth across the country.