Money power will play its role in Punjab polls, but now, the question is how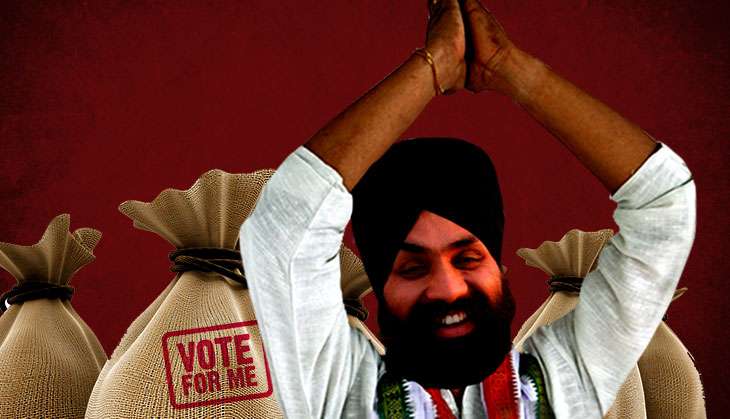 The move by Narendra Modi-led BJP government at the Centre to demonetise Rs 500 and Rs 1000 currency notes has left poll-bound Punjab flummoxed over the question - how would it impact the forthcoming Assembly polls?
It is a well known fact that Punjab elections are marked by purchase of votes and there is massive circulation of money all through the campaign period and the polls. But now with these particular notes being put of circulation, what new modes will political parties adopt to bribe voters?
One thing that most of the political observers and even functionaries are confidant of is that there is no way that political currency will not be doing the rounds this time too. They are sure that parties will definitely find an alternative.
"There is a saying that politics is the last resort of scoundrels. We are living in times when even scoundrels are fleeing politics. So it is obvious that the political parties will not desist from using money that has been stashed till now," said a veteran functionary of one of the prime political parties.
It is being pointed out that the measures taken by the political parties to distribute money will be slightly advanced.
"They have enough time on their hands. They will easily transfer lakhs in the names of their secretaries, other office bearers and senior workers who will get these currency notes exchanged in banks during the 50-day window period available. Even after the 50-day window, they would have enough time as Rs 2000 currency note would be in circulation much before the polls," the functionary added.
He said that had the decision to demonetise currency notes of Rs 500 and Rs 1000 come just 15 days before the polls, there would have been a problem.
Gifts over money this time?
A senior political observer pointed, "Election money is money to burn. Even the political parties know that there is a 40% leakage when money is disbursed for the voters. The parties would advance the distribution of money in a de-centralised manner. They are likely to hand over money to their candidates at the earliest asking him or her to manage its distribution. So what used to take place at later stages will just be done in advance."
He also pointed out that the parties may resort to giving gifts like bicycles or other articles to the voters instead of cash.
It is also being said that there would be a problem in parties where leaders have hung on to the stashed cash instead of depositing money in the party fund in a legal manner.
Austere polls?
Veteran political analyst Dr Pramod Kumar of Institute of Development and Communication at Chandigarh says that while this decision of demonetisation is expected to reduce inflation and lead to reduction in property prices, its political impact would be that it would lead to more austerity in polls.