#ModiSharif: Mines, bonds & the Sajjan Jindal card in Indo-Pak relations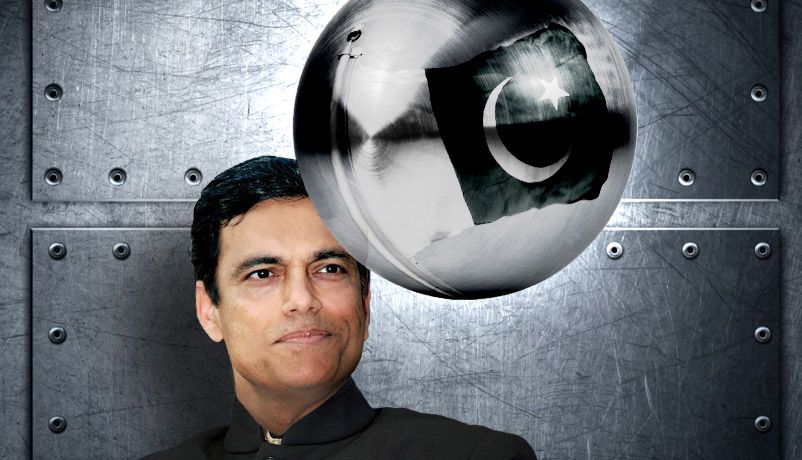 The event
PM Narendra Modi\'s stopped over at Lahore on 25 December to wish Pakistani Prime Minister Nawaz Sharif on his birthday
This caught everyone by surprise
The claim
The BJP claimed it was completely spontaneous. A major break from protocol-driven relations between India and Pakistan
The counter claim
The meeting wasn\'t impromptu. A lot of planning went into it
Former Pak diplomat Salman Bashir and Indian industrialist Sajjan Jindal allegedly played a key role
More in the story
What\'s Sajjan Jindal\'s Pakistan connection?
What business interests does he have in Pakistan?
It was not just another Christmas Day in this part of the world. Prime Minister Narendra Modi's impromptu stopover at Lahore on Friday to wish Pakistani Prime Minister Nawaz Sharif on his birthday caught everybody off guard.
From journalists to foreign policy experts and politicians, everybody was stunned as news broke out that Modi would be the first Indian PM in 11 years to visit Pakistan, after Atal Bihari Vajpayee's historic bus trip.
The visit has been hailed almost universally by the media as a "dramatically spontaneous gesture". Commentators across the spectrum have greeted the move with admiration. And the BJP PR machinery has called it a historic break from the rigid, protocol-driven relations between India and Pakistan.
Also read: I hate you... like I love you? What exactly is BJP's stand on Pakistan
Indeed, it is pretty unprecedented for an Indian prime minister to call a Pakistani one on the phone to wish him on his birthday, then drop by a few hours later to exchange gifts and pleasantries, while letting people back home know about the visit through a tweet.
The question that most naturally arises about the trip is: was it really that spontaneous or had some ground been ploughed for it? What was the strategic thinking driving this? And what has been gained by this flamboyant gesture?
Modi's Lahore visit wasn't impromptu. Salman Bashir and @SajjanJindal59 did the groundwork
Claim and counter claims
Congressman and former Union Minister Anand Sharma was among the first to assert that Modi's trip was not spontaneous but brokered by "vested economic interests".
Since then, several media platforms have reported that the businessman who helped set the stage is Indian steel magnate Sajjan Jindal.
The BJP denies this. "The prime minister doesn't need a businessman to help fix a meeting," said Narendra Taneja, head of BJP's Economic Cell. "He has a hotline with his Pakistani counterpart. In any case, they had just met in Paris."
Taneja, however, has an interesting perspective.
"Economic, strategic and security interests dictate diplomacy in the present day world. You let economic relations grow while politicians and diplomats work on resolving political and border issues. Our relations with China is an example. The Turkmenistan-Afghanistan-Pakistan-India (TAPI) gas pipeline project is another pertinent example of the economic diplomacy," Taneja says.
Also read: Twitter takes on TOI's epic-length headline. Hilarity ensues
India has troubled borders with both Pakistan and China, he points out, yet it has a robust economic relationship with China. India and Pakistan, on the other hand, have never managed any depth in their economic relations.
If economic ties improve, powerful lobbies kick in on both sides to keep political tensions low. Business leaders act as buffers and powerful interlocutors with their respective governments.
"Today 80 percent of diplomacy is decided by economic interests world over," says Narendra Taneja, head of BJP economic cell
"This is 2015," he says, "you can no longer conduct your diplomacy like it was in 2000 or during the Kargil war. Today 80 percent of diplomacy is decided by economic interests world over."
Is this indicative of a shift in focus?
Of mines and bonds
While no one will confirm his involvement Sajjan Jindal's personal connect with the Sharif family is fairly well known. An hour after Modi tweeted about his visit to Lahore, Jindal tweeted that he was there too to greet Nawaz Sharif.
The families have apparently known each other closely for two generations, and while Jindal heads the steel giant JSW, Sharif's family owns Ittefaq Ltd, which is one of the largest producers of steel in Pakistan. It was started by his father and is currently run by his son and nephew.
Jindal had hosted Sharif for tea in Delhi last year when he came for Modi's swearing in ceremony in June. Journalist Barkha Dutt has also mentioned in her recent book that Jindal had helped facilitate a secret meeting between Sharif and Modi in his hotel room in Kathmandu during the SAARC summit last year.
Also read: Dear PM Modi, here are 5 reasons why you should have talked cricket with Nawaz Sharif
The Economic Times had an interesting story with further details about the potential economic interests that might underpin Jindal's alleged role in playing a Track II facilitator in Indo-Pak relations.
According to the newspaper, there is a grouping of Indian steelmakers called Afghan Iron & Steel Consortium (Afisco) that has been negotiating with the Pakistani government for the right to transport iron ore by road from Afghanistan's Bamiyan province to Karachi, before it is shipped to ports in western and southern India. This is a much cheaper transit route than going via Russia.
This consortium is comprised of SAIL, a state-run company, along with JSW, JSPL and Monnet Ispat.
Sajjan's younger brother Naveen Jindal runs Jindal Steel & Power (JSPL), which holds a 16 per cent stake in the Afisco consortium, similar to Sajjan's JSW. Their brother-in-law Sandeep Jajodia controls Monnet Ispat & Energy, which has a 4 per cent stake in Afisco.
Also read: Modi in Lahore, Sharif in Delhi: How India-Pakistan are juggling diplomatic relations
The route through Pakistan, therefore, is crucial to the family's collective economic interest. According to their agreement with the Afghan government, Afisco has to build a 2mt steel plant in Afghanistan to be allowed the right to export iron ore from the mines in the Hajigak mountains, which holds about 1.8 billion tonne of high quality iron ore.
The craft of being spontaneous
The other name doing the rounds as a possible facilitator is Salman Bashir, former Pakistani ambassador to India. He was in India two months ago and is said to have suggested the idea of an "impromptu" visit. Jindal reportedly took the idea forward.
Also read: Unveiling the 'business behemoth' that Modi-Sharif are trying to launch
There's another detail that belies the official narrative of a spontaneous visit that was cracked over a phone call between the two leaders and executed in a matter of hours. Pakistani news channel Geo TV claimed the Lahore Air Traffic Control was issued a VVIP movement alert a day before Modi's visit.
Ever since Modi took over, ties between the two countries have been like a see-saw. From inviting Sharif to his oath-taking ceremony to drawing new red lines for negotiations, the Modi government has been severely criticised for its inconsistent Pakistan policy.
The National Security Adviser-level talks were suddenly called off on the Hurriyat issue. But just a few months later, the two NSAs met in Bangkok. This was followed by External Affairs Minister Sushma Swaraj's visit to Islamabad for the Heart of Asia Conference. During that visit, it was decided foreign secretary-level talks would resume. The two foreign secretaries are expected to meet in Delhi next month. There has been a lot of sabre-rattling on both sides in between.
So what really has this (probably carefully planned, well-crafted) 'spontaneous visit' achieved? And why insist it was spontaneous?
Also read: Modi's Lahore visit on Vajpayee's b'day is a tribute to the former PM's foreign policy
Those questions will be answered with greater clarity in the months ahead. For the moment, what dominates is the image of the two prime ministers walking down a path with hands firmly clasped.
And the speculation that big business might broker a new politics.