Modi uses Parivartan Rally speech to hard sell note ban. Is he worried?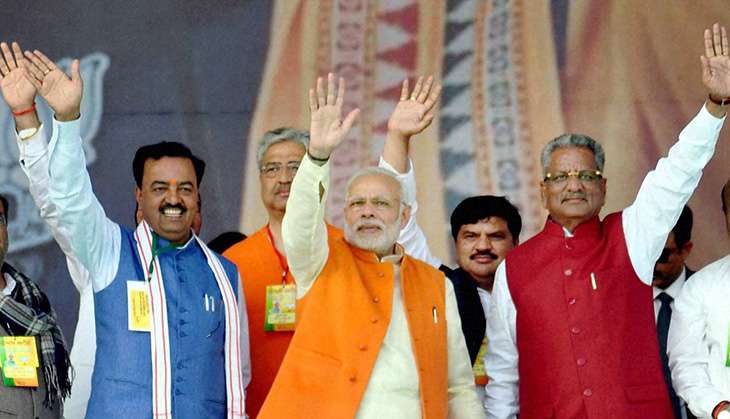 In perhaps the clearest indication yet that the fallout of the note ban has Narendra Modi worried, the prime minister devoted his entire campaign speech at the BJP's Parivartan Rally in Moradabad, Uttar Pradesh, on Saturday to hard-selling the initiative.
Pointing to reports that Jan Dhan accounts were being used for laundering cash, Modi urged the account holders to not let anyone withdraw the money deposited in their name. In the meantime, Modi said, he was trying to figure out ways to send such unscrupulous people to jail.
"Let them queue outside your house over and over again, but don't let them withdraw a single rupee from your accounts. Ask them to furnish proof that they have deposited money in your accounts and if they bully you, tell them that you will inform Modi," the prime minister said.
"The money belongs to you," he added.
Also Read: Demonetisation death toll: 82 people & counting as note ban takes tragic turn
Seeking to empathise with poor people bearing the brunt of the note ban, Modi said he saluted the people for enduring pain for the "larger goal of a corruption-free society".
The queue for cash, the prime minister declared, would be the "last queue" that will do away with queues for sugar, kerosene, food and other essentials.
"Main aapki tapasyaa ko bekaar nahee jaane doonga (I won't let your suffering go in vain)," he said.
Pitch for cashless economy
Then, inevitably, came his pitch for moving to a "cashless economy". Asking the people to start using their cell phones for make payments, he referred to a video being circulated on social media that purportedly shows a beggar using a swipe machine to persuade people to shift to digital transactions. "I don't know how far it is true but there is a video going viral on WhatsApp of a beggar being told by a man that though he wanted to help, he doesn't have change," Modi told the rally. "The beggar asks him not to worry and takes out a swipe machine and asks for his debit card."
Modi insisted that Indians do not take long to accept new things if they know the intention behind the change is right.
Modi's speech had echoes of Indira Gandhi's "Garibi Hataao" slogan in its thrust on the poor. "Corruption has looted the country and destroyed the poor and it won't go away by the mere sight of me," he said and, seeking to touch an emotional chord, added, "Today I am being pronounced guilty in my own country for fighting corruption".
Also Read: Why demonetisation isn't the only 'new normal' created by Modi govt
"Is it my fault that I am making those who looted the poor accountable and am fighting for you?" the prime minister asked. Calling himself a "fakir", he said he didn't own anything and could easily walk away from power. "It's this fakiri which has given me strength to fight for the poor," he said.
Without naming Indira Gandhi, Modi said that banks were nationalised in the name of poor but more than half of them couldn't afford to go to a bank until he opened lakhs of accounts for the poor over the past two and half years.
Promising to continue the fight against corruption, Modi said the "faces of the corrupt have lost their glow".
He blamed corruption for non-electrification of a thousand villages around Moradabad even 70 years after Independence. These villages, he said, didn't have even electric poles, as he described the various advantages that follow electrification. If they had electricity, he added, people in villages would be able to watch their favourite serial Saas Bhi Kabhi Bahu Thi.
Recalling that he had announced from the Red Fort that he would electrify these villages, he said almost 950 of them had now been electrified.
Comparing Uttar Pradesh with Madhya Pradesh, Modi said because of a BJP government, the latter has moved out of the BIMARU group of states and has become top state in agriculture production.
Also Read: Revealed: Modi govt's outsourced campaign to manage note ban fallout in Punjab, UP