Modi's Pakistan policy is unclear and confusing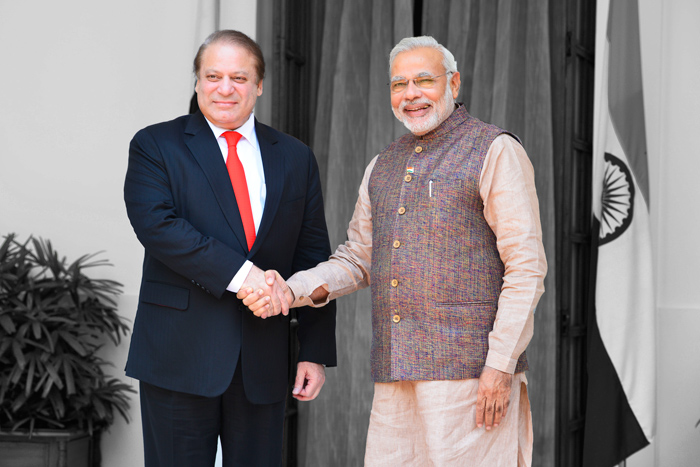 The backdrop
PM Narendra Modi has so far sent mixed signals about his Pakistan policy.
He laid down clear red lines when he said dialogue has to be bilateral.
But later, he diluted his stand on numerous occasions.
The fallout
Pak generals who dictate India policy think Modi is just another Indian PM.
Modi is set to meet Pak PM Nawaz Sharif in Russia on 10 July.
It has emerged that India took the initiative for the meet.
India has to make the red lines clear ahead of a resumption of dialogue.
As Prime Minister Narendra Modi prepares to meet his Pakistani counterpart Nawaz Sharif on the sidelines of the Shanghai Cooperation Organisation (SCO) summit in Russia on 10 July, his Pakistan policy remains unclear and confusing.
Modi has sent contradictory signals since assuming office in May last year. From first inviting Sharif to his swearing-in ceremony, then cancelling Foreign Secretary Sujata Singh's visit to Islamabad, and then sending her successor S. Jaishankar for exploratory talks, to calling Sharif over the phone to extend good wishes for the holy month of Ramzan, Modi has only displayed inconsistency.
All this has, no doubt, led the Pakistani generals - who effectively and completely control Pakistan's India policy - to conclude that unlike their expectations and apprehensions, Modi is turning out to be just another Indian Prime Minister when it comes to dealing with Pakistan.
This is because they remain implacably hostile towards India and consider Indian vacillation only as a sign of weakness, not a search for peace.
Clear red lines
It had seemed, in autumn 2014, that Modi was laying out clear red lines for Pakistan. These included an insistence on keeping the dialogue process bilateral.
In doing so, Modi correctly reversed the laissez-faire attitude of previous governments that allowed Pakistan to treat the Hurriyat Conference as a third party on Kashmir.
By sending out mixed signals, Modi seems to have made Pakistani generals think he is just another Indian PM
However, by overlooking the Pakistan High Commissioner's meeting with the Hurriyat on Jaishankar's return to India from Islamabad, Modi diluted his earlier stand. The claim that Pakistani representatives have stopped meeting the Hurriyat leadership prior to talks, and hence, have met India's demand, is simply hogwash.
Resumption of dialogue
If Modi wishes, as a consequnce of his meeting with Sharif in Russia, to resume the dialogue process, he must also ensure that Pakistan officially does not contact the Hurriyat leadership, thereby adhering to the fundamental principle of the Simla Agreement, that India-Pakistan relations do not admit a third party of any kind whatsoever.
By taking firm action against Pakistani provocations along the border and the LOC in J&K, Modi had sent out a strong message of retaliatory action. That message needs to be reinforced during the meeting with Sharif.
Pakistan has to understand that while India wishes to have peaceful and cooperative ties, it is unwilling to endure further loss of innocent Indian lives, either by Pakistani-sponsored terrorism or through Pakistani firing into Indian territory.
During his address to the UN General Assembly last year, Modi had forcefully conveyed to Pakistan and the international community that Pakistani attempts at internationalising any aspect of India-Pakistan bilateral ties were futile. This point too needs to be stressed.
Pak army's shadow over talks
A few days ago, Pakistan Defence Minister Khwaja Asif characterised the Jamat-ud-Dawa as a social organisation. He also cautioned India that hostilities could lead to nuclear war. Public opinion in India has naturally been up in arms about Asif's irresponsible comments.
It is likely that Asif has been used by the Pakistani generals to convey to Modi that while he may meet Sharif, he should not forget that they determine the country's India policy.
The fact is that whenever an Indian Prime Minister meets his Pakistani counterpart, the shadow of the Pakistan Army looms large over such discussions. This does not mean that Indian prime ministers should not meet the political leadership of Pakistan. However, before and during these meetings, they must be fully aware of the limitations of Pakistani politicians.
India's initiative?
It is too early to think of a resumption of dialogue with Pakistan. However, if it is true that it was India that approached Pakistan to set up the Russia meeting, then it is not unrealistic to believe that Modi wishes, at a minimum, to explore possibilities of a resumption of dialogue.
In this case, it is all the more important that not only are the red lines emphasised, but that it is also made clear that the structure of the dialogue process will need to be revisited. Certainly, Siachen has to be taken off any dialogue agenda.
Experience teaches us that inconsistency is not a wise or prudent basis for India's Pakistan policy. Modi should not ignore this lesson as he embarks on another foray with Pakistan.