Modi's Muslim makeover: how to read the moves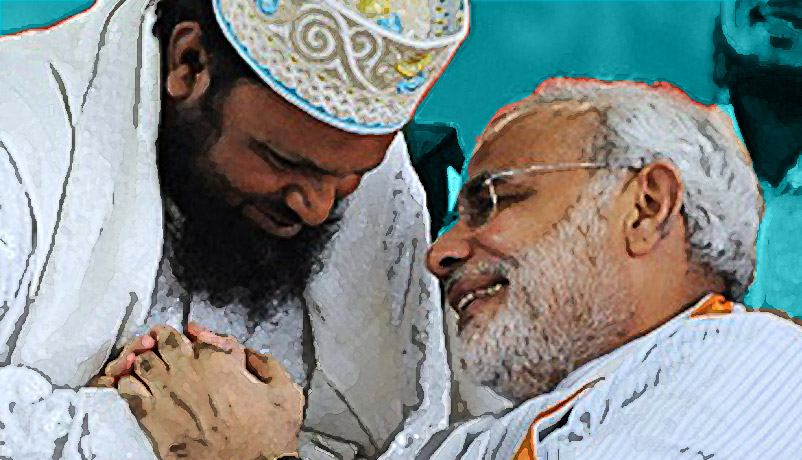 The rebranding
Prime Minister Narendra Modi is trying to reach out to Muslims.
He even quoted from the Quran at a function in which envoys from Muslim countries were present.
Of late, he has made statements stressing India\'s inclusive ethos.
These moves are a departure from his pro-Hindu image.
The motives
These overtures come on the eve of Modi\'s visits to a number of Muslim countries.
He met Indian Muslim leaders before his Bangladesh visit, perhaps to assuage fears in the neighbouring country.
West Asia has 6 million Indian immigrants, who often get stuck in conflict situations.
Modi knows he needs to be seen as inclusive to be accepted by the West as well as Muslim countries.
The side-effect
RSS will not object to his efforts as long as it strengthens his position as PM.
This will help them expand their social agenda on the ground. They are less concerned about what diplomatic postures that needs.
His recent overtures to Muslims and the Islamic world suggest that Prime Minister Narendra Modi is rebranding himself. This is both an international as well as a domestic requirement of the times.
Reaching out to Muslims
On the eve of his Bangladesh visit, Modi held a much-publicised meeting with a group of Muslim Imams and intellectuals in which he assured them that he would be available to address their issues even 'at 12 at night'.
He has now hosted ambassadors of some Muslim countries - Qatar, Bahrain, Egypt and Indonesia - at a book-release event, where he praised Islam and its emphasis on education, knowledge and skill encapsulated in the idea of ilm.
He told them, "The Quran mentions the word 'ilm' 800 times. It is among the most repeated words after Allah. This is the importance of knowledge in the religion."
Elaborating on the inclusive character of India, the prime minister went on to tell his audience, "We are lucky that we live in a country where people speaking the same language and following a similar culture follow different faiths. This understanding of different perspectives is not possible anywhere else in the world."
He argued that "understanding each other is the meeting point between various communities."
"Bravo!" some might exclaim. Others might wonder whether it is the same Modi who pointedly refused to wear a Muslim prayer cap and refused to host traditional Iftaar or breaking of the fast in the holy month of Ramzan, as his predecessors used to do.
Modi had made soothing comments about the Muslim community earlier also - especially in the run up to the 2014 general elections.
Boosting the PM's global image
However Modi's comments then have to be seen as distinct from those made now. Election rhetoric, however well intentioned, cannot be equated with the assurances given by the prime minister.
On completing one year as prime minister, Modi said in an interview to Time magazine, "So far as the government is concerned, there is only one holy book, which is the Constitution of India." He declared, "My government will not tolerate or accept any discrimination based on caste, creed and religion."
At the time, Modi was being criticised for lacking moral leadership even by sympathetic intellectuals like Arun Shourie.
Whereas during the election campaign Modi had breathed fire against Bangladeshi infiltrators, he was reassuring Indian Muslims leaders on the eve of his Dhaka visit.
This was good diplomacy. It ensured that the Muslim population of Bangladesh did not view the prime minister of India as a sectarian leader. That was an important diplomatic signal to send to Bangladesh which is desperately trying to live up to the secular dreams of its founding fathers.
Bangladesh can become a source of Islamic terrorism against India as its various jihadi groups can easily cross the porous border. Bangladesh can potentially also provide Islamic and other armed militant groups targeting India a space to retreat and regroup.
To be credible in the West and Muslim countries, Modi has to be seen as representing every Indian, including Muslims
Modi must have known that no Indian leader who has even a shadow of religious sectarianism can seek cooperation from Dhaka on counter-terrorism.
Just as he has sought to deepen ties with Bangladesh, Modi also has official visits pending to West Asia where more than six million Indians are employed as immigrant workers.
Indian immigrants often get stuck in war zones, or get kidnapped and have to be evacuated or rescued. India needs the cooperation of these countries each time. West Asia is also the primary source of India's energy needs.
To be credible in the West, and in Muslim Emirates and republics, Prime Minister Modi has to be seen as representing the entire spectrum of the Indian population.
The Obama effect
In the wake of the reconversion antics of some Hindutva organisations, US President Barack Obama at the fag-end of his visit earlier in January this year had reminded Indians of Constitutional guarantees of secularism and religious freedoms. He had said quite sharply that "India will succeed so long as it is not splintered along the lines of religious faith."
Barely a week later, President Obama at his National Prayer Breakfast once again mentioned growing religious intolerance in India. Without naming any particular religion he pronounced that the acts of intolerance against various religious faiths in India in the past few years would have shocked Gandhi.
Modi's hugely successful visits abroad have increased the pressure to live down his sectarian image in the past. As the Prime Minister of India, as he never fails to remind his audiences, he represents 125 crore Indians on the global stage, and he cannot leave out any community, religion or political persuasion from that number.
International media which sings his praise, will not stomach a narrow branding at home. When communal clashes broke out in the Mewat region of Haryana - especially in Sohna, Bhiwadi, Palwal and Pataudi - in June last year, Modi is believed to have told Home Minister Rajnath Singh that he did not want such incidents near Delhi.
BJP MLAs and ministers who wanted to visit the area were warned against doing so. It is also quite possible that Haryana Chief Minister Manohar Lal Khattar was warned against the possibility of communal tensions escalating in Ballabhgarh.
The RSS won't mind
The question then is, will Modi's attempt to refurbish his image on the issue of religious communities put him at loggerheads with the RSS?
The answer is unequivocally no. The RSS will back such an image makeover if it makes him a stronger prime minister.
Ironically, this is not because they have had a change of heart but because Modi's stint in power allows them to expand their base and consolidate their agenda.
Therefore, while the Modi government may increasingly frown upon the intemperate rhetoric of the Parivar rump, below the radar their core agenda will continue to be in full motion. The key cultural and educational institutions in the country are already being filled with those affiliated with the RSS. And a series of low-key riots in election bound states may still keep the communal fire conveniently on slow burn.