'Modi's lies united us': Over 100 farmer, student & women's outfits take on govt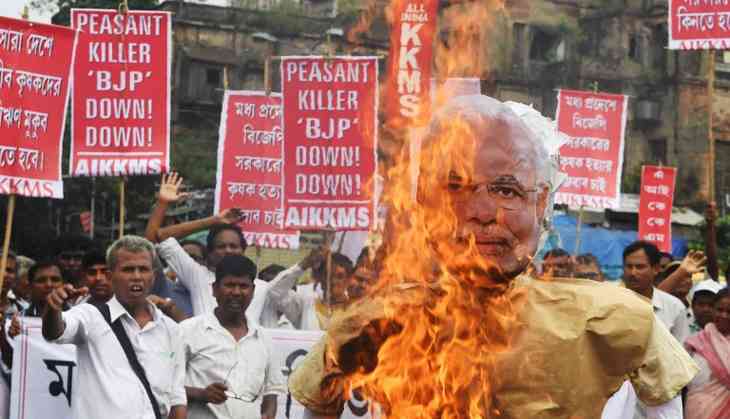 Rising dissatisfaction and anger against the Narendra Modi-led BJP government was prominently visible in the packed Mavlankar Hall in New Delhi. Representatives of more than 100 organisations belonging to various class, mass and social movements from across the country had gathered to express their concerns over the "pro-corporate, authoritarian and communally divisive policies" of the BJP government.
During the course of the day-long convention, organised by Jan Ekta Jan Adhikar Andolan, multiple speakers requested all left, secular, rational and progressive forces to come together to "reclaim democracy". Urging these forces to unite and fight back against fascist, authoritarian and autocratic elements and the divisive ideology that guides them.
Many speakers from the grassroots organisations narrated multiple incidents saying that ever since Modi took over, there have been attacks on farmers, students, workers and anyone else who dares to disagree with their ideology. It is rare to see these many organisations get together on a single platform despite their political differences.
"I would like to thank Modi for lying consistently because his lies are uniting us. Or else, we don't even come together," said Shanker, who works with farmers and labourers in Rajasthan. Without mincing any words, Shanker stated that the prime minister's development model revolves around murder and intimidation and that he seeks to implement it across the country.
Highlighting the state of Mahatma Gandhi National Rural Employment Guarantee Act (MGNREGA), he added that the employment generation scheme has gone into Intensive Care Unit and held the prime minister responsible for it.
RK Sharma of the Akhil Bharatiya Khet Mazdoor Union warned the audience that the Modi government is hell bent on "killing MGNREGA" and pointed that wages in many parts of the country are due for the last six months. Blaming lack of employment opportunities under the scheme, he said that many farm labourers are migrating to urban centres in search of jobs and sought a minimum of 300 days of work in a year.
Afroz Alam of the All India Kisan Maha Sabha reminded the audience about Modi's promises in the run up to the UP Assembly elections. "Though I don't remember most of what he said but I do remember him raising the issue of shamshaan and qabristaan. Both Modi and Yogi have lived up this particular promise considering children hospitals in the state have turned into shamshaans," he said.
He went on to raise the issue of farm loan waiver and cited the multiple discrepancies in the implementation of the scheme and how most farmers, who are suffering because of rising debt, are feeling cheated. Calling the farm waiver scheme a betrayal, he claimed that cow protection has taken precedence over everything else.
Abha Dev of Democratic Teachers Front pointed how the incumbent government is carrying forward the policies of the previous UPA-2 government which heralded the cut in education budget. She highlighted how autonomy of universities across the country is under attack and cited incidents that happened in JNU, FTII, among others.
"Universities no longer enjoy the freedom of creating their syllabus. In addition, universities are being labelled as anti-national," she added while severely criticising ABVP- the student wing of the BJP. "Under this government, ABVP has been given the right to decide on which seminars should be held and which shouldn't," she said.
Speaking on the failure of the central government in providing employment opportunities to students, Avoy Mukherjee of Democratic Youth Federation of India put forth the details of the annual report of the labour bureau. "Out of 10 students graduating, four have no work. 58.3% of graduates have no jobs while nearly 64% of post graduates are unemployed, Each year 15 lakh engineer pass out and out of them 9 lakh don't have jobs," he said.
He also highlighted how the Foreign Direct Investment has consistently been on decline ever since the Modi government took over. To raise FDI in India was one of the many promises of the Modi government. However, the data issued by his own ministry have revealed that foreign companies have not shown the kind of enthusiasm as Modi did in his election campaign.
Annie Raja of National Federation of Indian Women spoke on how women are being subjugated under the policies of the BJP government. She highlighted the issue of high taxes on sanitary napkins while keeping things like bindi and sindoor out of the ambit of government's taxation policy.
"This is a perfect example of where there priorities lie. After years of struggle, we have been able to get rid of the ghoonghat but this government wants it back. They are promoting retrograde patriarchal attitudes on women and the forces patronised by the BJP governments have unleashed a virtual war on women's autonomy," she said.
Meanwhile, all the speakers severely criticised the rising incidents of intolerance, hate speech, communalism, and blamed the prime minister for fostering a climate of violence against minorities, oppressed sections, and dissenting voices. "The latest victim of this climate of organised hate-mongering and violence is the journalist and activist Gauri Lankesh," read the resolution released by the organiser of the national convention.
Issues like farmer suicides, which have seen a sharp rise of 42% during 2014-15, was also raised by other speakers. Comparing the writing off of debts of willful corporate defaulters with providing minimum support price to farmers, some speakers claimed how it reflected the priorities of the government.
"Instead of implementing its poll promise of minimum support price as per Swaminathan Committee recommendations, the BJP government meets farmers' demands of MSP and loan waiver with bullets and killings as was witnessed in Mandsaur, Madhya Pradesh," read the resolution.
Among other issues, the resolution expressed concerns on non-implementation of Forest's Rights Act, rising attacks on Dalits and minorities on the pretext of cow protection, brutal repression of tribals and activists in Chhattisgarh, Jharkhand, Odisha and of Kashmiris. Condemning the rising prices of essential commodities, the resolution also highlighted the rise in fuel prices despite declining price of crude in international markets.
Moreover, the organisers of the convention have put forth a charter of demands on these issues and decided to hold similar conventions with broader participation in state capitals, district headquarters and at lower levels. On 30 October, the organisers are planning to conduct Jan Ekta Mashal assembly/candlelight marches across districts.