Modi-Hardik showdown in Morbi was a clash between two sides of Gujarat Model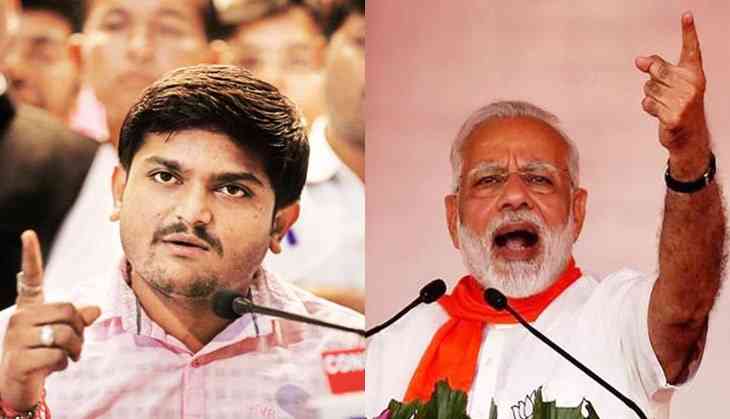 Prime Minister Narendra Modi and Patidar Anamat Andol Samiti (PAAS) leader Hardik Patel had a showdown of sorts in the Morbi district of Saurashtra on Wednesday. Both leaders held rallies at almost the same time in different parts of the district.
However, the rallies - in terms of the setting, the crowd as well as the speeches - represented two competing narratives about the Gujarat Model.
The setting
Modi spoke near Parshuram Pottery in the new part of Morbi, on the other side of the Machhu river from old structures like the Mani Mandir and Wagh Mahal built by the Morvi princely state.
Several housing societies have come up in new Morbi, many of which cater to mid-level employees working in the city's famous ceramic tile industry. Many of the middle class and upper middle class residents could be seen strolling into Modi's rally early and grabbing the chairs in front. Housewives turned up in significant numbers. One woman and her child were turned back by the police as the kid's plastic tricycle was deemed to be a security threat.
In contrast, Hardik Patel's public meeting was held around 50 km and several bumpy stretches away from Morbi, in a village called Khakhrechi. Part of the Maliana Taluka, it lies on the northernmost end of Saurashtra, just a little before the arid Kutch region begins.
Since it was supposed to be a public meeting with farmers, the crowd was almost entirely rural, except for a few young Patidar volunteers and PAAS supporters who had come from Morbi.
Unlike the BJP's rally where there were chairs for everyone, in the PAAS rally only the elderly were given chairs. The ubiquitous "Jai Sardar, Jai Patidar" cap was the main accessory given, unlike the extravagant Modi rally where people were free to grab from a huge mound of assorted BJP paraphernalia - from Modi masks, to party flags, whistles, caps, banners etc.
The speeches
Modi said that Morbi symbolised the Gujarat Model. He also said that while BJP has always stood with Morbi, Indira Gandhi covered her nose when she visited the city.
Again drawing a comparison with the Congress, Modi said, "Congress model was to give hand-pumps. We brought the Narmada water here," Modi said, invoking the issue of water scarcity, a key concern of the people in the area.
Hardik Patel, on the other hand, took a dig at Modi's Gujarat Model.
"Yes, the canal was built but to provide water to Adani and Ambani. Farmers get no water," he said.
"Farmers don't get water or electricity, they don't get subsidies. They grow cotton but they don't get proper prices. What should they do?" he asked.
The Patidar leader further said that using communalism or the bogey of terrorism to divert from basic issues is an integral part of BJP's politics.
"When we were reeling under note ban, they brought GST. When we were suffering under GST, suddenly we hear news that terrorists have been caught in a Bharuch hospital. A few days later, there's not a word about them. They think we are fools," he said.
Referring to communal violence in particular, he said, "Some say, there were communal riots before 1995 (before BJP came to power). Obviously there were, they (BJP) were the rioters".
Interestingly, while Patel's attacks on Modi were mainly focused on his policies, the barbs at BJP president Amit Shah were far more personal. On two occasions in his speech, he referred to Shah as a "lukkha" or a petty goon.
Why Morbi?
The 'showdown' between the two leaders in Morbi was actually an act of guerrilla warfare on the part of Hardik Patel. Manoj Panara, PAAS convenor for Morbi, revealed that Patel had called for a public meeting in the district at extremely short notice, hinting that it was done specifically to counter Modi's rally.
Morbi has a history of caste-based mobilisation. In 1985, it was a major centre of the anti-reservation protests. What began as a movement against Madhavsinh Solanki's reservation policy became an agitation for the removal of Solanki himself.
Again in 2015, Morbi witnessed intense protests by Patidars which spiralled into violence between the protestors and the police. Like 1985, the main driving force behind the agitation were Patidars. The demand had been tweaked: "Give Patidars reservation or scrap quotas altogether". And again like the 1980s, the protests led to the dismissal of a chief minister: Anandiben Patel.
Taking on Modi in Morbi was Hardik's way of showing the PM what irate Patidars are capable of.