Minister Hegde's comment may be outrageous. But he isn't a lone offender
Anurag Dey
| Updated on: 26 December 2017, 21:06 IST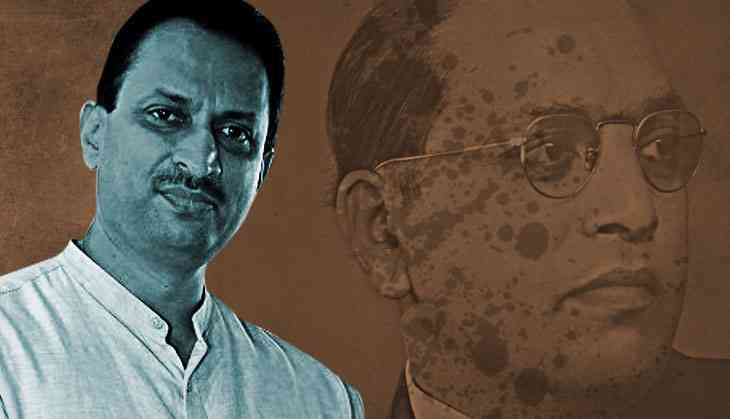 (Arya Sharma / Catch News)
Among the hallmarks of the Narendra Modi-led government have been a nationwide communal atmosphere as well as ministers and Bharatiya Janata Party leaders displaying scant regard for the Constitution and its norms. Union Minister Ananth Kumar Hegde is the latest in this league: He ridiculed "secularists" for being unaware of their parentage, even hinting that the word 'secular' may be dropped from the Constitution.
No stranger to controversies, the Minister of Skill Development and Entrepreneurship made the outrageous remarks at an event in Congress-ruled Karnataka.
"Those who, without knowing about their parental blood, call themselves secular, they don't have their own identity... They don't know about their parentage, but they are intellectuals," he said at an event organised by the Brahman Yuva Parishad in Kukanur town in Koppal district on Monday.
He added that he would be "happy" if someone claims with pride that he is a Muslim, or a Christian, or a Lingayat, or a Brahmin, or a Hindu. While observing that the Constitution is "currently based on the thoughts of BR Ambedkar", Hegde claimed that the constitution will "changed in the days to come".
According to him: "We are here for that and that is why we have come."
Hegde's home state Karnataka is months away from Assembly elections, which will be crucial, and the BJP has started raking up its tried and tested formula of communalism. Hegde's remarks follow that of Shobha Karandlaje's fake claims on Twitter of "jihadis trying to rape and murder a minor".
Jihadis tried to rape and murder a girl studying in 9th std near honnavar.Why is the govt silent about this incident?Arrest those who molested and injured this girl. Where are you CM @siddaramaiah?

— Shobha Karandlaje (@ShobhaBJP) December 14, 2017
Jihadis tried to rape and murder a girl studying in 9th std near honnavar.Why is the govt silent about this incident?Arrest those who molested and injured this girl. Where are you CM @siddaramaiah?

— Shobha Karandlaje (@ShobhaBJP) December 14, 2017
Karandlaje is a Lok Sabha member from the state and was a minister in the Cabinet of her mentor BS Yeddyurappa. The police even registered an FIR her for "giving provocation with the intent to cause a riot" and promoting enmity between groups. But Delhi BJP spokesperson Tajinder Bagga reiterated her allegations.
Speaking truth is crime in Karnataka @CMofKarnataka ? I am saying again "Jihadis tried to rape & murder a girl" . I stand with @ShobhaBJP & say this again & again. Start counting last days of your govt Siddaramaiah https://t.co/ba6zqbx97S

— Tajinder Bagga (@TajinderBagga) December 23, 2017
While Hegde is facing the heat from the Opposition for his remarks, not surprisingly he has found support from his party.
A top BJP functionary cited the Right to Freedom of Expression to defend the minister's remarks. "Hegde has expressed his opinion, what's the harm in that? Don't our leaders have freedom of expression? His remarks are being distorted to create a controversy," he said.
"What about those who in the name of secularism indulge in politics of appeasement. Such politics has been the bane of the country and Hegde only pointed out that. The BJP doesn't believe in such politics our mantra is inclusive growth and development," the leader said.
While Hegde's assertions are being perceived as an insult to Ambedkar, the BJP functionary dismissed it. "Whatever he (Hegde) said is not wrong. Ever since the Constitution came into force there have been amendments. Laws, including the Constitution cannot be static, you need to incorporate changes to deal with changing times. Why this fuss on his remark?
"The Modi government has been carrying out reforms in all fields including judiciary. Our government has scrapped hundreds of archaic laws, and continuously trying to introduce more reforms," he said.
Hegde has company in his ministerial colleague Hansraj Ahir.
Angry over doctors skipping an event he addressed at a government hospital in Maharashtra, the Minister of State for Home Affairs, suggested they join the "Naxalites" so that they can be shot. "The mayor came, the deputy mayor came but what stopped the doctors from coming for the event?" an angry Ahir asked, noting the absence of senior doctors at the event.
"What do the Naxals want? They don't want democracy... So these people (the absent doctors) don't want democracy, then they should join the Naxals. Why are you here? Then (once you join the Naxals) we will pump you with bullets, why you are dispensing pills here," the minister was quoted as saying by PTI.
Ahir subsequently gave a timid clarification.
Despite ministers and prominent leaders often shooting off their mouths, making disparaging comments, the BJP – now in power in 19 states besides the Centre – has preferred to look the other way refusing to rein in the loose cannons.
Earlier this week, controversial BJP MLA from Rajasthan Gyan Dev Ahuja warned killing whoever smuggled or slaughtered cows.
"Mera toh seedha seedha kehna hai ki gautaskari aur gaukashi karoge to yun hi maroge (If you smuggle and slaughter cows, then you will be killed). The cow is our mother," Ahuja said, reacting to an incident of a mob lynching of an alleged cow smuggler in the BJP-ruled state.
The BJP legislator from Ramgarh, is no stranger to controversies. In 2016 he grabbed eyeballs, claiming "daily 50,000 pieces of bones, 3,000 used condoms, 500 used abortion injections, 10,000 cigarette pieces, among other things, were found in JNU, where girls and boys dance naked at cultural programmes".
In yet another incident of communal onslaught, BJP leaders and right-wing activists including from the Vishwa Hindu Parishad (VHP), clashed with the police while trying to disrupt an inter-religion marriage in Ghaziabad of Uttar Pradesh, claiming it to be a case of "love jihad".
While the BJP has dismissed the involvement of its leaders and activists in the incident, the VHP defended the attack.
"It's not just us, even courts like the Kerala High Court and the Rajasthan High Court are expressing alarm over love jihad," said VHP International Joint General Secretary Surendra Kumar Jain referring to the two courts recent observations on forced conversion.
While the marriage in Ghaziabad was with the consent of the two families, Jain called for a probe. "The incident is a matter of probe and once that is done it will be clear whether or not it is a case of love jihad. Love jihad is threat looming large across the country which needs to be dealt with strongly," added Jain.
Edited by Joyjeet Das