Mayawati & the media snub: The BSP supremo is being ignored because of casteism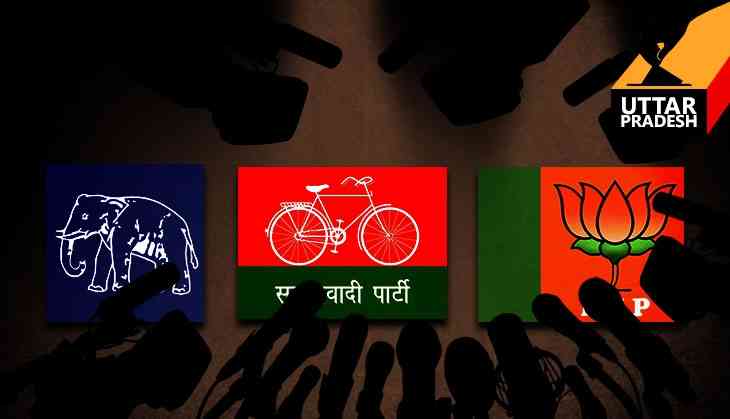 Mayawati may be untouchable for the media, but she's not untouchable for the people who vote her.
Votes have been cast for more than a quarter of the seats in the UP legislature. Nevertheless, the pertinent and complex question prevails – who will form the next government?
Every morning when we open a newspaper or switch on a TV channel, we feel that the SP-Congress combine is proving to be the lame duck, unable to fight off a strong BJP.
The language and tilt of TV anchors and reporters suggest that either the Bharatiya Janata Party has already won the election or, at least, is leading. And Akhilesh Yadav and Rahul Gandhi are 'unnecessarily plotting and conspiring to dethrone Narendra Modi'.
The media, particularly the Hindi media, forgets that while Akhilesh has been the chief minister for five years, Modi has been the PM for not even three years.
The fact is that Modi, along with Amit Shah and the rest of the party, is fighting to remove Akhilesh from the CM's chair. It's part of out democratic process and is completely justified. If Modi doesn't win, though, the situation will be different. Still, more than Modi, Shah will be at the receiving end.
Picking sides & coverage
As the election fever grips all, the media seems to be blindfolded. Sometimes deliberately so, especially when it comes to the presence of Mayawati and her Bahujan Samaj Party (BSP).
It seems to be taken in by a particular joke by Modi about how BSP lost the most due to his policy of banning old Rs 500 and Rs 1,000 notes as it hoarded the most amount of black money among political parties.
Jokes apart, it is not just the financial aspect that makes media houses shun Mayawati and the BSP. Another reason for her media blackout is the social, intellectual and caste structure of media itself.
Mayawati's story
The most important question: why does the media undermine Mayawati's popularity?
She had secured nearly a fifth of he votes cast in UP during the 2014 Lok Sabha elections. She has been the CM four times.
Not only was she the CM of UP only five years ago, Mayawati is also the only leader to have completed a full five-year tenure at the helm of the state.
Even in the 2012 Assembly polls, she secured 26% votes. In 2007, when BSP won the elections, the party secured 30% votes, while Samajwadi Party got about a quarter of the votes and 97 seats.

In the same election, the BJP could manage only 15% votes.

How can a party securing nearly 20% votes in the last election be discounted from the race?
Added factors
Another thing that has got the media excited is the pairing of Akhilesh Yadav and Rahul Gandhi. At this point, it is necessary to understand the importance of the SP-Congress merger.
The hullabaloo about this particular issue is quite understandable, but one must dig deeper.
First, let us consider the importance given to Akhilesh. He has been CM for five years and has come out clean with no corruption charges.
It is true that Akhilesh has held his ground in this year's electoral race with the 'development' narrative that has found wider national publicity thanks to Modi. However, this 'development' that is being witnessed now has been defined so narrowly that it can only be compared to 'digging a pit and laying a brick'. Sadly, the narrative is no longer about integrated development.
Akhilesh turned the tables in his favour in the last leg of his term by waging an open war against his father and uncle. He also emerged victorious in this civil war of sorts and the sentiment of a powerful leader emerging out of all odds became rampant among the people.
In Akhilesh, UP now sees a person powerful enough to challenge dynastic rule and also, someone who could now take bigger decisions – those he could not take earlier because of family pressure.
Politics of backwardness: Mayawati & Lalu Prasad Yadav
Ignoring Mayawati has been a well-conceived and a well-calculated strategy employed by the media and the so-called elite.
Mayawati is the sole leader who has braved opposition to represent Dalit and backward politics strongly in the North Indian landscape. A leader with similar accomplishments to his credit was Lalu Prasad Yadav. However, after being 'punished', Lalu's role in elections have become quite limited.
And while these political 'developments' were on, all other leaders like Mulayam Singh Yadav, who were born from the womb of socialist revolution, made innumerable compromises to build their vote banks.
In comparison, Mayawati and Lalu Prasad Yadav have been unshaken in their politics throughout.
Mayawati is among those rare leaders whose struggle has been historic. She gave voice to the voiceless. Though her view on fighting communalism has never been very clear and she did take the BJP's support to become UP's chief minister thrice (the fourth time she had an absolute majority) – she never let BJP harm the peace and cordiality between the communities.
On the contrary, she used all the opportunities to strengthen her voters and her politics. And when the right time came, she parted ways with the BJP.
The reservation divide
When RSS representative Manmohan Vaidya said reservation should be done away with, a few leader opposed. Mayawati was one of them, Lalu Prasad was the other.
Other than them, no other leader connected with the 'politics of social justice' opposed the move. These other leaders who chose to remain mum included Akhilesh. They felt that silence could fetch them the higher caste votes. Ironically, Mulayam Singh has a legacy of fighting against communalism and he has been sidelined by his son.
Akhilesh Yadav and Nitish Kumar are completely different when it comes to backward politics. Both of them may hail from among the backward classes, but they have no such legacy of supporting their politics.
They appear to be high middle caste both in their moves and manners. They neither have a deep faith in social justice nor a history of fighting communalism (as demonstrated by Mayawati and Lalu Prasad).
With these factors in mind, it is easy to understand the media predilection when it comes to Mayawati and Lalu Prasad Yadav. In addition, this media has no hatred for either Akhilesh or Nitish.
The origins of what we are now witnessing in UP lies at the very core of the media – in their mentality. In spite of all her influence and power, they have completely ignored Mayawati.
The media should be conversant with reality, otherwise, by the time it realises its mistake on 11 March, it may be too late to make amends.
Edited by Jhinuk Sen
The author is a senior journalist and a social activist.