Mayawati shows who's boss, reshuffles BSP rank and file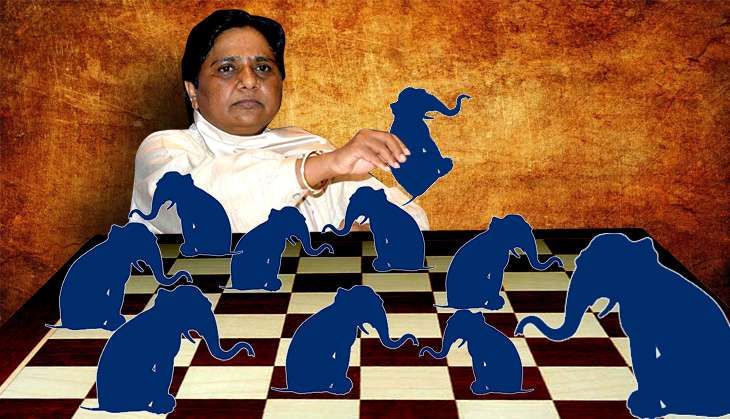 Unperturbed by the recent desertions by senior leaders, BSP supremo Mayawati is quietly overhauling her party.
On Sunday, Mayawati held a meeting of zonal co-ordinators of the party in Delhi. She took feedback from across the state and reviewed preparations for the election. She also created new posts like district convenors to keep and eye on each and every district.
Reshuffling the organisation, Mayawati gave responsibilities to new faces, transferred a few from their previous positions and engaged the leaders with additional responsibilities.
Senior leader Naseemuddin Siddiqui, who is the Muslim face of the party, has been made the in-charge for Western UP and Uttarakhand.
He has been asked to lead the BSP's outreach towards the Muslim community, which will be very crucial in the upcoming elections. He will also handle the reserved seats in the Agra and Aligarh region.
The charge of Lucknow has been taken from him and given to senior leader Ashok Siddhartha, who will hold additional charge of Agra and Aligarh.
Also read - Swami Prasad Maurya quits BSP, may join SP. But this won't harm Mayawati
Atar Singh Rao, the co-ordinator for Moradabad, will also handle Aligarh and Meerut. Ram Kumar Kureel, who has charge of Chitrakoot and Jhansi, has been given the additional responsibility of Kanpur.
Mayawati takes control
Mayawati has decided to create new post of district coordinators for all the districts. This is to ensure that district presidents don't monopolise power. There will be co-ordinators for each seat as well.
The idea is to prevent the damage on the ground in case anyone leaves the party or tries to betray her. This will also bring better and more comprehensive assessment of the seats.
The recent desertions don't seem to have bothered Mayawati.
"Those who left party didn't go for ideological reasons. They wanted tickets for their family and friends. This nepotism is not allowed. Every election, such people leave the party and try to gain benefits from other parties. But they have ended up getting nothing".
However, she is not taking these departures lightly.
Her strategy seems to be to prevent emergence of parallel power centres by placing an additional in-charge for every region and every task.
The organisational reshuffle will be completed by August so that preparations are not affected.
The reshuffle is also a sign to the cadre and the leaders of the party that she is leading from the front and is firmly in control of the party.
Mayawati doesn't want to give her opponents a chance to damage her image and the party.
More in Catch - Battleground UP: how Mayawati is laying the groundwork for 2017