The mask is off: BJP puts out blatantly communal ads in Bihar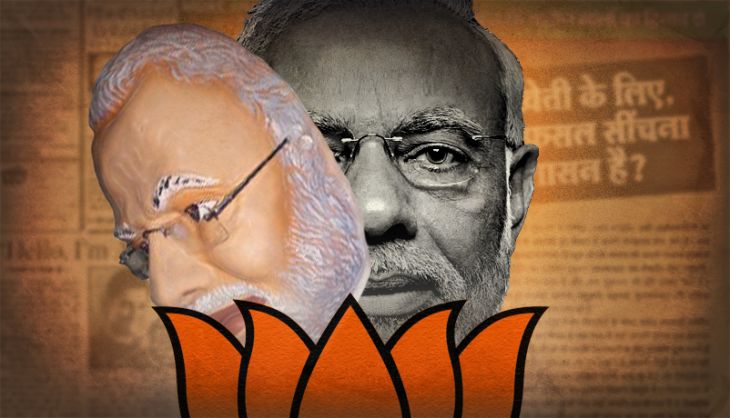 Hate campaign
BJP has issued blatantly communal newspaper ads in Bihar
First ad: Lalu, Nitish will take away Hindus\' quotas for Muslims
Second ad: Nitish is soft on terror because he wants Muslim votes
Desperate move
BJP appears desperate to win the Bihar polls at any cost
Ads were issued ahead of polling in Muslim majority districts
It wants to polarise Hindus to negate Muslim consolidation for Nitish, Lalu
Halfway through the high-stakes electoral battle in Bihar, the BJP has thrown away its cloak of "inclusiveness". In a naked endorsement of communalism its critics accuse it of, the party has publicly questioned why Muslims and Christians need reservation.
It has also sought to demonise Muslims by accusing the Bihar government of going soft on terrorists to appease the minority community.
In what appears to be a change in strategy after three rounds of polling, the party is issuing overtly communal ads in the Bihar editions of major newspapers.
Titled Jawaab Naheen Toh Vote Naheen, the ads demand a report card on the 25 years of rule by Lalu Prasad and Nitish Kumar. Of course, they don't mention that for seven and a half of these years, the BJP was part of the ruling coalition with Nitish.
The first ad appeared on 28 October. It asked: is it good governance to snatch reservation benefits "from the plates of Dalits and backward classes and serve them to minorities"?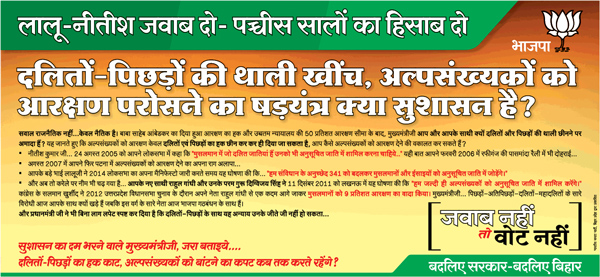 For effect, it recalled that Nitish, Lalu, and Congress leaders Rahul Gandhi, Digvijaya Singh and Salman Khurshid have often made a case for reservation for Muslims and Christians. "How can the Chief Minister advocate reservation for minorities?" the BJP demands to know.
The ad ends with a direct poser to the Bihar chief minister: "when will he stop the deceit of taking away the rights of Dalits and backward classes and distributing them to the minorities?"
Leading from the front
The ad takes its cue from Narendra Modi's speech at a rally in Buxar on 26 October. Brazenly communalising the debate on reservation, the prime minister had alleged that Nitish and Lalu were conspiring to take away 5% from the quotas for OBCs, EBCs and Dalits and give it to minorities. "I will die to protect your rights. I will never allow conspirators to steal away your reservation," he had declared.
The remarks drew instant condemnation but the BJP seems to have calculated that raising this bogey would benefit it in the polls.
On 29 October, the party published another ad. Its questions were different, but the message stayed the same.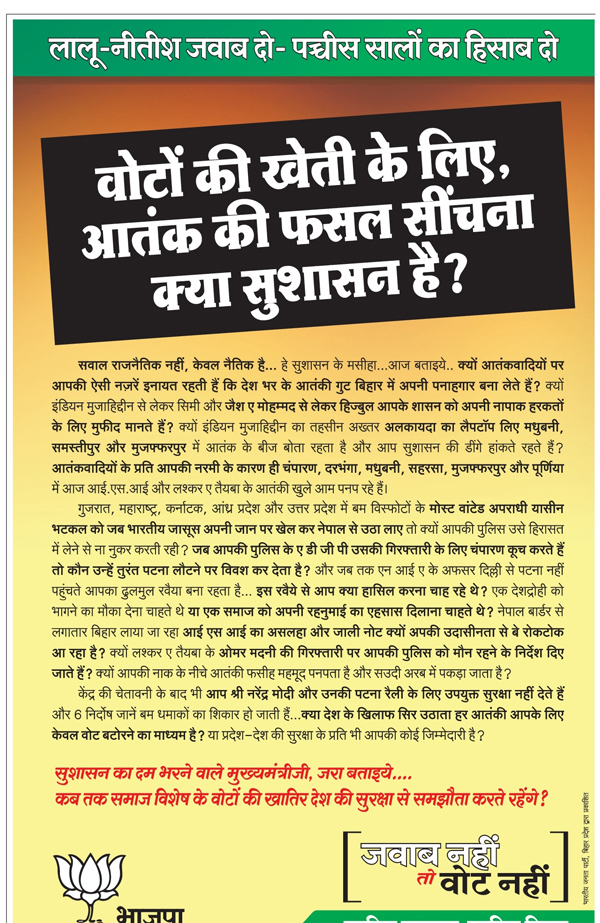 "Is it good governance to irrigate a crop of terror for harvesting votes?" the ad asked.
It accused Nitish of being so favourable to terrorists that they were coming from across the country to find refuge in Bihar. It's because of this soft approach to terrorism, the ad goes on, that "terrorists of the ISI and the LeT are breeding in Champaran, Darbhanga, Madhubani, Saharsa, Muzaffarpur and Purnea".
That's not all. The BJP accuses Nitish of dilly-dallying on the arrest of Indian Mujahideen operative Yaseen Bhatkal and asks whether he wanted to let a traitor escape to signal his patronage for a particular community?
"How long will the chief minister continue to compromise with security of the country for the votes of a particular community?"
One doesn't need a crash course in recent political history to figure out that the "particular community" is a reference to Muslims.
Desperate measures
Neither is it difficult to understand why the communal ads are coming out now. The districts going to polls in the next two phases comprise Bihar's Muslim heartland and the ads are meant to polarise the Hindu electorate to negate likely Muslim consolidation in favour of the Grand Alliance.
The districts include all those mentioned in the "terror" ad, as well as Kishanganj (78% Muslim), Katihar (43%) and Araria (41%).
That the BJP's ads are blatantly communal and hypocritical - the party accuses its rivals of appeasing Muslims while itself trying to appease Hindus - is quite clear.
What isn't as clear is that the ads are ignorant as well: they pit backward Muslims against Hindu backwards even though several Muslim communities have long been recognised as OBCs in Bihar as well as in many other states.
BJP's communal ad: How long will Nitish compromise with the nation's security for Muslim votes?
Bihar's OBC list includes Muslim communities such as Nalband, Madaria, Jat, Malik, while the EBC list has Kasai, Chik, Dafali, Dhunia, Dhobi, Nut, Pamaria, Bhathiara, Bhat, among others.
Indeed, even in Modi's Gujarat, Muslim communities such as Bafan, Fakir, Gadhai, Galiara, Ghanchi and Hingora are counted as OBCs. As are the Khristi Gujarati Christians.
This means that during his three terms as the chief minister of Gujarat, Modi himself gave reservation benefits to Muslims and Christians. Then why is he raising this bogey in Bihar? The party, it appears, is desperate to win the state, whatever the cost.
So far, the BJP had rubbished allegations that it was following a sinister communal agenda, holding up slogans like "Sabka Saath, Sabka Vikas". Now, with an election at stake, it has decided that dropping the pretence serves it better.
What's most worrying about this open turn towards communalism is that it's not only endorsed by the prime minister, but led by him.
Perhaps, it's time to ask him: what "spirit of unity" is he trying to assert by flagging off a marathon on 31 October, the birth anniversary of Sardar Patel?
"Nation first" was always a suspicious slogan coming from the BJP. Has it officially changed it to "Hindu Nation First"?