'Mannargudi mafia': Meet the family likely to rule post-Jaya Tamil Nadu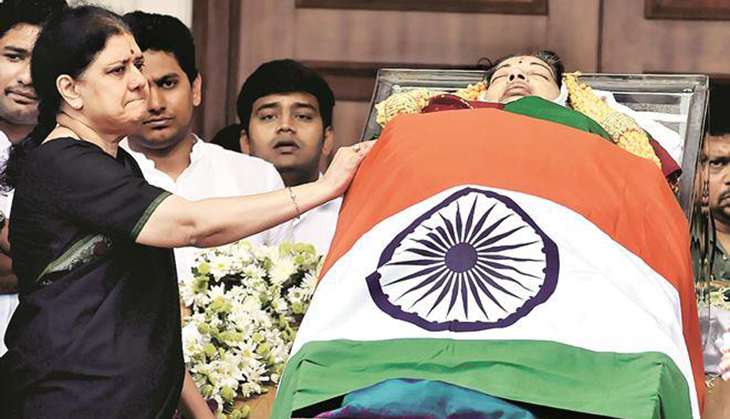 With J Jayalalithaa dead, the succession battle in the AIADMK has intensified. Political circles are abuzz with rumours of the former chief minister's closest aide Sasikala taking over the party. That this would be the case was, in fact, quite evident on Tuesday at Rajaji Hall, where Jayalalithaa's body was kept for people to pay their last respects.
What surprised many was how Sasikala and her extended family occupied every inch of space around Jayalalithaa's body.
In 2011, Jaya had banished members of Sasikala's family, including her husband Natarajan, from her Poes Garden residence for acts of impropriety. In fact, one of the conditions for Sasikala's return was that she sever all ties with her family. Only when she did was Sasikala welcomed back, while her family members were kept out and even slapped with criminal charges.
Also Read: Importance of being Sasikala: Will Jayalalithaa's confidante be her heir?
Infamously known as the Mannargudi mafia, the family has for long been vying to take control of the AIADMK. They nearly succeeded before Jaya cracked the whip. Now, in her absence, the family is back to business.
Sasikala, of course, is well know, but who are the other members of this family that has been a thorn in the side of AIADMK leaders and cadres? Here's a primer:
Sasikala
The matriarch of the one of the most feared families in Tamil Nadu that has business interests across the length and breadth of the state, Sasikala is often blamed by AIADMK cadres for every act of impropriety committed by Jaya. Using the chief minister's office, Sasikala allegedly doled out favours to her relatives who built business empires.
Jaya had directed party colleagues to approach Sasikala if they needed her intervention in any matter. In turn, Sasikala and her family began managing the party's affairs and were said to have even auctioned tickets for the 1991 assembly election and later. Sasikala is also accused of laundering money and of hiding $342,000 in the dummy foreign account of a Malaysian citizen with an Indian branch of the State Bank of India.
Sasikala was a co-accused with Jaya in the colour TV scam as well as the disproportionate assets case. In the latter, she was sentenced to four years in prison. In 2000, the AIADMK saw an internal rebellion after three of its top leaders -- Karuppasamy Pandian, Sedapatti S Regupathy, and R Muthiah - were expelled for opposing Sasikala and her family's clout in the party.
Muthiah had claimed that Jayalalithaa had become "a handmaiden of the Mannargudi mafia" and that she had lost her "mental balance" under her aide's influence. None of this bothered Jaya, who continued to repose trust in her closest aide. Rumours of Sasikala forging Jaya's signature also made into public and this is said to have led to her ouster in 2011.
Having been twice exiled by Jaya, Sasikala made dramatic comebacks each time, silencing all those voices that dared to speak against the "matriarch of the Manargudi mafia". With Jaya gone, the party seems to be under total control of Sasikala and it's unlikely that anyone would dare challenge her position.
M Natarajan
Sasikala's estranged husband is a former public relations officer of the Tamil Nadu government. He joined the AIADMK under MGR, but multiple charges of corruption forced Jaya to banish him from her Poes Garden residence. He was jailed on charges of land grab. He is known for his brilliant networking skills and it came as no surprise when BJP leaders introduced him to Prime Minister Narendra Modi at the Rajaji Hall.
Also Read: In pictures: Jayalalithaa laid to rest beside her mentor as millions mourn
After Jaya's health deteriorated, he is said to have quietly returned to Poes Garden. He's considered to be the chief organiser of the surprise swearing-in of O Panneerselvam soon after Jaya's death and the architect behind getting MLAs to sign a declaration that Panneerselvam will replace Jaya.
Another allegation on the husband-wife duo is they ensured none of Jayalalithha's family members, well-wishers and party cadres were kept away from the party supremo making her completely dependent on Sasikala.
VN Sudhakaran
Sasikala's nephew was adopted by Jaya as her foster son, apparently at the instance of Sasikala and her husband. He later married Tamil actor Sivaji Ganeshan's daughter. Crores of rupees were splurged on his wedding that holds the Guinness World Record for most guests and the largest banquet.
A year after his wedding, however, Jaya disowned him. Though not much is known about the reasons, it is believed that he took crores from Poes Garden and never returned it. In 1996, he started JJ TV along with other relatives of Sasikala. To popularise the channel, Sasikala and her nephew decided to give away colour TVs to community centres. The scheme was also meant to boost Jayalalithaa's appeal but it turned out to be a major scam.
Sudhakaran, along with Jaya and Sasikala, was sentenced to four years in prison in the assets case.
Interestingly, the disowned foster son was seen outside Apollo Hospital when Jaya was admitted there in October and again at her funeral.
The other prominent members of the Mannargudi family include Sasikala's sister Vanithamani; her brothers Sundaravadhanam, Divakar and Vinodhagan; Vanithamani's sons TTV Dinakaran, V Bhaskaran and VN Sudhagaran; Natarajan's brother M Ramachandran; Sundaravadhanam's son S Venkatesh; and Vinodhagan's son TV Mahadevan.
All of them have huge business interests in Tamil Nadu and also a sway over many AIADMK leaders and officers in the state administration. Members of the family are placed in strategic positions - in the police, bureaucracy, Jaya TV, offices of ministers - to ensure control over all key levers of power.
Even the AIADMK ticket distribution is in the iron grip of Sasikala, who also decides who would fill key party and government posts across the state.
Given this context, it seems impossible that the family would give up its hold on the AIADMK and the state machinery without resistance. The next few days are likely to witness many changes orchestrated by the family, which could significantly change the political map of Tamil Nadu.
Also Read: A fighter to the end, Jayalalithaa leaves behind a complicated legacy