Mamata launches her 'Mission 42' with massive Martyrs' Day rally in Kolkata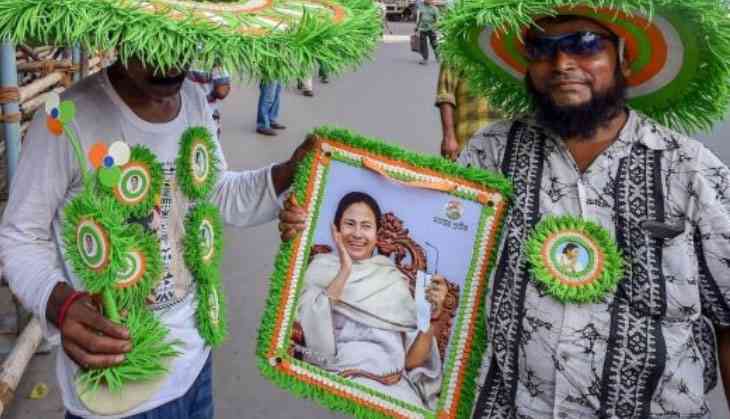 West Bengal Chief Minister Mamata Banerjee launched her campaign for the 2019 Lok Sabha elections with a massive Martyrs' Day rally in Kolkata's on Saturday.
Addressing the rally Banerjee said "I am inviting all anti-BJP parties to come together and work out a formula on how to defeat the BJP in the Lok Sabha elections". She said that a large anti-BJP rally will be held at the Brigade Parade ground on 19 January, 2019, in which several Opposition leaders would be invited. Sources said this would also include former Congress president Sonia Gandhi.
She also claimed that the All India Trinamool Congress will win all the 42 Lok Sabha seats from West Bengal.
On the other hand, the West Bengal BJP has decided to organise a counter rally on 23 January next year at the same venue, where Prime Minister Narendra Modi will address the people of Bengal.
Rahul Sinha , BJP national secretary, said "We are not afraid of the Trinamool Congress rally. We will organise a counter rally on 23 January".
Banerjee even mocked at Modi's speech in Parliament in which the Prime Minister said that he will remain in power till 2024.
"Prime Minister Narendra Modi is dreaming of staying in power till 2024. BJP somehow managed to get 325 seats in Parliament (during the No Confidence Motion) but they are outnumbered outside Parliament. At most, BJP will win 150 seats. You can trust my calculations. Had Jayalalithaa been alive, AIADMK would never have voted for NDA and they will have to pay the price for their folly in the 2019 elections. In Tamil Nadu, Stalin will get 39 seats".
"Although Shiv Sena has an alliance with BJP, they abstained from voting during the No Confidence Motion. In Uttar Pradesh, if Mayawati and Akhilesh Yadav fight together, BJP will not even get half of the 73 seats that it got last time. It will win 25 at most. In Madhya Pradesh, Rajasthan and Gujarat too they will cut a sorry figure," she added.
Banerjee also said that the Trinamool Congress plans to hold a series of events in the near future such as a rally on 28 July at the same venue where Modi recently held a public meeting and the tent collapsed, as well as a "BJP Bhagao" campaign from 1 to 15 August.
"They cannot even put up a tent properly. How can they run the country?" Banerjee quipped.
Banerjee also pulled off an important coup over the BJP on Saturday by inducting Pioneer editor and former BJP Rajya Sabha MP Chandan Mitra into the party. Mitra had resigned from the BJP earlier this week. His move to the AITC is significant as he is one of the earliest journalists to join toe saffron party, that too at a time when it was considered a political pariah by many.
Along with Mitra, five Congress MLAs from the party bastions of Malda and Murshidabad also joined the AITC as did rebel CPI(M) MP Ritabrata Banerjee and former CPI(M) MP Moinul Hasan.
The Congress MLAs who joined AITC on Saturday include Akrujjaman, Sabina Yasmin, Abu Taher, Samar Mukherjee and Apurva Sarkar.
Attacking the AITC, West Bengal Pradesh Congress chief Adhir Chowdhury said " Trinamool Congress is threatening our leaders to join their party saying that they will be killed if they don't join. Banerjee is trying to establish autocracy in Bengal. She is responsible for the increase of the BJP's vote share in Bengal."
During her speech on Saturday, Mamata Banerjee accused the BJP of creating hatred in society.
"They (BJP) are saffronising all institutions and trying to divide society. All RSS and BJP leaders are not bad. Some old leaders who followed a spartan way of life were good."
Banerjee also said that the incidents of mob-lynching were been engineered by BJP leaders, who wanted to create instability in the country.
"On Friday Prime Minister Narendra Modi instructed the state governments to take action against those who are involved in lynching. But their own party men are involved in lynching. I ask the Prime Minister, 'Has the BJP taken any steps to punish their own men involved in lynching?'" Banerjee said.
She didn't spare the Congress either.
"Congress leaders should think whether they want to align with the AITC at the national level to oust the BJP. I don't need an alliance with the Congress in Bengal. We are capable of fighting alone. In Bengal, the CPI(M), Congress and BJP have teamed up to fight the Trinamool Congress. But still the Congress wants the AITC's help at the Centre. Why these double standards?" she asked.