Mamata bans Durga idol immersion due to Muharram, Bengal BJP to move HC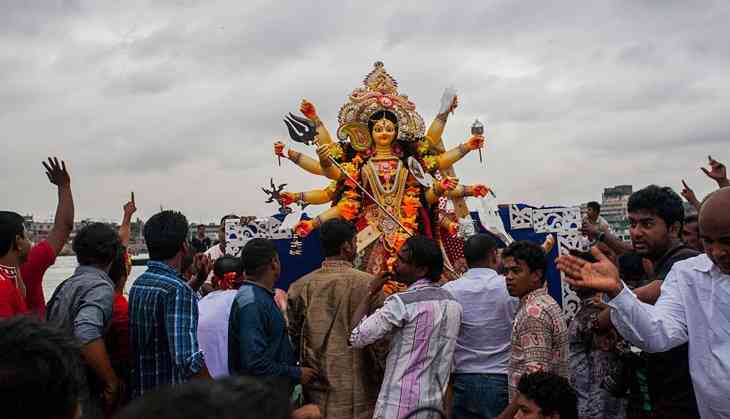 (Khandaker Azizur Rahman Sumon/NurPhoto/Getty Images)
On Wednesday, West Bengal Chief Minister Mamata Banerjee announced that Durga idols would not be allowed to be immersed on 1 October, as the immersions would clash with Muharram processions.
Now, the BJP has decided to move the Calcutta High Court challenging her government's decision. Moreover, Opposition parties in Bengal feel that it is the government's duty to organise both sets of processions peacefully if they fall on the same day.
Even the families from northern and central Kolkata who traditionally organise Durga Puja are likely to approach the High Court against the state government's decision.
Root of the problem
Vijayadashami, the last day of the Durga Puja festival, falls on 30 September this year. Idol immersions generally take place the day after. But Muslims will also be observing Muharram on 1 October, and the government has disallowed any immersions after 6pm on Dashami.
On Wednesday, while speaking to puja organisers, Banerjee had said immersions could be done between 2 and 4 October, a day before Lakshmi Puja.
She also said no one would be allowed anyone to incite riots. Barricades will be set up in various places along the Muharram processions' routes, so that processions of both communities do not mix up.
RSS-BJP resist
The RSS in Bengal insists that if the two occasions fall on the same day, it is the duty of the state government to look after the law and order situation, to avoid any strife.
Jishnu Bose, general secretary of the RSS in West Bengal, said: "It is the state government's duty to maintain law and order if both occasions fall on the same day. How can the Chief Minister declare that Durga Puja immersion will be held from 2-4 October? Some of the small puja organisers want to immerse idols on Dashami, but Banerjee's decision would leave them with no other option but to immerse them later."
Amritlal Dhar, an advocate at the Calcutta High Court and a member of a traditional Durga Puja organising family, said: "We may approach the High Court against the banning of immersion of Durga idols on Dashami after 6pm and also on the next day. We cannot accept such an assault on our rituals and religious practices."
The BJP pointed out that last year too, the state government had been pulled up by the High Court for giving arbitrary decisions regarding Durga Puja idol immersion and Muharram processions.
Rahul Sinha, national secretary of the BJP, said: "We will move court against state the government's decision. The Trinamool Congress is appeasing Muslims and trying to restrict Hindu celebrations. Last year, she had imposed similar restrictions, which led to communal clashes in the North 24 Parganas during festival season. We had opposed her decision then too."
CPM & Congress differ on issue
The CPI(M), too, said no one wants strife in the state, and that it was the government's job and duty to help organise both sets of processions peacefully.
Party general secretary Sitaram Yechury wrote on Twitter: "Bengal all through its existence, has observed many festivals together. It has celebrated its diversity together joyously. Why stop visarjans putting the blame on Moharram? Why pit one against the other? This is a classic case of competitive communalism between Didi Bhai and Modi bhai."
However, its pre-poll ally, the Congress, exhibited more of its newfound bonhomie with the Trinamool Congress, saying the state government's main intention is to avoid untoward incidents, and so, precautionary measures needed to be taken, to avoid any incident that can incite communal riots in the state.
Abdul Mannan, the Leader of the Opposition said: "We will urge the Chief Minister to take necessary precautionary measures before the festivals, so that no untoward incident occurs. As lakhs of people visit Kolkata during the pujas, it is the duty of the state government to take adequate precautionary measures to avoid such incidents."