Malerkotla: Punjab's only Muslim pocket will vote for whoever maintains peace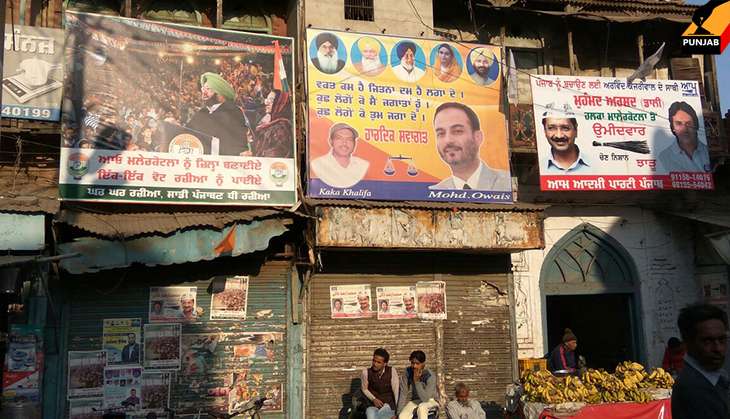 Before coming to Malerkotla, many would feel that the city's claim of being an abode of communal harmony is just a story meant for school textbooks and cliched anecdotes.
But spending even one day in this sleepy little city in Punjab's Sangrur district, one realises that communal harmony is a living reality here. In fact, communal amity is just one part of the largely peaceful and large-hearted lives people live here. If you ask for directions, you may end up getting a lift. If you strike up a conversation, being offered tea or a meal is almost a certainty.
Malerkotla is the only Muslim majority city in Punjab. It is believed that when the governor of Sirhind Wazir Khan ordered the sons of Guru Gobind Singh to be bricked alive, the Nawab of Malerkotla Sher Mohammad Khan walked out in protest saying that such cruelty was against Islam. Guru Gobind Singh heard about this and in return blessed the Nawab and his city.
Locals believe that it is because of this blessing that Malerkotla remained miraculously untouched by the partition violence in 1947. As few people from here migrated to Pakistan, the city's Muslim majority was preserved unlike other places in East Punjab where the Muslims either migrated or were killed.
Muslims constitute over 60% of the population in Malerkotla, with Hindus and Sikhs comprising the rest. There is also an extremely visible presence of Jains in the city, many of whom are traders. There are a few Christians here as well. From the city's architecture to the poetry of one of its most famous sons - Bollywood lyricist Irshad Kamil - this syncretism is visible in various aspects of Malerkotla.
A vote for peace
People here pride themselves on the city's ability to maintain peace, no matter how strong the provocation. And this is a major factor in how people, particularly the older generation, are likely to vote.
"The people of Malerkotla will vote for whoever keeps the peace between communities. Nothing matters to us more than that," says Ameer Ali, a retired government employee who resides near the Dargah Baba Haider Shaikh in the city.
"Communal harmony is part of the city's identity. Without that, the city will be nothing," says Khurshid Ali, a retired official of the state Waqf board.
Last June, there was a sinister attempt to disrupt the communal harmony in Malerkotla when a few miscreants burnt pages from the Holy Quran.
Local Muslims protested, not against other communities, but the administration, for failing to prevent such an incident.
"But tensions were diffused easily. The local Mufti took the initiative and told the people to show restraint. He also reached out to leaders from other communities to prevent any violence," Ameer Ali recalls.
However, the incident has affected many people, who feel that attempts are being made to disrupt the communal harmony Malerkotla is famous for.
The police first arrested a self-styled Hindu radical and his accomplice, an alleged Vishwa Hindu Parishad functionary, in connection with the desecration. Based on the confession of one of them, the police then accused Naresh Yadav, Aam Aadmi Party MLA from Mehrauli, Delhi, of being the mastermind behind the incident.
But the locals don't buy that story. "The AAP MLA is being framed. The incident took place because of the administration," says Mohammad Shafiq, a retired policeman living in Malerkotla.
Several locals reiterate this version. "Akalis didn't spare their own texts, they are quite capable of disrespecting ours," said a local who was too afraid to be named.
He was referring to the incidents in which the Guru Granth Sahib as well as the Ardas were disrespected.
The protests following the desecration of the Quran were largely targeted at the Akali MLA from Malerkotla, Farzana Nisara Khatoon.
She seems to have paid the price for it as the party has decided to drop her this time around.
A tale of two cops
This partially brings to an end the dominance of two senior Punjab policemen -- neither of them Punjabis - over Malerkotla's politics. Khatoon is the wife of former DGP Mohammad Izhar Alam, an officer who became notorious during the peak of the Khalistan militancy. Alam's loyalists who comprised police personnel as well as surrendered militants - collectively known as Alam Sena - are alleged to have carried out encounters on a large scale.
Alam's opponent is Mohammad Mustafa, who is presently serving as DGP in the Punjab police. Alam often claims that Mustafa is his protege. The latter is known to be close to Congress leader Captain Amarinder Singh. His wife Razia Sultana had won on a Congress ticket in 2002 and 2007 but lost to Akali Dal's Khatoon in 2012. She is contesting again this time.
The Akalis recently filed a complaint against Mustafa with the Election Commission, accusing him of misusing his authority as a senior police officer to promote his wife's political interests.
Many locals, however, feel that if the Congress comes to power, Mustafa will become an important officer in the state police, which will be beneficial to Malerkotla.
Alam, apparently, wasn't as helpful.
"The police never troubled us when the Congress was in power. Mustafa sahab took care of it. In the last ten years, police harassment has increased. Whenever we complained to Izhar Alam, he always sided with the cops. Sometimes he asked them to be even more strict with us," says Amjad, a street vendor.
Sukhbir's choice and the AAP factor
The Akalis had almost been written off because of the sitting MLA's unpopularity. But deputy chief minister Sukhbir Singh Badal made a smart move by replacing Farzana Khatoon with an influential local industrialist Mohammad Owais. Owais owns a leather factory and is said to have employed thousands of locals, which provides him a readymade support base.
He is a respected figure in Malerkotla and even Congress supporters have good things to say about him.
"He recently donated land for opening a school. He does a lot of charity work," Mohammad Shafiq says.
Ameer Ali says that even though Owais is associated with the Ahl-e-Hadith, he does reach out to Sufi, Deobandi and Shia Muslims as well as non-Muslims.
Owais is said to be giving Razia Sultana a run for her money in Malerkotla city.
In contrast to Sukhbir Badal's clever selection, the Aam Aadmi Party seems to have got its choice wrong. Its candidate, former TV actor Arshad Dali, has very little personal rapport with the people and is entirely dependent on the party's support and that of Sangrur MP Bhagwant Mann.
In fact, some locals say that it was Mann, a former stand-up comic, who decided in favour of Dali even though there were other claimants for the ticket like local businessman Ajmat Dara.
While Dali is likely to finish a poor third in Malerkotla city, AAP might make up for it by sweeping the adjoining villages.
"AAP is extremely popular in the villages. People are angry with the Akalis there and they see AAP as the only option," says Ramzan Syed, an office bearer with the Malerkotla unit of the Jamaat-e-Islami.
Sarfaraz, an AAP worker who runs a cycle spare parts shop in Malerkotla, says that the party is confident of victory. "Even if we get 20,000 votes in the city, we can make up for it by the votes we will get in the villages," he says.
Apparently this phenomenon - of AAP being overwhelmingly more popular in villages than cities - has been noticed across the Malwa region.
Coming back to Malerkotla, most AAP workers here privately admit that the candidate selection could have been better. They also say that the party was in a far superior position in Malerkotla 6 months ago but it has lost the momentum since then.
In the 2014 elections, Bhagwant Mann polled 57,000 votes in Malerkotla, 10,000 more than the votes of his Akali and Congress rivals put together. AAP will be disappointed if it fails to win this seat after such a good performance.
But for the people of Malerkotla, the main priority is finding a candidate who would ensure that the city's peace is never disturbed.
More in Catch
'Punjabi Muslims are heirs to a broken civilisation, but Sikhs are on our side'
Punjab polls: How Bhagwant Mann has become the Badals' worst nightmare
How a 'Muslim hater' failed to instigate a communal riot in Malerkotla
New low in Punjab politics: AAP Delhi MLA was framed for Quran desecration