Madhubani artist Shiv: I'm a Paswan, and I will vote for Paswan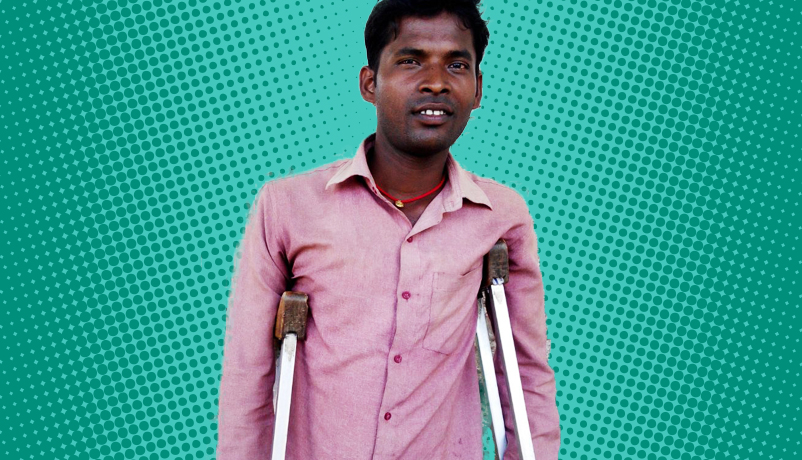 The artist
Shiv Kumar Paswan is an artist, specialising in Madhubani paintings
He has been honoured by the Bihar govt, and has overcome his physical disability to succeed
The argument
Shiv wonders why voting for one\'s own caste is such a big deal
He says he\'ll vote for Ram Vilas Paswan and the NDA
More in the story
Who he thinks would be better for artists - Nitish Kumar or Narendra Modi
Shiv\'s problem with Nitish\'s model of development
Elections are not just about politicians. They're about people and issues. And what will really drive their vote.
Catch is, therefore, starting a 'People of Bihar' series, which will daily capture what different impact groups across the state are feeling. This is true insight on the Bihar election: up-close and hyper-personal.
Shiv Kumar Paswan is an artist. More specifically, he has mastered the art native to his home district - Madhubani painting.
The 23-year-old needs to use crutches to walk because of his physical disability. But he has never let that interfere in his life.
Last year, Shiv joined a list of about 30 Madhubani artists to have won national or state awards, when the Nitish Kumar government decided to honour him.
But the arts graduate from Ram Krishna College in Madhubani still has a bone to pick with his fellow Indians. While his there are connoisseurs of his art abroad, there seem to be not many takers within the country. Because of this, Shiv, who hails from Jitwarpur village in Madhubani district, only manages to earn Rs 10,000-15,000 a month.
As the topic of conversation veers towards the Bihar elections, Shiv says Madhubani or Mithila paintings can even be used for campaigning in the polls. Here's more from the conversation.
What do you feel about the current state of Madhubani painting?
It is world famous, but it's not recognised in our own country.
The Nitish Kumar government gave me an award, but tell me, can one live his entire life off one award? The government needs to care enough to push Madhubani paintings outside the borders of Bihar. We need to have proper resources, exhibitions and an assurance to free this trade from middlemen.
Which government is better for an artist - Nitish Kumar's or Narendra Modi's?
Nitish's, because he has built art centres, Drishti Kendras and held regular award functions. Even the Congress did some good work for us. For example, at railway stations, they started displaying Madhubani paintings on the platform walls. It surely gave us an opportunity to make some money.
Whom will you vote for in these upcoming elections?
I am not sure. It entirely depends upon the political atmosphere in my village. I am from the Paswan caste and not many parties have given us adequate political representation.
"Nitish has given us roads and electricity, but also beer shops and alcohol thekas in every village"
Our tallest leader is Ram Vilas Paswan from the Lok Janshakti Party. Chances are that we'll go with the alliance he's in, that's the NDA.
What has Ram Vilas Paswan done for your region?
Nothing as such, but I am sure he would step in to help in the future. After all, he is from the same caste.
Do you vote on the basis of caste or development?
I will vote for development, but tell me, why not caste? When Yadavs are moving towards Lalu, Owaisi is talking about Muslims, then why shouldn't a Paswan go towards Ram Vilas Paswan?
Nitish's government provided large parts of Bihar with electricity, metalled road and education. Why do you still think he doesn't deserve your vote?
See, we all need a change. Nitish has given us good roads and electricity, but he has also given us beer shops and alcohol thekas in every village, and at every chowk. Just go to the village, and you'll see all kinds of Indian and foreign alcohol shops. What kind of development is this?
Also read: Bihar's Brahmins ask: why is our vote taken for granted?
Dalit PhD student Krishna: 7/10 for Nitish, 3/10 for Modi
An ATM guard who's always with a book, and why he'll vote NOTA
Banka Silk founder Udayan Singh wants a third term for Nitish
Graduate Azra feels Modi isn't inclusive enough to vote for
Whoever comes to power must create jobs: front-office boy Divyanshu
Nitish is a better leader than Modi: Student politician Zeeshan
Nitish has ruined his chance by joining Lalu: Lakshmi, graduate, Muzzafarpur
There's little to choose between Modi and Nitish: wannabe cop Vinit argues for NOTA
Lawyer Indira Sharma: Nitish started well, but has now lost his mind
Farmer Ali Ashraf: 'Dadri is jungle-raj. I don't want that in my state'
Researcher Sunita: don't like BJP but today's Nitish is worse
Social worker Munna Jha: no matter what surveys say, I'll vote for Nitish
Madrasa student Ahmed: Modi's promises fake, I'll vote for Nitish
Entrepreneur Imran: give BJP a chance to prove secular credentials
BCA graduate Manish gives Modi a 10/10. Find out why he's not voting Nitish