Lok Sabha election: Rahul Gandhi led Congress announces alliance with Chandrababu Naidu's TDP 'to save Indian democracy'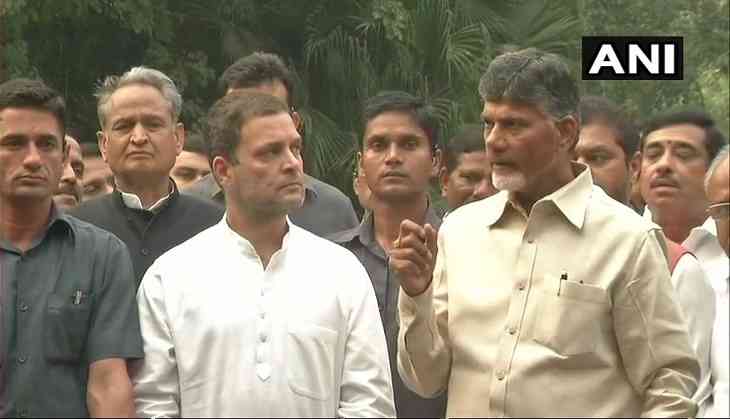 Rahul Gandhi and Chandrababu Naidu (ANI)
Amidst the meeting of the Opposition leaders that held in Delhi today, the TDP leader N Chandrababu Naidu met Congress chief Rahul Gandhi and have announced an 'alliance' for the 2019 Lok Sabha elections.
Ahead of the 2019 polls, this will be a big gamble for the Opposition as the leaders are preparing for a grand alliance and this will be the step forward into that plan. Rahul Gandhi has said that 'its critical for the opposition to come together and save Indian democracy'.
Rahul Gandhi is trying to stitch an anti-Modi stand in Delhi and has been successful in doing so, up till now, except Mayawati.
Rahul Gandhi has said that they will burry the past and work together to defeat the communal forces in the upcoming General Elections of 2019. "The principle idea is to defeat the BJP and save Indian democracy and the constitutional institutions."
Gandhi said 'We have to defend Indian democracy and it is very important for the Opposition to come together. We believe that corruption happened certainly in the Rafale jet deals and there needs to be an inquiry, which is the need of the hour."
The Opposition parties are now showing a unity amongst themselves and have realized that to defat the Narendra Modi-led BJP, an understanding and coalition will have to work at ground level and the demands and desires of every leader and party will be addressed after defeating the ruling BJP, as happened in 2004, when the United Progressive Alliance was formed, after defeating then BJP stalwart late Atal Bihari Vajpayee.
Also read: Lok Sabha election: Opposition leaders meet in Delhi 'to plan to protect the future of the nation'
We are coming together, to save the nation. We have to forget the past, now it is a democratic compulsion to unite. All opposition needs to be one: N Chandrababu Naidu after meeting Rahul Gandhi pic.twitter.com/K8Kd8W8zRi

— ANI (@ANI) November 1, 2018