Lalit Modi row: will Raje's 'birthday gift' unite the Opposition?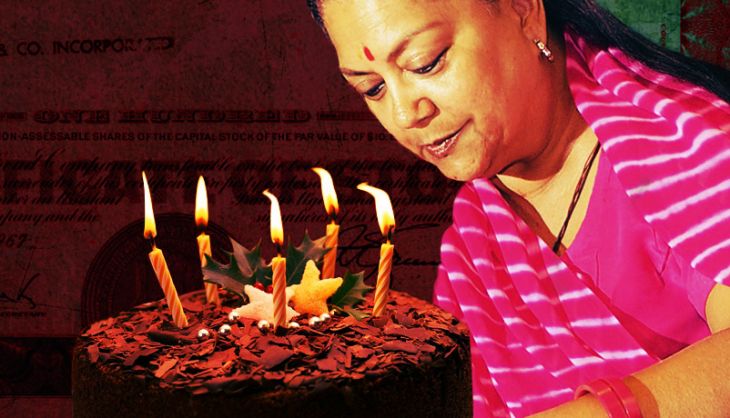 The development
Allegations have surfaced that Vasundhara Raje has benefitted financially from Lalit Modi\'s largesse.
Her son and daughter-in-law are said to have \'gifted\' her shares of the company which had shady dealings with Modi.
This direct involvement is why the Congress has turned its focus to calling for Raje\'s head.
The quandary
The Narendra Modi government has projected itself as strictly anti-corruption.
If the BJP forces Raje to resign, it\'ll be a win for the opposition, and it may intensify calls for other resignations.
Raje remains popular in the Rajasthan BJP, and her supporters could split the party.
If she stays, the opposition may not allow Parliament to function.
More in the story
Reactions from the Left, NCP, JDU and BJD.
TMC, strangely, is observing a studied silence.
It might be the 'birthday gift' that will finally do her in. Over the last two weeks, Rajasthan Chief Minister Vasundhara Raje has been trying to wing her way through the mounting allegations against her in the Lalit Modi row. But with each revelation, both her own defence and that of the BJP has become increasingly more bizarre.
She first denied that she had intervened with UK authorities on behalf of IPL chief Lalit Modi, to help him get immigration papers. When the Congress produced a document signed by her doing exactly this, she adroitly claimed she had intervened in her personal capacity and not formally deposed before any court.
It seemed to escape her that this admission proves she was lying earlier, and it also finesses the fact that Modi was a man accused of serious financial fraud and his passport was revoked. What was she doing vouching for him?
But all of that has been dwarfed by the latest revelations against her, which suggest she directly benefited financially from Modi's largesse.
Until now, the Lalit Modi row involving both Raje and External Minister Sushma Swaraj had seemed purely a Congress-BJP face-off, with other Opposition parties divided on how hard they wanted to play this. The interesting question now is, with harder proof available on a seeming financial quid pro quo between Raje and Modi, will the Opposition parties unite to ask for her scalp and weaken the BJP?
The nitty-gritties
Before assessing the Opposition mood though, first, here's the latest revelations on Raje:
Former UPA minister and senior Congress leader from Rajasthan, CP Joshi, first made these allegations on 18 June.
Referring to a writ petition filed in the Delhi High Court, Joshi revealed that Lalit Modi's Ananda Heritage Hotels Private Limited (AHHPL) had invited fictitious share applications. On the basis of these share applications, a sum of Rs 10,33,15,733/- was shown to be deposited.
A Mauritius-based fictitious company called Wilton Investment Limited was shown to have purchased 2,10,83,348 AHHPL shares at Rs 10 per share and, in this manner, diverted a sum of Rs 21,08,33,480/- to AHHPL.
AHHPL then diverted funds to Niyant Heritage Hotels Private Limited (NHHPL), owned by Raje's son Dushyant and daughter-in-law Niharika, through the following means:
Giving unsecured loan to NHHPL amounting to Rs 3,80,00,000/-, even as NHHPL was hardly doing any business activity.
Purchasing 395 shares of NHHPL of Rs 10 per share @ Rs 96,190 per share and, in this manner, diverting Rs 3,79,99,000 to NHHPL in 2008.
Again purchasing 420 shares of Rs 10 per share @ Rs 96,190 per share and, in this manner, diverting Rs 4,03,99,800 in 2009.
Dushyant had 5,000 shares of Rs 10 per share (total investment of Rs 50,000) and Niharika having 5,000 shares of Rs 10 per share (total investment of Rs 50,000).
The total authorised capital of NHHPL was Rs 10 lakh.
Compounding the problem
So far, Raje's association with the suspicious transaction between these companies was simply that her son and daughter-in-law were shareholders in the company which received funds from Modi.
However, a startling revelation came to light on Friday, 26 June.
Raje's affidavit submitted before the 2013 Rajasthan Assembly elections shows that she held 3,280 shares in NHHPL at that time, just a little short of the 5,000 shares each owned by her son and daughter-in-law. This takes the guilt directly to her own doorstep.
Pointed allegations that Raje benefitted fiscally from Lalit Modi's largesse have put her in further trouble
This is what made Congress spokesperson Dr Ajoy Kumar claim, "Once Lalit Modi accomplished the blatant quid pro quo of surreptitiously benefitting Raje to the tune of Rs 11.60 crore by buying shares and giving unsecured loans in 2009, Raje conveniently acquired shares of the company after that."
Kumar asked the BJP, "Wasn't this, prima facie, an attempt at hoodwinking so that direct collusion does not look apparent in future? With this direct client-server relation in the open, isteefa ab nahi to kab? (When will her resignation come, if not now?)"
The Portuguese link
The other allegation involving a financial transaction with links to both Raje and Modi pertains to the signing of an MoU between the government of Rajasthan and Lisbon-based Champalimaud Foundation to establish a centre for cancer diagnosis, treatment and research in Jaipur.
This MoU was signed in October 2014, under Raje's watch as CM. This is the same foundation where Modi has claimed his wife was being treated for cancer and where, he also claimed, Raje accompanied his wife twice.
According to the said MoU revealed by the Congress, the following facts became evident:
The foundation will be provided 8.7 acres of land in Jaipur free of cost.
The Rajasthan government will bear the entire cost of civil construction of the centre, the cost of machines and equipment needed, as well as the cost of hiring and paying salaries to the medical/para-medical/administrative staff there.
The foundation will only provide technical, training and operational support once the proposed project is completed.
The centre, once it comes up, shall not be owned and governed by the Rajasthan government, but by a society that will have representatives of the foundation.
The point to understand, the Congress alleges, is that "on one hand, in a project involving disbursement and disposal of public resources worth hundreds of crores, no tendering/bidding requirements have been met. On the other hand, it has also been ensured that the beneficiary foundation does not invest a single paisa into the project."
According to Joshi, this was essentially a favour done to the foundation by the Rajasthan CM at the expense of public money. "This is not only impropriety, but a clear case of corruption, in which money from the public exchequer is being sloshed for crony gratification."
Suppressing information
It has appears that Dushyant tried to hide NHHPL and its transactions with Modi's AHHPL. He did not mention these details in his affidavit for the 2009 Lok Sabha elections, in spite of having set up NHHPL in 2005, according to a story in The Indian Express.
In fact, he claimed he did not own any commercial establishment or property and also did not list the Rs 3.80 crore loan his company received from AHHPL in the liabilities column.
NHHPL is also reported to have failed to file its annual return and balance sheets for the year it entered into a multi-crore deal with AHHPL. The firm and its directors, Dushyant and Niharika, were listed as defaulters by the Union Ministry of Corporate Affairs. The ministry also mentioned the duo in separate lists of defaulting companies and directors published on its website earlier this year.
Weak defence
Attempts by central BJP leaders like Nitin Gadkari and Arun Jaitley to absolve Raje of these charges are sweeping generalisations.
Gadkari's "all allegations against Vasundhara Raje are baseless" and Jaitley's "nobody is tainted" hardly make for any defence. The party's Rajasthan leaders took on the allegations specifically, but their defence, too, appears flimsy.
BJP state unit chief Ashok Parnami defended Raje by saying that Dushyant and his wife had gifted 1,615 and 1,665 shares to her on her birthday, not realising in that case, Raje's profit becomes higher.
State health minister Rajendra Rathore told reporters the Cancer Centre was being set up for the benefit of the people and the Portuguese hospital was selected among various options for its 'low cost'. He also insisted that the state government will retain ownership of the land for the hospital.
Raje's resignation will mean an admission of guilt and the opposition attack may continue till others resign
All these statements appear to be making it clearer by the day that the BJP is increasingly finding it tough to defend Raje. Indeed, sources claim that Prime Minister Narendra Modi, BJP chief Amit Shah as well as senior RSS leaders are unhappy over these developments and are conscious that it is eroding the image of the party everyday.
However, there are two hiccups - Raje's resignation will mean an admission of guilt and victory of the opposition. In such a scenario, who is to say whether the opposition attack will ebb without demanding other resignations as well? Secondly, Raje herself does not appear in any mood to succumb to pressure, and if she is forced to resign, the possibility of a revolt in the party's state unit can not be ruled out.
United opposition
In the meantime, while the Congress has upped the ante, the opposition parties are speaking out more strongly as well.
CPI(M) Lok Sabha MP Mohammed Salim told Catch, "She (Raje) must go. Anyone having some semblance of shame and accountability and probity ought to have resigned by this time. BJP has itself set a standard - when corruption was there in case of the UPA government, they didn't allow Parliament to run, talking of getting rid of the daag (stain) on Parliament, so now they must follow that standard themselves."
The JD(U) is also demanding Raje's resignation. Rajya Sabha MP Pavan Varma said his party was "saying the same things as Congress, that they - Swaraj and Raje - should resign. A SIT should go into it fully and it should be investigated. In particular, we are asking why is the PM silent? Our real critique is, BJP came to power striding on the moral high ground. And that has been completely shattered and the PM is just silent."
The Biju Janata Dal (BJD) is more concerned with questioning the silence of the PM. According to BJD's Pratap Keshari Deb, "The BJP has made good governance and corruption free governance its political plan. The PM, upon the completion of one year, boasted about it. Now that a question of impropriety has arisen, the PM needs to clear the air. When you have set yourself high moral grounds of governance, then the PM should make a call on resignation."
While the Trinamool Congress is maintaining a studied silence on the issue, the NCP is clearly not pushing for a resignation. NCP general secretary DP Tripathi said his party's position was clear. "There has to be an objective probe into the case, especially into the Dushyant account and everything has to be checked properly. First, let Raje explain her case, which she has not. Depending on her explanation and investigation, we will decide the future course of action."
Raje visited Delhi for a couple of hours on Saturday, amidst heavy speculation over BJP's future course of action. She is back in Jaipur and the party's top leadership continues to be silent. The strategy might continue to be to try to weather this storm.
The opposition mood does seem to be inclined towards continuing to drag the issue till heads roll. If that doesn't happen before the Parliament session next month, one can be assured of a stormy monsoon session, outside the Parliament as well as inside.
With inputs from Nur Laiq.