Congress fears Kerala calf slaughter will haunt party in poll-bound Karnataka, Gujarat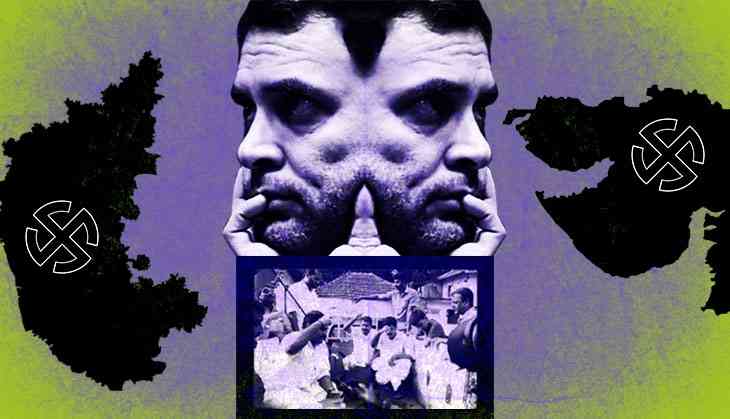 (Arya Sharma/Catch News )
The public skinning of a calf by Youth Congress activists in Kerala to protest the Centre's ban on the sale of cattle for slaughter at markets has led to a huge outrage.
While senior Congress leaders, including party vice president Rahul Gandhi, were quick to condemn the barbaric incident, many believe the damage has already been done.
A major poll issue
A section of the leadership believes that BJP will make it a major poll issue during the upcoming assembly elections in Gujarat, Himachal Pradesh and Karnataka which will cause serious political damage to the grand old party's prospects in these states.
In fact, Gujarat Chief Minister Vijay Rupani made the party's intentions clear when he asked the state unit of the Congress to explain the Kerala incident. In a series of tweets, the Gujarat chief minister took pot shots at the Congress, calling it a sinking boat which has revealed its true face in Kerala.
केरल में कांग्रेस द्वारा की गई गौ हत्या के दुष्कर्म का जवाब गुजरात कांग्रेस दे। @gujcongress

— Vijay Rupani (@vijayrupanibjp) May 30, 2017
कांग्रेस ने केरल में गाय माता की हत्या करके अपना असली स्वरूप दिखा दिया है। विनाश काले विपरीत बुद्धि | कांग्रेस अब डूबती नाव बन गई है।

— Vijay Rupani (@vijayrupanibjp) May 29, 2017
When asked about whether BJP would make this an election issue, a functionary of BJP's Gujarat unit said, "Isn't this obvious? They do something as barbaric as this and we should not even raise it. The Gujarat election is a prestige issue for Prime Minister Narendra Modi which has been clear by the state unit. In these circumstances, if we find an opportunity like this, we would be fools to let go off it."
His reasoning was backed by a senior Congress functionary, who was closely associated with Gujarat's politics, who claimed that BJP would use every trick in its bag to polarise the elections and this incident have presented them the opportunity to attack the Congress and label it as a party supporting cow slaughter.
"We condemn the public skinning of a calf. There is no reason for any right thinking person to defend such actions and law should take its own course. However, ever since 2014, BJP has made every effort to polarise every election and Gujarat, Himachal and Karnataka would be no different," he said.
Adding to it, he pointed that after decades of trying to make cow slaughter a national issue, BJP has finally succeeded in doing so which he says can be seen in multiple incidents of people of a particular community being lynched on mere suspicion of smuggling cattle or possessing beef.
"Unleashing violence in the name of cow slaughter has reached its peak and in these circumstances, it would be foolish to assume that they would not exploit this incident for political gains," he added.
Doublespeak and deception
Meanwhile, former Gujarat Congress President, Arjun Modhwadia, dismissed these observations and cited several examples of how beef production has hit a new high under the ruling dispensation. He claimed that whatever happened in Kerala is shameful but accused the saffron party of doublespeak and deception.
"Their ministers openly claim that they consume beef and no one can stop them. Their state presidents in north-eastern states and Goa are promoting beef consumption. So, one should question as to what is BJP's stand on beef consumption at a national level. You can't have two set of rules for different states," Modhwadia said.
Similar sentiments were echoed from Congress leaders in Karnataka who believe that efforts will be made to turn this incident into a major poll issue. The southern state goes to polls in 2018 and Congress leaders fear that though cow protection doesn't evoke such violent response in the state, it could bring much negative publicity to the BJP.
"If you tell a lie a thousand times, people start believing it as truth. Similarly, if BJP keeps telling people that cow is a mother, they would start believing it. And now they even have a video proof of Congressmen slaughtering a calf in full public view," he said.
Moreover, he adds that the influence of Dravidian politics on Karnataka is deep rooted and no one here calls cow their mother. However, he does have a word of caution for all party leaders which is that "no one should make statements like Asaduddin Owaisi that I eat beef. It could then completely backfire." He claimed that if BJP resorts to cow politics, it will certainly lose the polls with a even higher margin.
Another senior Congress functionary backed the claims that beef consumption is quite popular amongst Dalits, OBCs and minorities, who according to him constitute 34%, 48% and 11% respectively. "They are organising beef festivals across the state which is a testimony of how popular its consumption is in the state especially the coastal regions. It would not be an easy task for them to polarise the communities on this issue, however, there is no denying that they will try to certainly exploit it for political gains," he said.
However, all of them are worried over how this incident would play out in the days leading to assembly elections. Considering the grand old party has nothing to say in its defence of such a ghastly act, it remains to be seen how well BJP uses this incident to portray Congress as a party that supports cow slaughter.
Cow politics
Ever since the BJP government came to power in 2014, it has been repeatedly raising the issue of cow protection leading to so-called gau rakshaks lynching Muslims on mere suspicion of possessing beef. In these circumstances, anyone defending the practice of beef eating is labeled as "anti-Hindu" and "pro-minority".
In fact, Congress had been trying hard to shed these two tags ever since its embarrassing rout in the 2014 General Elections. Once again, it tried to entered into n alliance to woo the minority vote-bank which led to the majority abandoning them. The-four member AK Anthony Committee, formed to look into the reasons for the defeat of 2014, cited the strategy of using secularism vs communalism and minority appeasement as one of the primary reasons for the 2014 debacle.
The Kerala incident has given fodder to Congress' detractors to yet again portray the grand old party as anti-Hindu. It remains to be seen how Congress' strategists choose to counter these allegations and bounce back to stop the BJP juggernaut.