Kejriwal's mega Maghi show leaves Congress, Akalis a worried lot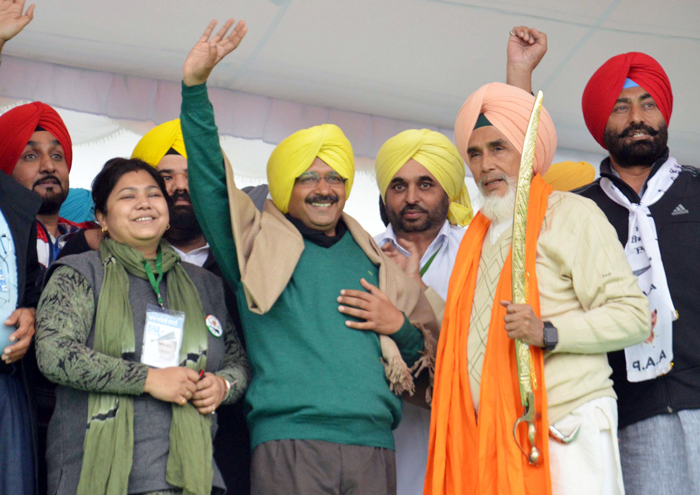 The rally
The Aam Aadmi Party held its first political rally at the Maghi Mela in Muktsar this week
Party convenor and Delhi CM Arvind Kejriwal attacked the ruling Badals and the opposition Congress
The reception
AAP\'s was the most well-attended rally at the annual fair, which hosts political rallies
Reports say people who arrived in buses arranged by SAD and Cong went to the AAP rally instead
More in the story
Kejriwal\'s speech and its impact
How SAD and Congress are responding to the AAP threat
The Aam Aadmi Party's mega show at the Maghi Mela in Muktsar has left the two traditional political forces in Punjab, the Congress and the Shiromani Akali Dal (SAD), worried.
The two parties have eventually come to terms with the fact that the AAP, which had managed to win four seats in the last Lok Sabha elections, is here to stay as a major challenge for them.
The rally is being seen as a sign of things to come in the next year's assembly elections. AAP has taken a head start, and the other two parties will have to rewrite their scripts to counter the aggressive politics of Delhi Chief Minister Arvind Kejriwal and the party's cadres.
Kejriwal on the offensive
It is a tradition for political parties to address their supporters and cadres at the Maghi Mela in Muktsar.
Also read: Maghi Mela: the road to the 2017 Punjab polls begins here
AAP was a first-time entrant at the event and, to everyone's surprise, it drew the maximum crowd, despite the fact that both SAD and Congress had arranged for buses to ferry their supporters from adjoining areas. Reports suggest that many of the people came by the SAD/Congress buses, only to go and join the AAP congregation.
Kejriwal made a quiet entry to the AAP stage and, just as he unsheathed a sword, the excited crowd stood up. From that moment, it was an electric show. Kejriwal came up with an aggressive speech, targetting both the Akalis and the Congress.
Calling Chief Minister Parkash Singh Badal and his son and deputy Sukhbir 'dangerous', he asked the people not to be afraid of them and stand up against them, just as he was doing.
AAP convenor Arvind Kejriwal's rally in Muktsar, Punjab, was an aggressive, well-attended affair
"When their 'Tau' (uncle, a reference to Prime Minister Narendra Modi) couldn't do anything to me, why should I be afraid of the Badals? You need not be afraid of them either. If they register false cases against you for siding with AAP, don't worry. Once in power, we will withdraw those cases," he said while promising to probe the misdeeds of the Badals and put them behind bars.
Saying that Congress and SAD were a team, he attacked revenue minister Bikramjit Singh Majithia, whose name had surfaced for being involved in drug trade, a charge that he has denied.
Kejriwal said even state Congress chief Captain Amarinder Singh had been supporting him. "You cannot expect him to take action against Majithia. It is only the 'aam aadmi' who can put Majithia behind bars," he said.
Congress mocking
The massive response drawn by AAP led the other two parties to launch a frontal attack on Kejriwal, with some even using derogatory terms against him and his partymen.
Congress leader Rajinder Kaur Bhattal reportedly called him 'jhootha topiwala' and Amrinder Singh Raja Warring called AAP's Sangrur MP, Bhagwant Mann, a 'dugdugi bajawan wala' (one who plays dugdugi, a folk instrument).
Also read - Sweep Stakes: AAP emerges as a serious contender in Punjab assembly polls
Another leader, Sadhu Singh Dharamsot, called Kejriwal 'an opportunist who had betrayed an able leader like Anna Hazare'.
Former CM Captain Amarinder Singh attacked AAP by warning the people against pushing Punjab into another five years of chaos and uncertainty, after 10 years of the Badals' 'misrule'. He said: "Punjab needs an efficient and experienced government, which can retrieve the state from the social, economic and political mess the Akalis have consigned it to."
Congress heavyweights have taken to calling Kejriwal and other AAP leaders derogatory names
Referring to Kejriwal, Amarinder asked him about his achievements in Delhi, where he has been ruling for about a year now. He also questioned the source of AAP's massive expenditure on mobilising people and spending huge money on publicity.
"After all, somebody has to pay for all these expenses," he pointed out.
He asked people to tell their wards not to follow Kejriwal, as he was doing 'drama' to mislead the state's disillusioned youth.
Badals on the margins
The SAD, too, targeted AAP, saying it is an urban phenomenon full of rumour mongers. Parkash Singh Badal himself has been playing up the issue of Kejriwal being an outsider to the state.
He said: "Kejriwal is not from Punjab, and knows nothing about the state. I can guarantee you that he cannot differentiate between the varieties of crops, since he has not stayed at a village."
He went on to call AAP a unit of fugitives and turncoats of SAD and Congress.
Sukhbir tried to play the Sikh card at the event. "If you make the Akali Dal stronger, the Sikh community will remain strong. But if the SAD is weakened, everything will be lost," he said.
He also attacked Kejriwal, saying people would not accept a 'topiwala' as their leader, much to the embarrassment of some BJP leaders sitting there wearing caps. The SAD rally saw thin attendance.
Tide turning?
On his last visit to Chandigarh, AAP's state convener Sanjay Singh had said: "The extent to which they are shaken by AAP can be gauged by the fact that in their half hour speeches, both Amarinder and Badal dedicate half the time to attacking AAP." His words certainly ring true after the Muktsar rallies.
Observers feel the reason for the AAP picking up momentum is the disenchantment and disillusionment of the voters with the two traditional political forces.
AAP has been successful in drawing the youth to its fold by raising the issues of unemployment and frustration at almost every turn. It has also been touching the raw nerve of the farming community by raising the issue of the agrarian crisis, supply of spurious pesticides and farmer suicides.
Kejriwal's announcement that an AAP government would provide a compensation of Rs 50,000 to farmers losing their crop drew a massive response at the Maghi Mela rally.
People want a change for the better, and seem willing to give the new force a chance after five decades of Congress and Akali dominance of Punjab's politics.
More in Catch - Heads up: Is Arvind Kejriwal primed to be the next CM of Punjab?
Why staying with Akalis will help BJP in Punjab
Punjab unrest: the problem is Badal & Son, not Khalistan 2.0