Kejriwal's latest crusade: reveals Amarinder & family's Swiss account details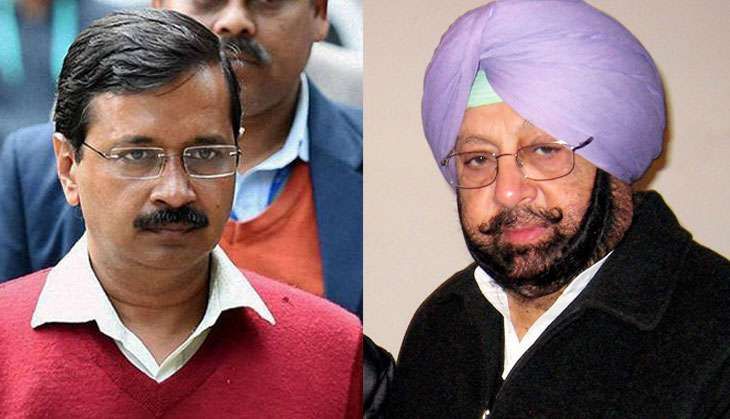 Aam Aadmi Party convenor and Delhi Chief Minister Arvind Kejriwal is currently on an 11-day tour of Punjab, which observers say is crucial to the party's fortunes in next year's Assembly elections.
Not only is the tour a chance for Kejriwal to boost the morale of the party's cadres, but it's also a great opportunity to challenge the Congress, which has emerged as its main rival, on different issues.
But this is Kejriwal - so some stunning revelations have to be the order of the day. And true to form, Kejriwal has come out with what he claims to be the Swiss bank account details of Punjab Congress president Amarinder Singh and his family. He claimed the family stashed huge amounts of 'ill-gotten' money during Amarinder's tenure as Punjab Chief Minister from 2002-2007.
AAP leader Ashish Khetan had earlier levelled the same allegations against Amarinder.
In response, Amarinder called Kejriwal a paid agent of Union Finance Minister Arun Jaitley.
Kejriwal's challenge
At a gathering at Kotshamir in Bathinda, Kejriwal revealed the account details of Amarinder's wife and former Union minister Preneet Kaur and their son Raninder Singh. Kejriwal said Preneet Kaur opened an account on 26 July 2005, bearing the number 509018445. He said Raninder's account was opened on the same day, numbered 5090184484.
Kejriwal further said that besides these accounts, they had also formed a trust to transfer their money, and the account number of their trust was 5090284483.
He challenged Amarinder to file a defamation case if the information was wrong. He also challenged Prime Minister Narendra Modi to bring back the black money stashed by Amarinder and his family.
"Instead of going after the poor people and the common man, Modi should go after people like Amarinder to bring back the black money stashed in foreign accounts," Kejriwal said.
He also asked Modi why he did not go after the Badals (Chief Minister Parkash Singh and his deputy and son Sukhbir), who have the biggest chunk of black money.
"Badals, during the last 10 years of misrule, amassed huge money due to their control on almost all businesses, including transport, cable, mining, liquor etc.." Kejriwal said.
The issue is likely to be raised by AAP at every political rally in the days to come. It had failed to enthuse the people when Khetan had raised it earlier this year, but it remains to be seen whether AAP, which is known for its anti-corruption politics, can make it a key election issue.
Amarinder's counter-attack
Ready with a counter-attack, Amarinder accused Kejriwal of acting as Jaitley's 'paid agent', and ridiculed his attempt to once again rake up the 'fabricated and politically motivated' charges of the existence of Swiss bank accounts in the names of his family members by releasing old and unauthenticated documents.
Questioning Kejriwal for using an election rally platform in Bathinda to make old allegations instead of facing the media on the issue, Amarinder said it was more than evident that the AAP leader had no answers to the questions the media would definitely have raised following the release of the old documents.
Amarinder said the alleged account numbers which are allegedly held by his family members are the same old numbers which Kejriwal's colleague Khetan had released in March 2016, and which he had already shown to be a sham.
He rejected the allegations as baseless and a publicity stunt that had no foundation, and whose veracity even the Central and state governments had failed to prove, despite having the entire official machinery at their disposal.
Alleging an election-motivated nexus between the ruling Shiromani Akali Dal (SAD)-BJP combine and the AAP, Amarinder said there had been attempts to malign him by implicating his family members falsely before the parliamentary elections as well. Amarinder had fought against Jaitley from the Amritsar Lok Sabha seat, and won.
He pointed out that Modi had launched a tirade against his family members at an election rally in Barmer, which Jaitley had picked up for his election campaign in Amritsar.
Amarinder said Jaitley had, as expected, suffered a humiliating defeat, clearly showing that the people of Punjab could not be taken in by such senseless charges, which even the Enforcement Directorate, working at the behest of the Finance Minister, had failed to prove.
Edited by Shreyas Sharma
More in Catch
AAP forges first pre-poll alliance, may sweep Ludhiana with Bains brothers
Will Kejriwal's upcoming rally spree improve AAP's fortunes in Punjab?
Punjab: Akalis and Congress corner AAP for shaky stance on SYL