Kejriwal's first Goa rally in Benaulim: 'It's everyone else vs AAP'
Delhi Chief Minister Arvind Kejriwal addressed his first election rally in Goa on Saturday, 7 January.
Speaking at Benaulim, a Catholic-dominated constituency where the Aam Aadmi Party had organised its first rally in the state a year ago, Kejriwal said that Goa Chief Minister Laxmikant Parsekar and AAP's CM candidate Elvis Gomes represented the two sides of Goa politics.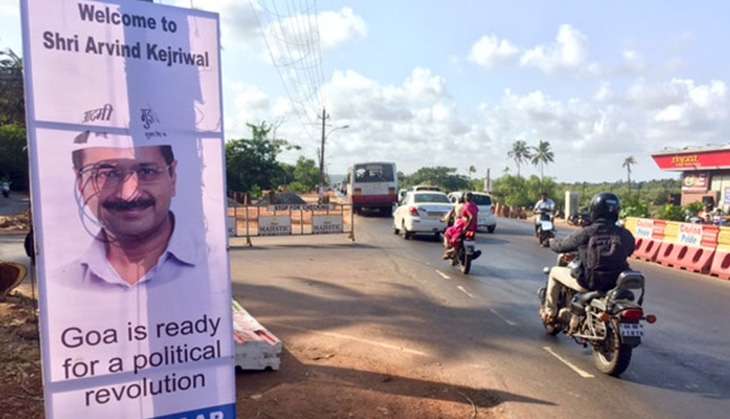 A poster outside the rally venue in Benaulim. (Photo: Nihar Gokhale/Catch News)
Gomes, a former bureaucrat, has been charged by the state anti-corruption bureau over alleged irregularities in an earlier assignment with the Goa housing board.
"These charges are concocted. Parsekar is going after Elvis while corrupt Congress leaders are going scot free. I got a call last night saying that Elvis will be arrested before I land. I said that's fine, I will meet him in jail," Kejriwal told a rally of around 500 people - many wearing AAP caps.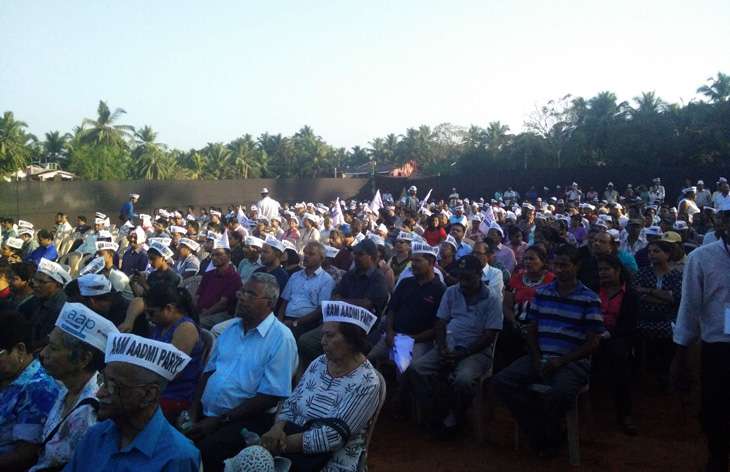 Attendees at the rally wear Aam Aadmi Party caps. (Photo: Nihar Gokhale/Catch News)
Kejriwal is scheduled to address three other rallies in the state over the weekend. Benaulim is among the constituencies where the AAP is being considered favourite.
Here's a blow-by-blow account of how the rally progressed:
Traditional fishermen dance ahead of Arvind Kejriwal's first election rally in Goa at 5 pm. pic.twitter.com/IBUym4KtvG

— Nihar Gokhale (@nihargokhale) January 7, 2017
Aam aadmis passing time before Kejriwal arrives for rally in Benaulim, Goa pic.twitter.com/VSNq8XoT9U

— Nihar Gokhale (@nihargokhale) January 7, 2017
.@ArvindKejriwal arrives to address first election rally in Goa at Benaulim pic.twitter.com/bAqMpwKsOS

— Nihar Gokhale (@nihargokhale) January 7, 2017
BJP has a department of dirty tricks that goes into overdrive. AAP Goa CM candidate @ielvisgomes on corruption case against him

— Nihar Gokhale (@nihargokhale) January 7, 2017
BJP govt sold tiracol village to hotel company, how were they going to give special status to goa? @ielvisgomes at Kejriwal rally

— Nihar Gokhale (@nihargokhale) January 7, 2017
Kejriwal speaking in Goa https://t.co/993uicdllS

— Nihar Gokhale (@nihargokhale) January 7, 2017
I got a call last night that Goa govt will arrest @ielvisgomes before I land in Goa. Parsekar not going after Congress but us: Kejriwal

— Nihar Gokhale (@nihargokhale) January 7, 2017
Mandovi Bridge project was ₹400 crore, now doubled. In Delhi we build bridges for under ₹300 crore: Kejriwal in Goa. @CatchNews

— Nihar Gokhale (@nihargokhale) January 7, 2017
We'll tell industry to reserve 80% jobs for Goans: Kejriwal in Goa @CatchNews

— Nihar Gokhale (@nihargokhale) January 7, 2017
Because of #DeMonetization Goa hotels are running empty even in peak tourist season: Kejriwal in Goa @CatchNews

— Nihar Gokhale (@nihargokhale) January 7, 2017
Outside airport people told me they used to vote BJP but now will take revenge against Modi for #DeMonetisation: Kejriwal in Goa @CatchNews

— Nihar Gokhale (@nihargokhale) January 7, 2017
Election manifesto is a holy book for us. When I wake up every day I read the Delhi manifesto. BJP Does jumla: Kejriwal in Goa @CatchNews

— Nihar Gokhale (@nihargokhale) January 7, 2017
TV channels will show you false surveys. Don't believe them. Tell others too in your neighbourhood : Kejriwal in Goa @CatchNews

— Nihar Gokhale (@nihargokhale) January 7, 2017
This time take money from both parties but vote for AAP. Let's fool them.: Kejriwal in Goa @CatchNews

— Nihar Gokhale (@nihargokhale) January 7, 2017
Goa is not a four cornered contest. It's bipolar. All parties are conspiring to defeat AAP: Kejriwal @CatchNews

— Nihar Gokhale (@nihargokhale) January 7, 2017
Edited by Shreyas Sharma
More in Catch
Why the biggest threat to BJP in Goa is Hindutva
Meet Elvis Gomes, former bureaucrat and AAP's likely CM nominee in Goa
AAP to lead Goa towards development, change face of Panaji: Arvind Kejriwal