Kejriwal & Mamata sound demonetisation war cry: "Modi is PM of the rich"
Four cows clambered over a pile of rotting vegetables at Delhi's Azadpur Mandi, greedily gobbling up the cauliflower, cabbage, spinach and other greens that remained unsold and had to be thrown away.
This sight, in many ways, captured the impact of Prime Minister Narendra Modi's demonetisation scheme.
"This government cares more about cows than human beings. The cows are eating these vegetables, soon they will be chewing the discarded currency notes as well," Dayashankar, a vendor selling chilli and gooseberry told Catch.
The setting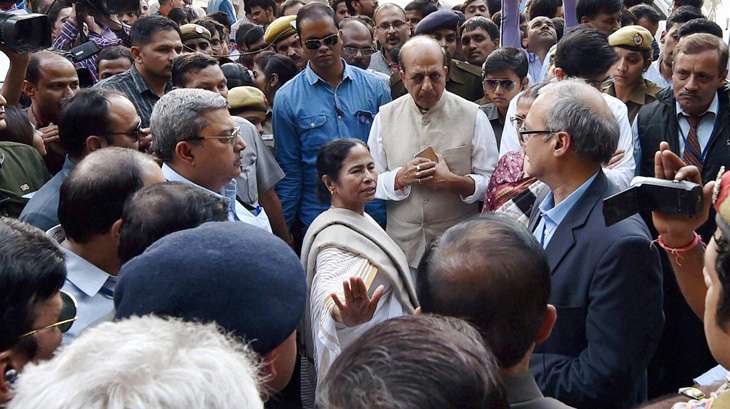 PTI photo
Delhi Chief Minister Arvind Kejriwal and his West Bengal counterpart Mamata Banerjee couldn't have found a more appropriate place to sound their war cry against Modi's demonetisation scheme.
Azadpur Mandi is Asia's largest wholesale vegetable and fruit market. Lakhs, if not crores, of people across India are directly or indirectly dependent on it for their livelihood. Modi's decision to declare Rs 500 and Rs 1000 notes as illegal tender has hit the mandi's economy hard.
The demand for fruits and vegetables has declined significantly as cash-strapped people are buying the bare minimum. Vegetable vendors don't have enough cash to buy from wholesalers. Wholesalers don't have enough cash to pay labourers. Transporters don't have enough to pay truck drivers. The impact is being felt by each an every link in the entire chain - from the farmer who grows the vegetables and fruits, to the consumer who eats them.
Therefore, the message being sent by Kejriwal and Mamata will go well beyond the Azadpur Mandi. And their message is clear - that Narendra Modi is a Prime Minister of the rich.
PM of the rich
"Modi's friends Adani and Ambani aren't standing in queues outside the ATM. They are getting cash at home through home delivery," Kejriwal said.
Recent reports that the government has "written-off" loans of big industrialists gave further fodder for Kejriwal to accuse Modi of crony capitalism. "Banks gave loans worth Rs 8 lakh crore to billionaire industrialists. They gobbled up the money. Banks are empty. Modi has written off loans worth Rs 1.14 lakh crore," he said.
Targettng the State Bank of India, which claims to be a 'Banker to Every Indian', Kejriwal added: "You saved your money in banks. Now SBI has written off loans worth Rs 6,000 crore".
Kejriwal didn't stop there. He alleged that the money people were depositing in banks would eventually used for the benefit of Modi's 'industrialist friends'.