Kejriwal & Mamata sound demonetisation war cry: "Modi is PM of the rich"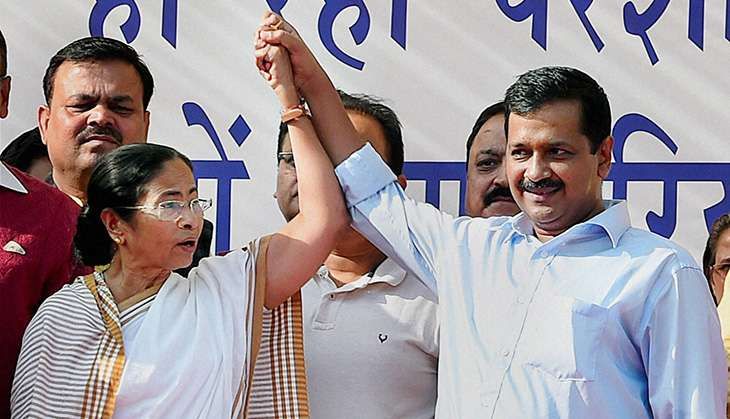 Four cows clambered over a pile of rotting vegetables at Delhi's Azadpur Mandi, greedily gobbling up the cauliflower, cabbage, spinach and other greens that remained unsold and had to be thrown away.
This sight, in many ways, captured the impact of Prime Minister Narendra Modi's demonetisation scheme.
"This government cares more about cows than human beings. The cows are eating these vegetables, soon they will be chewing the discarded currency notes as well," Dayashankar, a vendor selling chilli and gooseberry told Catch.
The setting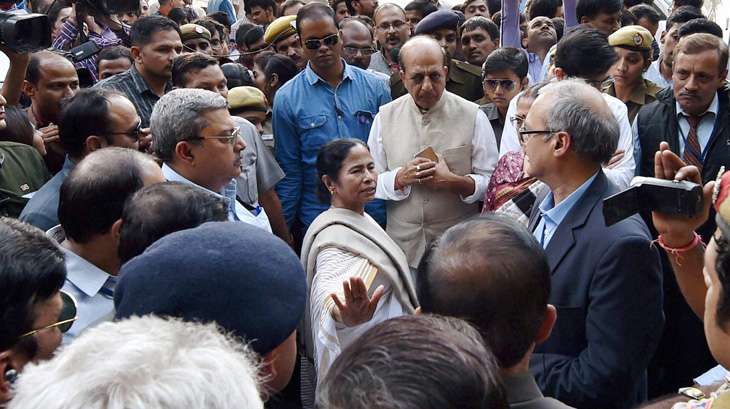 Mamata Banerjee and Arvind Kejriwal at a rally at Azadpur Mandi, Delhi. (PTI photo)
Delhi Chief Minister Arvind Kejriwal and his West Bengal counterpart Mamata Banerjee couldn't have found a more appropriate place to sound their war cry against Modi's demonetisation scheme.
Azadpur Mandi is Asia's largest wholesale vegetable and fruit market. Lakhs, if not crores, of people across India are directly or indirectly dependent on it for their livelihood. Modi's decision to declare Rs 500 and Rs 1000 notes as illegal tender has hit the mandi's economy hard.
The demand for fruits and vegetables has declined significantly as cash-strapped people are buying the bare minimum. Vegetable vendors don't have enough cash to buy from wholesalers. Wholesalers don't have enough cash to pay labourers. Transporters don't have enough to pay truck drivers. The impact is being felt by each an every link in the entire chain - from the farmer who grows the vegetables and fruits, to the consumer who eats them.
Therefore, the message being sent by Kejriwal and Mamata will go well beyond the Azadpur Mandi. And their message is clear - that Narendra Modi is a Prime Minister of the rich.
PM of the rich
"Modi's friends Adani and Ambani aren't standing in queues outside the ATM. They are getting cash at home through home delivery," Kejriwal said.
Recent reports that the government has "written-off" loans of big industrialists gave further fodder for Kejriwal to accuse Modi of crony capitalism. "Banks gave loans worth Rs 8 lakh crore to billionaire industrialists. They gobbled up the money. Banks are empty. Modi has written off loans worth Rs 1.14 lakh crore," he said.
Targettng the State Bank of India, which claims to be a 'Banker to Every Indian', Kejriwal added: "You saved your money in banks. Now SBI has written off loans worth Rs 6,000 crore".
Kejriwal didn't stop there. He alleged that the money people were depositing in banks would eventually used for the benefit of Modi's 'industrialist friends'.
"The public will deposit Rs 10 lakh crore in banks, Modiji will write off loans worth Rs 8 lakh crore for his industrialist friends. What do the people get? Nothing. We have been betrayed," he said.
Mamata Banerjee attacked the Prime Minister, saying he had lost touch with India's ground realities by taking so many foreign trips.
"Modiji speaks of plastic money... it seems he has spent too much time abroad; he has started speaking their language. He has forgotten about his own country and people," she said. "What does he (Modi) think, that Indians must remain hungry, while he runs away abroad."
The pain of the poor
The Aam Aadmi Party (AAP) was innovative in the way it organised the rally at Azadpur Mandi. In between the speeches of its leaders, AAP also provided a platform to traders' and workers' representatives.
Siyaram, the workers' representative, gave a short but emotional speech, in which he accused the Modi government of cheating the poor.
"A man who wears a Rs 10 lakh suit, will he ever understand the pain of the poor?" he asked.
"People are dying across the country because of the shortage of cash, but PM Modi is busy pandering to the rich."
In the 2014 Lok Sabha elections, Modi won big in urban India. The demonetisation policy has given his opponents like Kejriwal an opportunity to spark a plebian challenge to Modi's power in cities.
During the 2015 Delhi elections, Modi had accused Kejriwal of playing the politics of class conflict and inciting hatred towards the rich. But Kejriwal had the last laugh, winning a landslide victory in the elections.
Kejriwal spared no opportunity to play the same card yet again, picking on the most discredited elements among India's rich.
"Vijay Mallya manufactures alcohol. He's an old man but roams around with girls. He had defaulted on loans worth Rs 8,000 crore. Modiji helped him get on a flight and escape to London. He's having a good time there, even as all of us stand outside banks and ATMs to withdraw Rs 2,000," he said.
His second target was the marriage of Bellary mining baron Gali Janardhan Reddy, who is close to the BJP.
"Janardhan Reddy spent Rs 500 crore on his daughter's wedding. Across the country, fathers are having heart attacks as they are unable to raise money for their daughter's wedding."
BJP leaders like Union Minister DV Sadananda Gowda and former Karnataka CM BS Yeddyurappa had attended Reddy's daughter's wedding.
Juxtaposing Reddy's case with the common man, Kejriwal said: "The government says 'bring your daughter's wedding card, we'll give Rs 2.5 lakh'... Your leaders spend Rs 500 crore for the rich, and for the common man, just Rs 2.5 lakh?"
Surgical strike impact reversed
Kejriwal made it a point to call out Modi and the BJP for playing the patriotism card whenever they were pushed to a corner.
"We don't need lectures in patriotism from people who side with the corrupt. We are willing to give our lives for this country. We aren't among those who deceive the people and help only the rich and corrupt," he said.
Modi's popularity had recently surged, especially in urban India, following the 'surgical strike' against Pakistan last month. In the demonetisation row, Kejriwal has found an opportunity to reverse this surge.
"Forty people have died (because of the government's demonetisation move). Who is responsible for their deaths? Who is responsible for their deaths?"
The crowd responded, loudly: "Narendra Modi"
"These people haven't died, they have been martyred. We won't let their martyrdom go in vain," Kejriwal said.
The response
"Such a rally has never been organised in Azadpur Mandi, at least not such a big one," said Naresh Sachdeva, a trader from Uttam Nagar in West Delhi.
"Modi has betrayed traders. I used to be a BJP voter, but not anymore. They only support big industrialists."
He further accused the Modi government of 'rubbing salt on traders' wounds' by carrying out income tax raids in the past few days.
"What wrong have we done? We make our living through honest trade. Why should we be standing in line to get our own money?"
Modi's move seems to have clearly backfired. If the damage isn't contained in the next few days, Kejriwal and Mamata's call for a nationwide revolt may find some resonance.
More in Catch
Arvind Kejriwal dares Narendra Modi: withdraw currency ban in 3 days or face revolt
Modi govt on defensive on demonetisation: Opposition may push for JPC
'Modi took bribes from Birla & Sahara': Kejriwal tears into demonetisation