Kashmir: As death toll mounts, PDP leaders face public backlash
Catch Team
| Updated on: 10 February 2017, 1:48 IST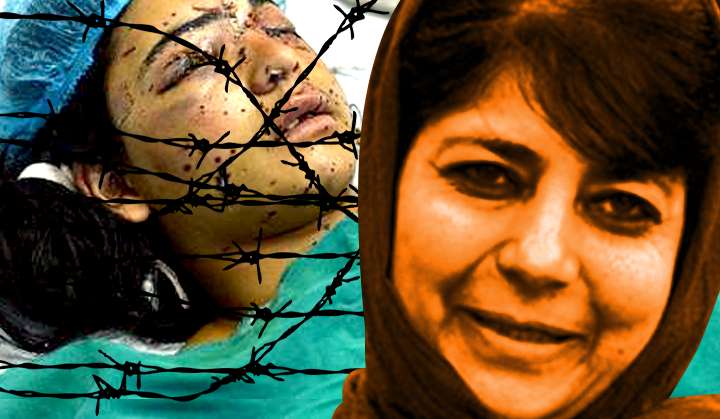 On Thursday, an irate mob attacked the house of the ruling PDP legislator Muhammad Yusuf Bhat in South Kashmir's Shopian, considered to be the party's pocket borough. Though Bhat's house was saved by security forces who reached the spot soon, the mob had already torched the guard room. The guards posted there were, however, were evacuated safely>
It was a victory in 11 of the 16 seats in South Kashmir that helped PDP become the largest single party in the December 2014 Assembly polls with 28 seats. But now its legislators and the local office bearers are being held directly responsible for the ongoing killings and the blindings in the Valley.
Attacks on PDP leaders
Earlier, a mob had attacked Muhammad Khalil Bandh, a PDP legislator from the neighbouring constituency of Pulwama, while he was on his way to Srinagar. So ferocious was the attack that Bandh's vehicle overturned as the mob chased him. But before the protesters could get to him, he was rescued by his security guards. What is more, he was taken to Army Base Hospital in Badami Bagh cantonment for treatment and not to a civilian healthcare facility where the authorities feared he could be assaulted again.
Similarly, a day after the killing of the popular militant commander Burhan Muzaffar Wani, the protesters set on fire the hotel of the Abdul Rahim Rather, PDP MLA from Kokernag, another South Kashmir constituency. It was in Kokernag that Wani was killed.
A petrol bomb was hurled at the house of the senior PDP leader and the state government spokesman Naeem Akhtar at Parraypora in Srinagar. However, he and his family were not there at the time of the attack. Akhtar has shifted to the high security Gupkar area following his appointment as the education minister of Jammu and Kashmir.
Earlier Akhtar's cavalcade had been attacked with stones while he was returning from his hometown in North Kashmir's Bandipora town.
The runaway public rage has forced some leaders to change loyalty and join the protesters. One such leader is Iftikhar Hussain Misgar from the opposition National Conference. On 1 August, Misgar who unsuccessfully contested the 2014 Assembly polls and the recent by-election from Anantnag, sought a public apology for being a part of the mainstream political camp and announced his resignation from his party before a crowd of people outside his house. He also chanted anti-India and pro-Azadi slogans. His video was circulated widely on social media.
"I don't need official security. I need the security of my people," he told the gathering and shouted the slogans like "Bharat ke aiwanun main aag laga dou, aag laga dou (Set India's institutions on fire)" and "Bharat ka jo yaar hai... Gaddar hai, gaddar hai(One who is a friend of India is a traitor to the Kashmiri nation).
Pro-India leaders face boycott
The situation for the pro-India leaders has been further complicated by the Hurriyat's call for their social boycott. This was later endorsed by the PoK based United Jihad Council chief Syed Salahuddin.
"For India's local collaborators facilitating the oppression of their own people, their moment of reckoning and introspection is over," a joint statement issued by the separatist leaders Syed Ali Shah Geelani, Mirwaiz Umar Farooq and Yasin Malik read.
"It is time that people hold them (mainstream leaders) accountable and answerable and pressurise them to vacate (their seats). People shall ostracise them and boycott them at all levels, socially and publicly. People shall refuse to interact with them at community and public places. They shall no longer be allowed to exploit the people and the sacred freedom struggle," the statement read further.
Salahuddin called the mainstream politicians "sellers of nation" and urged people to boycott them "as directed by the Hurriyat leadership".
In Hurriyat's new protest roster from 20 to 25 August, the people have been asked to paste a "poster letter" on walls and the lamp posts around the residences of the "MLAs, MLCs and Ministers" from the mainstream parties asking them "to resign from government and party positions".
This has created an impossible situation for the mainstream leaders. Virtually all of them have taken refuge in their official accommodations in Srinagar's high security areas. None of them dare to visit their constituencies, let alone hospitals where the injured are being treated. The middle rung leaders and those working at the grassroots are facing growing pressure to resign and join the protesters.
"The entire mainstream political structure has been rendered temporarily defunct," said a National Conference leader. "Our credibility has also plunged to abysmal levels. It will take a long time to build the trust back even after peace is restored".
NC's response to the deepening crisis has been restricted to tweets by its leader Omar Abdullah and those of some party leaders like Junaid Azim Mattu. The party has shied away from hitting the streets, fearing attacks by the youth. On 18 August, Omar, however, organised a meeting of the opposition parties which urged the Centre to "initiate a meaningful dialogue with all stakeholders" in Kashmir.
But it is PDP which is at the receiving end of the public wrath. But for Chief Minister Mehbooba Mufti's Independence Day speech, the ruling party has gone deafeningly quiet.
Politically also, PDP stands to lose the most. The party's strongholds in South Kashmir have witnessed the most killings and injuries in the ongoing unrest. Only weeks before Burhan Wani's killing, Mehbooba had won the low-turnout by-poll at Anantnag by about 11,000 votes. Now Mehbooba can't even go and hold a rally there.
PDP, however, can draw solace from the fact that despite being discredited, they still have five years in power.
"We hope that the peace is restored and that it lasts," a party leader said. "Then we can expect to rebuild our reputation by doing some good work and hope the tide turns in our favour again".
More violence
Meanwhile, the situation in Kashmir has worsened with six more civilians losing their lives in the ongoing clashes, four of them at Aripanthan in Budgam and one in South Kashmir on 16 August. A college lecturer Shabbir Ahmad was beaten to death by the Army at Khrew on 18 August. According to the residents of the area, the Army barged into their homes at around 11:30 pm and began beating people up.
They say that Ahmad was dragged out of his home and whisked away by the Army. Two hours later, his family members were informed about his death and asked to collect his body.
Similarly, there have been two militant attacks on the forces over the past three days. On 17 August, two Army personnel and a J&K policeman were killed when militants attacked an Army convoy on the Baramulla-Srimagar highway. Five soldiers were injured in the attack
On 19 August, militants attacked a BSF camp at Nachin village of North Kashmir's Kupwara, injuring three personnel. They have been airlifted to Srinagar's Badamibagh cantonment hospital.
So far, 66 civilians have lost their lives in 43 days of the unrest. More than hundred have partially or permanently lost their vision and around a hundred have been maimed.