Karnataka polls: Have Modi & Shah met their match in CM Siddaramaiah?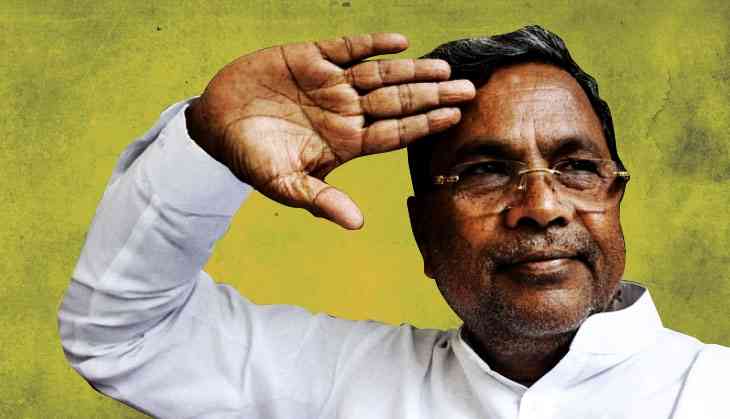 The Bharatiya Janata Party might appear electorally invincible now that it has even defeated the Left Front in its bastion Tripura but poll-bound Karnataka is proving to be a different ball game. The reason: Chief Minister Siddaramaiah. The Congress leader is proving to be a tough nut to crack and the BJP top brass is finding it difficult to understand his native politics.
Instead of offering a new vision of what the BJP government would do if voted to power, Modi has been hectoring about 'dynastic politics' of the Congress party and asking people to throw out a "corrupt" Siddaramaiah government. He even called it a "10% commission government," and later, nicknamed Siddaramaiah as "Seedha rupaiyya."
Taking a cue from Modi, the state BJP leaders have accused Siddaramiah government of having sold itself to 30% commission and Yeddyurappa threatening to send Siddaramaiah to jail "within 24 hours of coming to power".
However, an unfazed Siddaramaiah has hit back directly at Modi, saying "the NDA government is running on 90% commission," alluding to multi-crore bank scams. Siddaramaiah also never tires of calling Yeddyurappa as the first former chief minister of Karnataka to go to jail on corruption charges.
Though Yeddyurappa has been leading the BJP's bandwagon and recently completed a marathon 106-day campaign across all 224 constituencies, drawing huge crowds, there have been persistent rumours that he may lose out on becoming the chief minister – should the BJP win – as he has crossed 75 years.
On February 27, when Yeddyurappa celebrated his 76th birthday, Prime Minister Modi made it a point to attend a rally at Davanagere to scotch all such speculations, and presented a model of a plough to Yeddyurappa to reinforce his image as a farmers' leader.
The cutouts and banners greeting Yeddyurappa on his birthday carefully avoided mentioning his age and even party leaders, except Ananth Kumar, merely wished him with no reference to his age.
Bu the BJP's real problem in this election is that Siddaramaiah, though belonging to a national party, is raking up a spate of regional and emotive issues, which have virtually stumped the BJP. Unlike in the past when Congress chief ministers avoided pandering to regional sentiments, Siddaramaiah has the full backing of the new Congress chief, Rahul Gandhi, who is keener on results than rhetoric.
Thus, Siddaramaiah has endeared himself to the Kannadigas by successfully fighting against 'imposition' of Hindi in the metro rail, making the teaching of Kannada a compulsory subject in all schools and liberally donating funds to literary events.
He has also mooted a separate state flag, which, if adopted, would make Karnataka only the second state after Jammu & Kashmir to have one. He has argued that he is not diminishing the importance of the national flag and since there is no Constitutional ban on a state flag, there was nothing wrong with his proposal.
Siddaramaiah has received tremendous support from various Kannada organisations for his move, while the BJP has fallen silent, not able to either support or oppose it. The chief minister is already armed with the recommendation of an expert committee on the design of the flag, and it is only a matter of time before the cabinet takes a view on it.
Another issue on which Siddaramaiah put the BJP on the back foot was according the tag of a separate religion to the 'Lingayats,' a large section of whom wanted to split from the Veerashiva community. Some of the chief minister's cabinet colleagues were in the forefront of organising huge rallies of Lingayats in support of the demand and an expert committee was constituted to study the issue and make a recommendation.
As Veerashivas, who also go by the name of Lingayats, are largely supporters of the BJP, and Yeddyurappa in particular, Siddaramaiah calculated that a split would immensely benefit the Congress. Even if the NDA government at the Centre did not accept his recommendation for a separate religion status to Lingayats, he would have won a tactical point over the BJP. As arguments for and against the proposal raged, Siddaramaiah has put it on the backburner for the time being.
Siddaramaiah's regional agenda is also aimed at Janata Dal(S) which has the potential to upset his applecart. There is no love lost between JD(S) supremo HD Deve Gowda and Siddaramaiah and Gowda recently described the latter as "the worst chief minister he had seen" and regretted that he had played a role in Siddaramaiah's political growth.
Siddaramaiah had resigned from JD(S) in 2006 – upset over Gowda promoting his son HD Kumaraswamy over other senior leaders in the party – and had joined the Congress, which changed his political fortunes.
In the upcoming Assembly elections in May, should the Congress fall short of majority, Siddaramaiah is quite sure that JD(S) will not back him for a second term and therefore, he is going all out to keep JD(S)' gains to the minimum.
In the numbers game, if the BJP gets ahead of the Congress but falls short of majority, BJP tying up with the JD(S) to form a government cannot be ruled out. This could happen despite BJP's bitter experience in a "20-20 game" last time when JD(S) called off the match after completing its innings!